It's been raining on the east coast for days. Maybe it's the weather, lack of inspiration, or the fact that I haven't had the occasion, but lately I've had little desire to get dressed up.
I'm hoping, that as the weather clears there's more opportunity to break out of my jeans and tee shirt rut. For today's post, I wanted to show something different. If I did have a place to go, what would I want to wear that's the opposite of my jeans/tank/blazer combo. So today I'm showing you how to wear a polka dot skirt on the weekend.
How to Wear a Polka Dot Skirt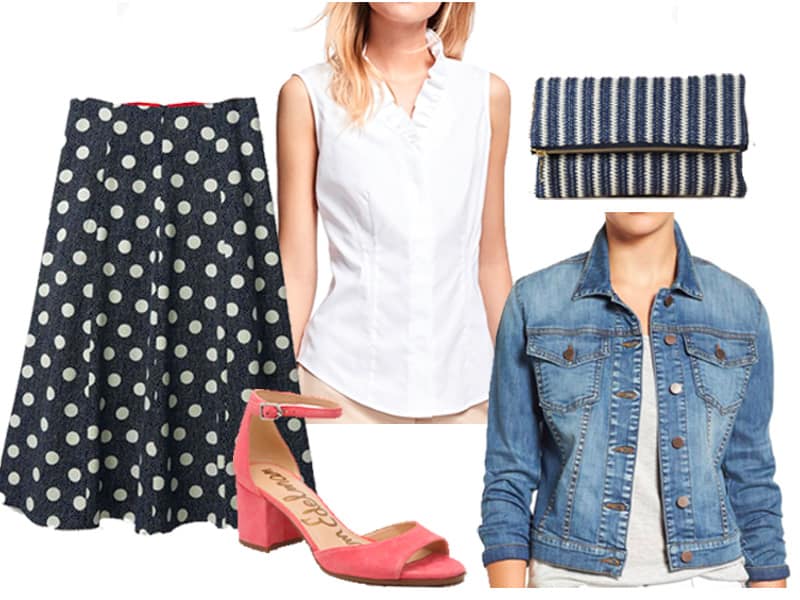 Skirt, $125 | Heel, $70 | Blouse, $98 | Jacket, $80 | Clutch, $34
Boden has been at the top of my radar lately, which is funny because generally, it's a little too preppy, even for me. When I found this skirt, I knew right away I wanted to make it the key piece in this look. Take a close look at it. The pattern is large polk a dots on small dots, which creates a beautiful, layered appearance of texture and movement. It adds depth to the outfit.
You can wear a number of shirts with this, but I went with a sleeveless ruffle button down. The ruffle plays off the femininity of the pattern, and the shape of the shirt balances the swing of the skirt. In this case, I would tuck in the shirt to highlight your waistline. This is an easy piece to incorporate into all kinds of looks, especially with a clean lined blazer for work.
Next, a denim jacket is a springtime must have. In this outfit you can wear it properly or just drape it over your shoulders. Aside from keeping you warm, the denim grounds the look and, again, creates balance.
For the shoe and bag, I went a little off script. I love the idea of using a dusty pop of color as a neutral. These pink sandals by Sam Edelman compliment the navy beautifully. They have a comfortable block heel and simple style.
The bag is what excites me. My defalt is always a beige clutch. Practically speaking, they go with everything but let's have some fun. I wanted to show how patterns can also mix and match. Polka dot and stripes are an easy combination because neither is too busy so they won't fight with each other. The trick is to make sure the colors you are using are the same saturation and that one pattern is dominate. Here the skirt has the primary pattern, and the stripe on the clutch is an accent. They play off each other and kick up the style factor in a subtle yet impactful way.
Need some more Weekend Inspiration? Drop us a note in the comments with questions or requests and will add it to our editorial calendar for coming weeks.