It's almost spring, which, in our house, means softball season. Growing up, I lived across the street from our neighborhood recreation center. My bed was tucked underneath my bedroom window, facing the little league field.
On Saturday mornings I woke up to a beautiful crisp breeze wafting through my room and the clanging sound of metal bats. To this day, every time I hear it I'm filled with comfort and nostalgia.
These days our weekends start early, we stop and grab a coffee and spend the afternoon bouncing back and forth between fields. My husband coaches our youngest. I help out on the bench, managing the batting order, teaching the girls to cheer for their teammates and helping the catcher get her gear on and off.
I smile when I hear Bri say the same things my dad tried to teach me: bend your knees, keep your eye on the ball, and, my personal favorite, don't catch the ball with your face.
After being cooped up in the house for months, the sunshine and fresh air are just what the doctor ordered. I get all mushy watching these little 8-year-old girls swing their bats and drop into "ready position."
A few of the players already have such fierceness and focus. It makes me so happy to see how they are learning confidence, teamwork, friendship, and determination.
This is our last weekend before the season officially starts, so I'm spending some time organizing the house for spring and going through equipment. It dawned on me that I needed a few things so our weekend mornings run smoothly too.
I have literally worn through most of my active wear over the winter, to the point that my leggings look sheer (yikes!) and my go-to hoodies are tattered.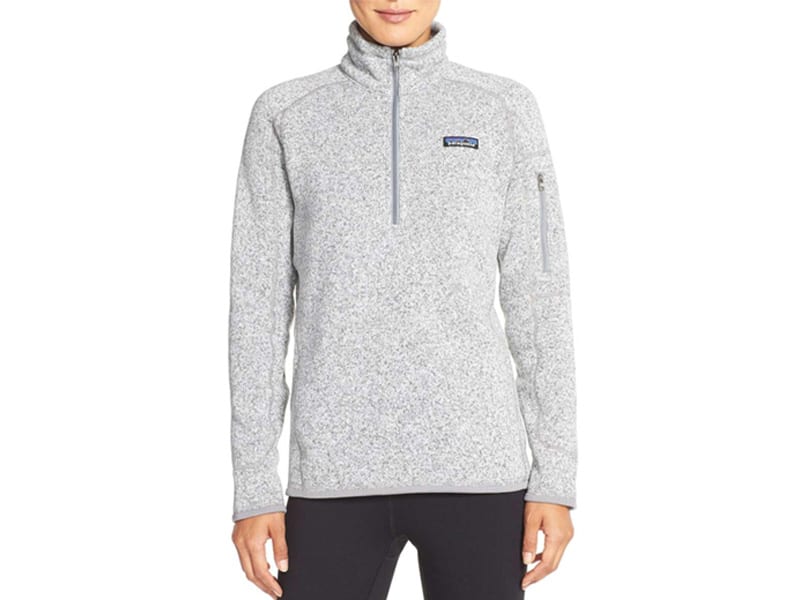 Patagonia "Better Sweater" Zip Pullover, $99
I decided to replace all my random hoodies and sweatshirts with this Patagonia pullover. It's so soft, and lightweight but still warm. It's called "birch white" but looks more like a very light gray. Perfect. I'm going to live in it all season.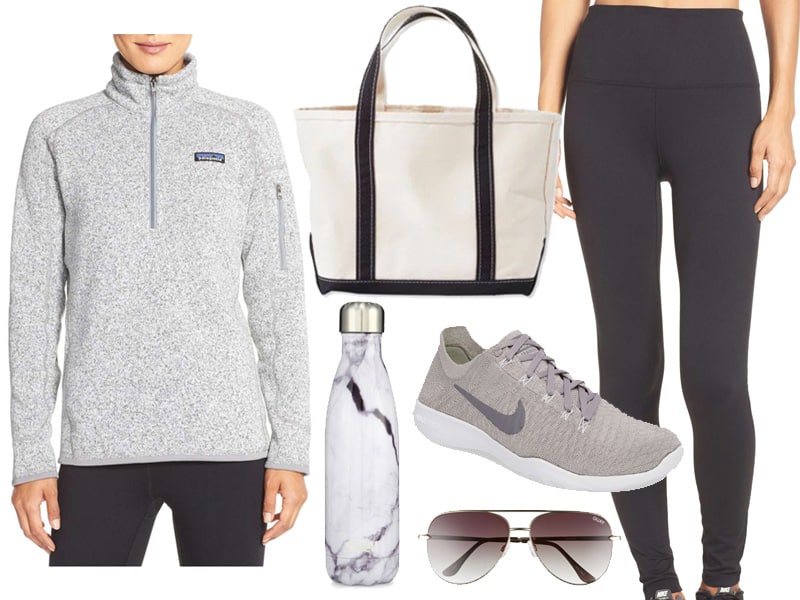 Leggings, $54 | Tote, $30 | Water Bottle, $35 | Aviators, $65 | Sneakers, $120
If you want to look pulled together while super casual you have to look at what you're wearing like any other outfit. What works best for me is keeping all of these pieces limited to a few colors: black, gray and white. This way everything goes together with little thought and effort.
Zella Live in High Waist Leggings are our favorite legging to wear outside the gym. They stay in place, and are thick enough to keep you covered. (These are the only leggings I have found that do not get sheer with time.) They also wash well so the $54 price tag is worth it.
We have a zillion boat and totes in our house: one for the pool, one for the beach, one in my car to corral random items. I bought another just for softball season so I can schlep water and snacks, wipes, and anything else we might need for the team.
Let's talk about sunglasses for a moment. I love a good, over the top, designer pair of sunnies, but when you're fielding balls hit by eight year olds a pair of oversized Gucci's look ridiculous. I picked up these $65 of Aviators by Quay Australia "Gold/Smoke" and they are fantastic and don't cost a car payment. They will probably be my everyday pair for the summer.
If you are in the market for a new sneaker, I really like my Nike's. Aside from a sleek design, they are incredibly comfortable and supportive. Some sneakers are so awkward and because I'm tall (with size 10 feet) they often feel oversized. These are streamlined and just disappear. You can train in these and wear them outside the gym.
Finally, spending $35 on a water bottle seemed silly at first. But I bought it anyway and am so happy I did. I'm not buying a plastic bottle and wasting half of it, probably saving some money and definitely drinking more water. Once you make a habit of filling and packing it, you'll be happy you have it too.
Shop this Post