The sales keep rolling in this January, including this adorable and preppy striped sweater at the LOFT for $23. That's not a typo, it's $23. Of course, I picked it up, because I love stripes and this feels fresh and new. It's available in Navy (below) and Yellow, in XXS – XXL in Missy and Petite. Currently, all sizes are in stock. Pick it up today while it's on sale and you can wear it now and straight into spring.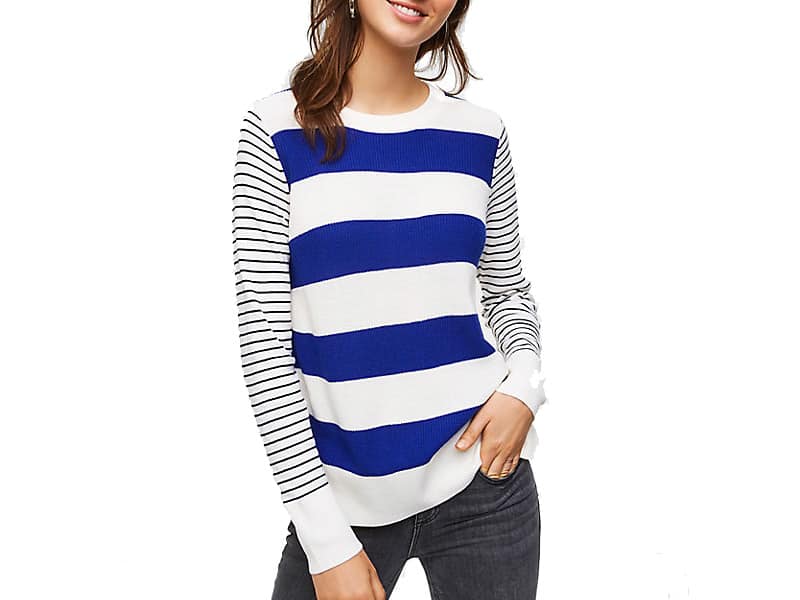 Must have piece: LOFT Striped Sweater, $60 ON SALE $23.90
How to Wear LOFT Stripe Sweater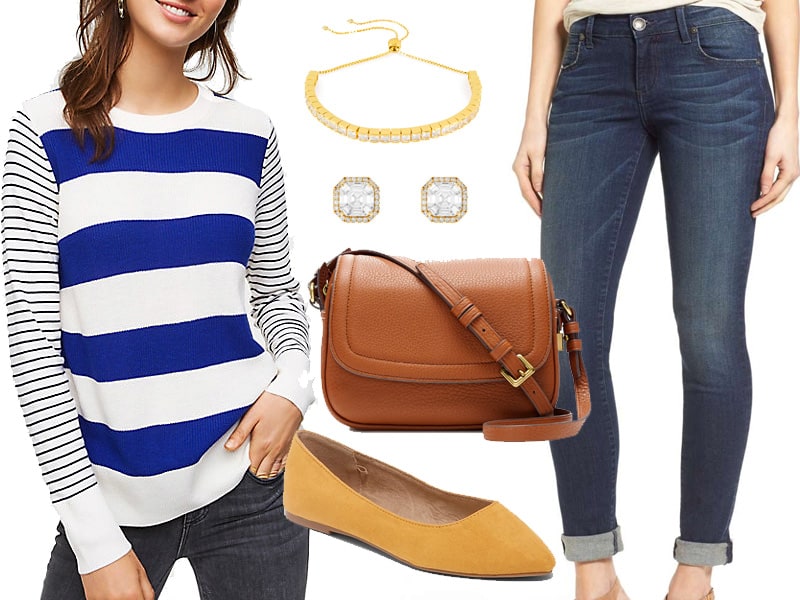 LOFT Striped Sweater, $60 ON SALE $23.90 | Jeans, $90 | Flats, $18 | Bag, $139 | Bracelet, $39 | Earring, $98
Let's talk about this sweater. It's effortlessly chic. Maybe it's because this January has been so cold and dreary but I'm really gravitating to more bright and cheerful looks. It's a straightforward jeans sweater. You could wear it with a variety of styles, (check out our Denim Closet for all size and style options). We featured a clean lined boyfriend jean. If you go for a style like this, keep the roll cuff at your ankle, otherwise, you're getting into capri area, and I have some strong opinions on capris.
This outfit is as easy as it comes. You could wear it with a simple pair of slide on sneakers, or whatever flats you own. I added a pop of yellow with these $18 flats for a fun accent. With weekend outfits I don't like to fuss with accessories. This bracelet from Henri Bendel is on sale for $39. These earrings, also at Henri Bendel are an easy, wear-every-day-earring. Finally, what's a weekend without a cross body bag? You have tons of options. This J.Crew bag is ideal. It sits on your body, keeps you hands free, but is big enough to carry all your stuff.
Hope everyone has a great weekend – it's been a LONG week!
Shop this Post