We love receiving questions from readers and old clients, so when one of my favorite former clients sent an email asking about loafers, it was like she was reading my mind. This time of year, as we dip in and out of warm and then chilly days, we need a shoe to help with the transition. Ballet flats can feel too light depending on the weight of your separates, but boots can be too heavy. Loafers can be just the answer to your in-between season shoe needs.
So how can you incorporate loafers into your outfit? Often, the weight and style of a loafer can feel clunky and throw off balance. The answer, then, is to bring balance with other pieces that add equal weight.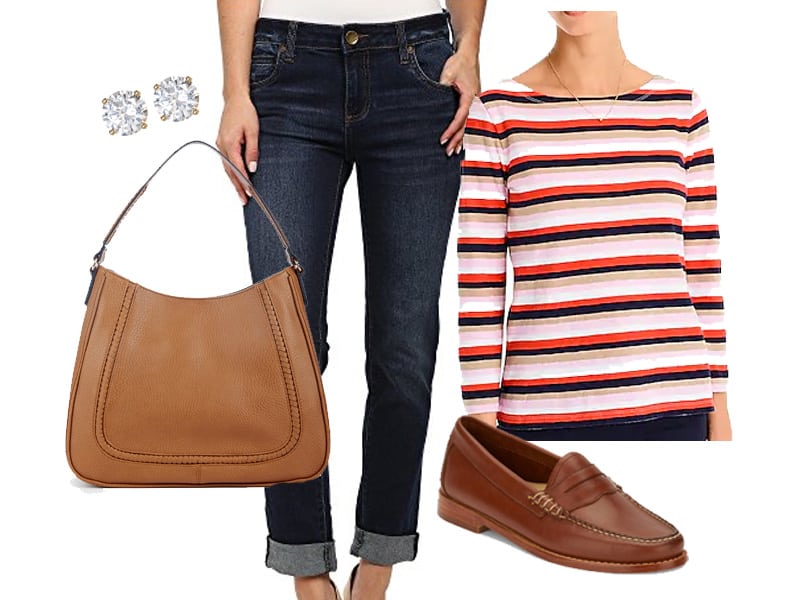 Loafers, $110 | Jeans, $89 | Shirt, $50 | Bag, $30 | Earrings, $10
I love everything about this look for early fall. The loafers are classic, and the color is a perfect "cognac." If you pick up something similar, skip any style with extra details or hardware. They make it too hard to blend the shoe with the rest of your outfit.
Your handbag is essential when working with a loafer (sounds so dramatic). You want something of equal weight. Here, we picked an affordable hobo by Sole Society. If you wear something too delicate, your shoe will look bulkier than they are.
Everything else in the look is casual, and ideal for a fall weekend. These jeans by KUT are a nice break from skinny jeans. The loafers work well because the jeans have a significant cuff at the bottom and require a shoe to "stand up" to them. KUT is an awesome brand of under $100 jeans (remember when all jeans were "under $100"?). Their fit is excellent and they are available in a wide size scale.
I'm crazy for this shirt. Long time readers know my love of stripped shirts. This one by J.Crew feels fresh and seasonally appropriate. You can wear it on it's on now, and as the weather changes add a quilted vest and scarf. We included these $10 CZ studs because I wear a version of them just about every day and am always asked about them. They serve as a place holder until I can afford the real deal 😉
Have a question? Pop them in the comment section or send us an email and we'll answer it in an upcoming post. Our site is fueled by the needs of our readers!
Shop this Post