I find shopping at LOFT underwhelming. That's not to say you can't find fantastic pieces – you certainly can, but the store itself is kind of boring. Sometimes, I walk into a store and get excited by the possibilities, but at LOFT, I have to work for it.
Last week, I stopped in to see some pieces in real life, and the second I walked in thought, "what the heck, there is nothing here!" After a first loop, I was about to walk out. But something made me stop and refocus.
I decided to walk around again and only look for neutrals. What a difference! I found so many good things. My favorite being this soft and cozy camel sweater.
Chic and Cozy LOFT Sweater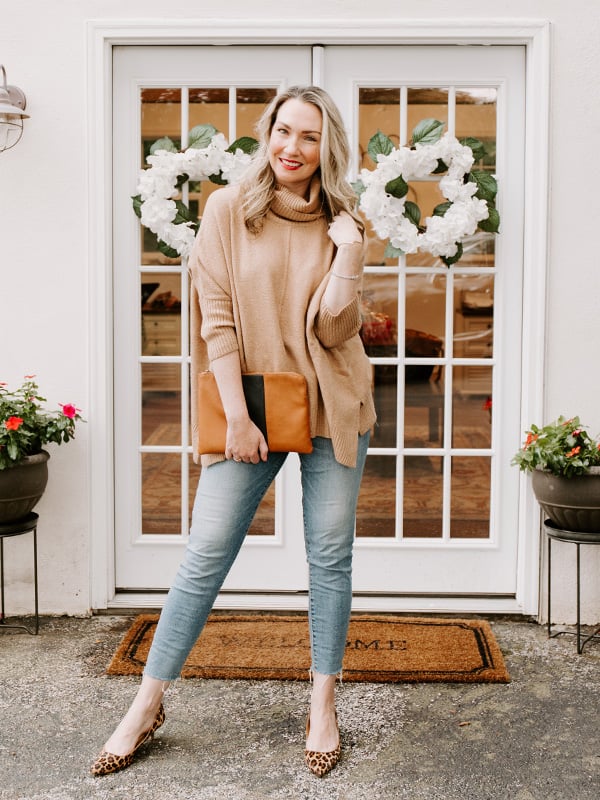 This is 100% my style. I often say when you are trying to figure out your personal style formula, think of an outfit that feels like you, the one where every time you put it on, you feel like the best version of yourself.
Most of my life is casual, so I never want to feel overdone, and I don't have time to fuss. I do, however, want to feel pulled together and look chic. This outfit hits all the right notes.
First up, the sweater is divine. I didn't pay $70; I paid closer to $40. LOFT is always having a sale of some kind; they don't expect you to, so never pay full price. Happily, the sweater comes is regular, petite, and plus. Hooray!!
It's like a sweater/turtleneck/poncho combination. I'm not a huge fan of ponchos, especially since I wore a lot when I was (very) pregnant this time last year. But this one is nice because it has a slimmer fit, and is finished with proper sleeves. It's also so, so cozy.
Next, most of you know I love and live in my jeans. I found these KUT from the Kloth ankle jeans in the spring and haven't stopped wearing them. Typically, I go for a dark wash, but these feel fresh and updated. The combination of light wash and soft camel is also a big winner in my book. For a similar style try these in regular, or these in plus.
Finally, the day these leopard pumps die will be a sad one for me. I found them on clearance at J.Crew a few years ago and ignored my instinct to buy an extra pair. I wear them so often people must think they are my only shoes. Because so much of my wardrobe is neutral, they provide just the right kick. Looking for a similar, under $50 version, give these a try from DSW.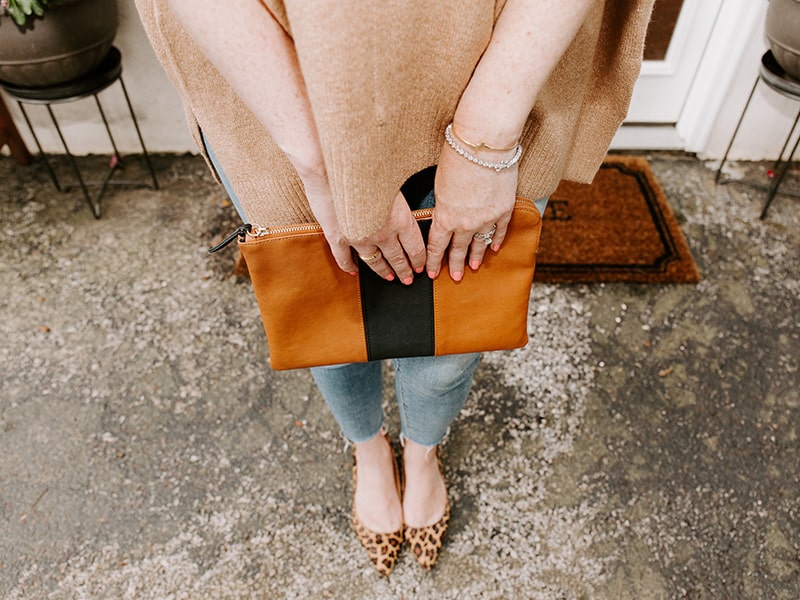 Perhaps one of my best finds was this simple zip pouch I picked up ages ago at Target from their Who What Wear line. Let this serve as a reminder that you don't have to spend a fortune on a staple. It's not always the case, but now and then, you can find a gem for very little money. Of course, that's always the piece you'll be compliment the most on 🙂
Have a great weekend! xxx