Stop what you are doing and order this tank, it's that great. A few weeks back, I popped into my J.Crew Factory (or Mercantile). It's right next to our local Whole Foods. I don't usually love food shopping and rely quite a bit on Instacart, but we're at that point in the summer where I jump at any chance to get out of the house by myself for an hour. I grab an iced coffee, take my time walking up and down the aisles, and before I drive home, take a minute to see what's new at J. Crew.
My wardrobe needs have always been a tale of two extremes. When dressing to work with our corporate clients, I invest in classic, better pieces. But on days when I'm "balancing" working from home and schlepping the kids to and from the pool and friends houses, their merchandise makes sense. Cute shorts, casual tees, some cotton tank dresses – just throw on and go about your day kind of dressing. Plus, the prices are great, and I don't feel like I have to dig throw racks as I do at more traditional outlet stores. I'm in and out of the store in 15 minutes.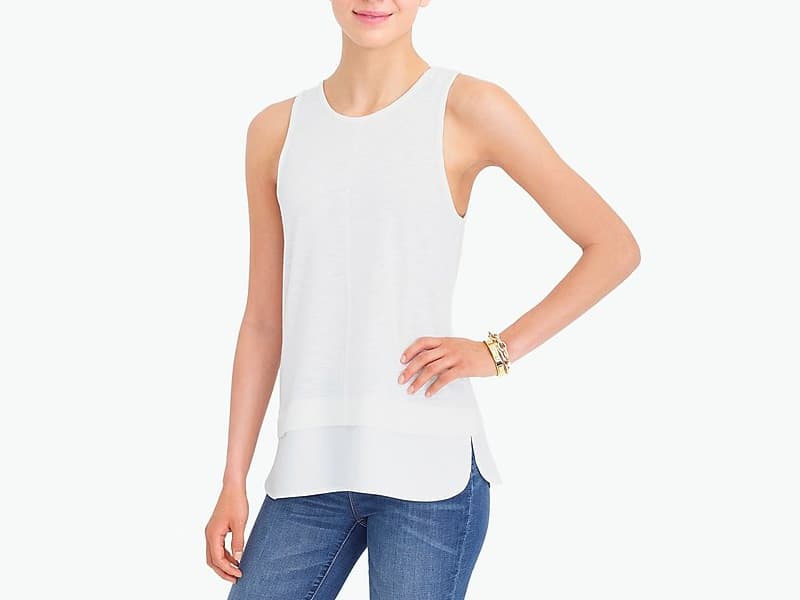 Tank, $19.50 (more colors available, xx-s – xx-l)
I picked this tank up about a month ago, and have gone back to buy more, twice. It's a fantastic stand-alone piece and a layer. Lately, I've been wearing it with these twill pants (limited sizes left) and my jeans ( Old Navy Rockstar Skinnies, AG Distressed and these from Article of Society) when it's not ungodly hot out. It works because of the subtle layer at the bottom, that simple silky detail elevates it from a basic cotton tank to an outfit enhancing piece. Zhush it up with some stacked bracelets and or a long, swingy necklace.
What makes it versatile is come cooler weather it's what you'll wear under long, unconstructed cardigans (like this one we featured on Wednesday), a blazer or even a leather or leather-like moto jacket. AND, it's $20. I bought one in every color, and two white and black.
Shop this Post