This content has been archived. It may no longer be relevant
An easy way to elevate your work wardrobe is to replace a cardigan with a jacket or blazer. Any time you wear a structured piece you're creating a more polished and professional look. If you've recently been promoted, are looking to get back into the workforce after some time away, or want to up your style game, a few new jackets will make a big difference.
How to Wear a Moto Jacket
But here's the thing, most workplaces are business casual, with many being completely casual and that it can feel confusing. A traditional "blazer" may feel too formal and stuffy. But a moto jacket is updated and fresh, giving you structure yet still feeling relaxed.
Keep in mind "casual" doesn't mean sloppy, so even though some of your colleagues may be wearing their pajamas to the office, you can use the relaxed dress code to play with your style.
This season many jacket options give you the professional structure you're looking for in a casual fabric. It's that combination that I love in today's featured piece.
How to Wear a Moto Jacket to Work Two Ways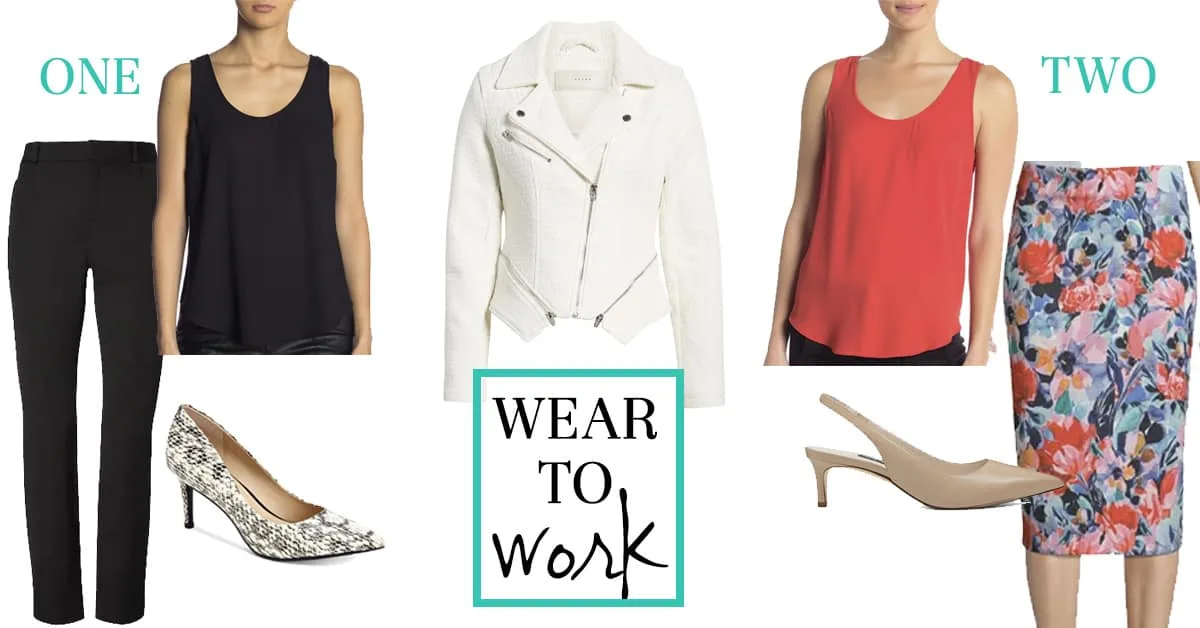 I found this cotton moto jacket at Nordstrom. If it fits in your style profile, you'll get a lot of wear out it. It's the kind of piece that can go with anything. Wear to the office or pair it with jeans, joggers or a midi length skirt for the weekend.
Today we're showing it two different ways, one classically styled and the other with a bold, seasonal print.
(For a plus option try this similar style.)
Outfit One: With a Column of Color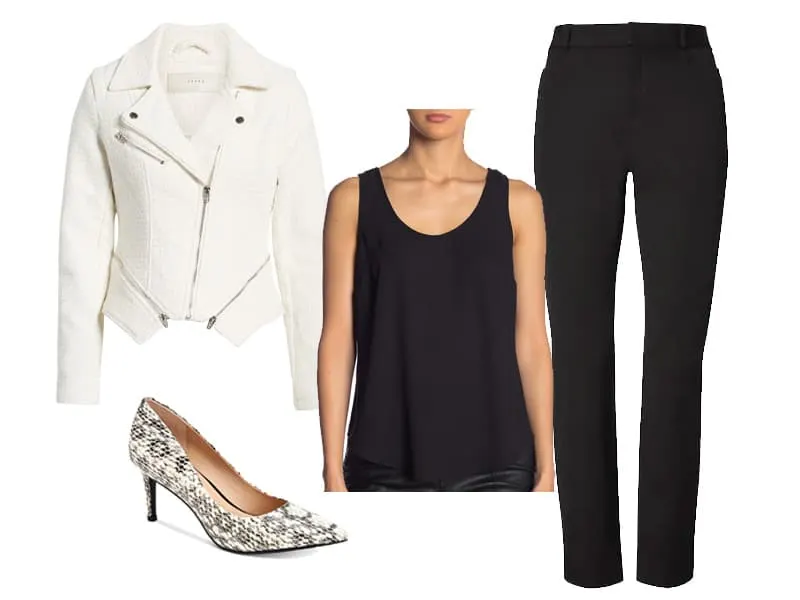 Jacket, $128 | Pant, $90 | Pump, $70 | Tank, $25
An easy trick to create a slimming look is to dress off of a "column of color." All that means is you create one long line of color with a top and bottom combination. Here we used a simple black tank and a traditional black ankle pant.
Tuck this tank into your pants and then add the jacket. The contrast between the black under pieces and white moto creates a long and lean visual.
Specifically, this tank is J.Crew on sale at Nordstrom Rack with lots of sizes and colors available up to and including a 2X. The pants are from Banana Republic. They fit beautifully and are also available up to a size 20 in petite, missy and tall.
The shoes bring the look together. Snakeskin print is a popular trend that still feels classic. These pumps at Macy's are under $100 and have a reasonable heel. For a little more of an investment, I also like these heels at J. Crew.
An important tip to remember: because the zippers and buttons of the jacket are prominently silver, keep your jewelry and handbag hardware in the same family for a cohesive look.
Outfit Two: With a Bold Floral Skirt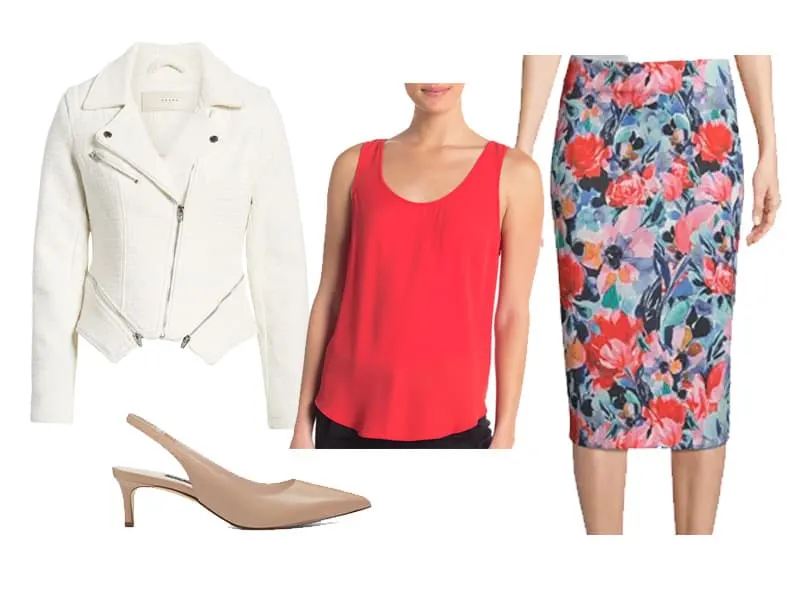 Jacket, $128 | Skirt, $60 | Tank, $25 | Heels, $50
For this second outfit, we're using the jacket to tone down and balance a bold and feminine skirt. You can replicate this look similarly if you have a floral or printed sheath, or you can create the same silhouette as we did here with a tank and pencil skirt.
I don't usually wear florals, but I happen to very much like this modern watercolor print skirt at Macy's. The length will likely be too long for most, so be sure to have it hemmed to your best length, typically at the very top of your knee.
Related: The Best Skirt Lengths for Work
Keep in mind, Macy's retail pricing is such a joke it's almost offensive, so never, ever pay full price. Wait until it goes on sale or they have an in-store or online coupon.
Let's talk about balance for a minute. Think of a traditional scale with two sides. On one, we put the edgy, modern moto jacket. On the other, we put the fitted, floral skirt. Both are statement – y pieces on their own, and now, with one on each side, the look is balanced, which means everything else you add to the look should be neutral.
To keep it simple, I used the same J. Crew sale tank in the first outfit, just in a different color.
Surprisingly, the shoe was a bit of a challenge. I wanted to find something different than the typical neutral-to-you pump, but that's what works. Anything else throws the look off balance so keep it basic with a classic heel or something like these kitten heel slingbacks.
If you opt for a lower heel be sure your skirt sits at least at the top of your knee to maybe an inch above.
Shop this Post