This content has been archived. It may no longer be relevant
When the weather is cold and rainy, it's not the time to pull out a delicate skirt and your favorite suede heels. You need to think practically, and often that means we start to compromise on style.
But when you have the right pieces in your closet, you can still pull together a look that feels stylish without looking ridiculous or risking showing up at work with sopping wet feet (and ruined shoes).
Today's look is a mix of better basics, all on sale, that you can mix and match throughout your wardrobe, and wear together on days you need to stay extra dry and warm.
Waterproof Boots for the Office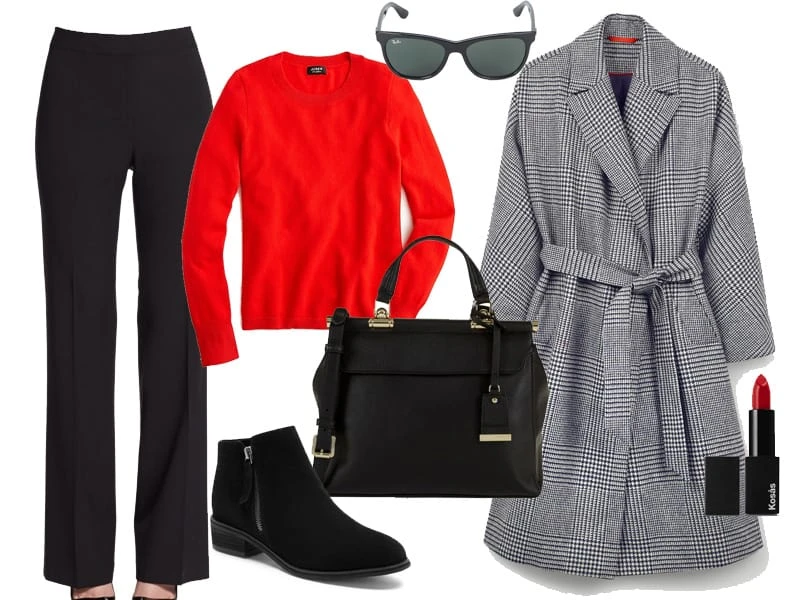 Booties, $130 | Pants, $145 | Coat, $210 | Sweater, $98 | Lipstick, $28 | Sunglasses, $80 | Bag, $139
While these boots are far from high fashion, they are clean, classic and best of all, waterproof. They look very similar to the Sam Edelman booties we've featured here dozen of times, and when paired with a straight leg pant they practically disappear on your leg. So you can wear them for your commute and all day in the office without having to switch out your shoes.
We paired them with these stretch wool straight leg pants. Lafayette 148 is typically expensive. These pants retail at almost $300, but certain colors are on deep sale right now at Off 5th. The black option is $120 – that's 60% savings.
Their quality is fantastic. I used to work with them regularly when I worked with private clients, especially women with executive level roles. The fabric travels beautifully, and the styling is timeless.
STYLE NOTE: These pants are currently available in five colors including sizes 0 – 18. You will have to have the length altered to fit you. A tailor would typically charge between $10 – $20.
It important to pair these boots with a straight leg pant, or a slight bootcut, they are too clunky to wear with skinny pants and are not the right cut for an ankle.
I lean towards black staples this time of year, so a vibrant pop of color adds some personality. Many of you have this J. Crew everyday sweater. It's a solid basic that works as a layer or on its own. Stock up on over 20 colors in sizes XXS – 3X.
To round out the look, I found this plaid wrap coat at Boden. It's actually a very dark navy, not black, which still works. It would also look chic with a dark pair of jeans and a white blouse for a causal outfit option. Alternatively, it's available in classic red.
Finally, nothing makes me feel more confident than wearing a dark pair of sunglasses, a structured bag (on sale!) and a red lip. The combination instantly makes whatever else you are wearing feel sophisticated.
STYLE NOTE: Not all red lipsticks are made equal. Kosas makes a nontoxic lipstick with gorgeous pigment. The color stays put without over drying your lips, and it doesn't feather or bleed. I wear their red regularly, and also like their "rosewater" for a neutral everyday color.
_________________________________________________________
Our content is not sponsored or paid for by brands or retailers in any way. Recommendations are based on personal experience and my time working with women as a stylist and wardrobe consultant for over a decade. Some links are affiliate links, which means if you purchase via our site, we receive a small commission.
If you enjoy our content and would like to help us grow, please consider following on Instagram for even more free tips, and join our Private Facebook Group for access advice in-depth conversations with other like-minded women.