This content has been archived. It may no longer be relevant
When I started my first company (over a decade ago) the key to my success was networking. Almost every day I went to multiple events, looking to grow my connections, and find clients.
Because my service focused on fashion and style, I attended pretty much anything: luncheons, happy-hours, and conventions that targeted busy, professional women.
I remember spending so much time planning my outfits. Of course, I had to present myself as an expert, so looking pulled together was a requirement, given my job. At the time, though, I was balancing running a startup with two tiny kids at home.
My time and money were limited, so I had to make thoughtful purchases that would work in different environments with varying levels of formality.
If you regularly attend these kinds of events, be it for your own business or the one you work for, you know how important it is to look professional, but not too stuffy, and stylish without looking like you are trying too hard.
How you dress when you are actively "putting yourself out there" professionally, is like wearing your business card. You want to be memorable for all the right reasons.
How to Wear a Velvet Blazer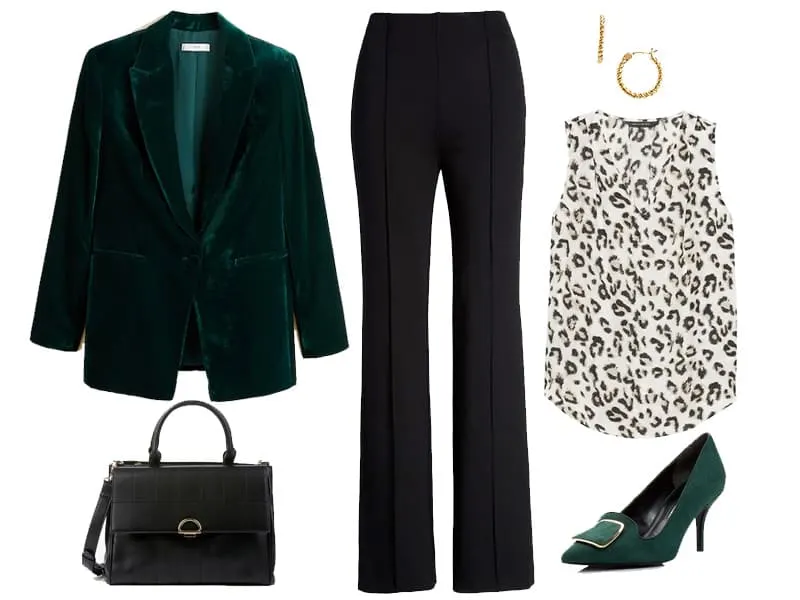 Blazer, $99 | Tank, $59 | Pants, $65 | Heel, $95 | Bag, $35 | Earrings, $49
I found this velvet blazer and was inspired to create a look I would wear to a business building event. It's just elevated enough. The cut and style keep it professional, while the velvet adds a bit of drama without being over the top.
I like Mango for modern, stylish pieces that are well made and do not cost a small fortune. I always find something a little different. Here, they took a traditional one-button blazer and made it special by using velvet.
By pairing it with workplace staples, you won't look like you are wearing a special occasion piece. The whole look is thoughtful, chic and effortless. Best of all, most of the pieces are on sale and can be worn several different ways.
Keep in mind Mango runs on the small side, so check their sizing breakdown before ordering.
Need more options? I also like this Eliza J version. (Also available in plus sizes here.) Many of you have the black and white cotton stretch version of this – it's the same cut and fit.
To add some interest, we found this tank at Banana Republic. It adds just the right amount of pattern without over powering the look. When you include a pattern in your outfit, you want to make sure it's not the first thing someone sees.
It should enhance the look in a subtle way. That's why we use animal print sparingly. Done well, it will kick up the style factor in any outfit.
You can also pair it with a traditional black suit, layer it under a cardigan for a business casual look, or wear it on the weekends with your favorite jeans and a blazer.
Thankfully, Banana Republic offers a size scale for most women. This tank runs from an XS (00) to an XXL (about a 20).
For the bottoms, I wanted to feature something other than a pair of black straight leg or ankle length pants, so I was happy to find this high wasted, wide leg option (on sale). They are calling these "high waisted," but they may as well be called "not low waisted." They should hit at your belly button, any higher and they don't fit.
I particularly like the seam running down the front of the pants. This is an easy trick to make your legs look long and slim. The seam draws the eyes in and visually pulls your leg in, giving a slimming effect.
STYLE TIP: You can mimic this slimming effect in most other pants by having them dry cleaned and ask for a crease down the front of the leg.
In a look like this, you want to consider the texture (velvet) and pattern (leopard) as an accessory. There's no need to add much more so I kept it simple with a straightforward shoe, bag and earring that have a little something extra to them.
The shoe were a splurge but are on sale for under $100. We used it to show how you can incorporate a classic style with a twist to elevate the your look. Because the hardware on the shoe is gold, we made sure to use gold hardware everywhere else. It's a great trick to ensure your overall outfit feels cohesive.
For example, if your belt buckle is gold tone, avoid a shoe or a bag with silver hardware. That's why we used this inexpensive ($35) and roomy bag by Sole Society.
STYLE TIP: Sole Society is a fantastic brand is you are looking for affordable and stylish, non leather bag options.
Lastly, a classic rope earring in gold tone rounds out the look. The rope detail is another way to add visual interest and movement.