Back when I worked with private clients, I would come across certain pieces and would just know they would be a hit. That's the feeling I had when I first saw this purple tweed blazer. First, the color is gorgeous, like a rich amethyst that works with any skin tone. Second, the fit is on point. Its classic styling works for most body types. You want it to hit at your natural waist, around your pelvic bone, to keep your legs elongated. Finally, the price. An office-appropriate blazer you can wear in both casual and professional for under $100 is fantastic.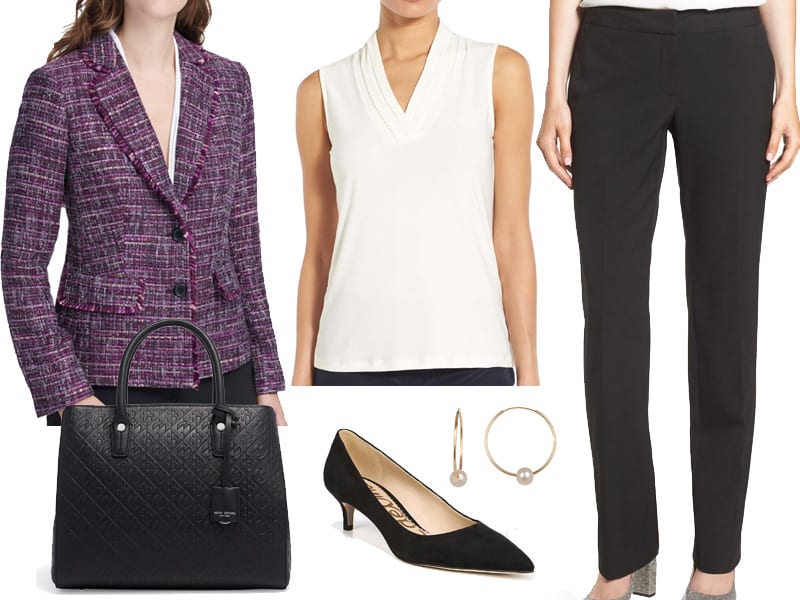 Blazer, $70 | Pants, $40 | Top, $39 | Heels, $120 | Earrings, $60 | Tote, $239
Currently, it's available in sizes up to a 16.
To create a polished and professional outfit, I turned to pieces we've featured over the last few months. Many of the these are featured in our Reader Favorites of 2018 post from yesterday. To layer under the jacket, this Anne Klein shell is a winner, and under $40. I would pick it up in black and white if you need to refresh some of your underpinnings. The neckline is ideal for the cut of the jacket since it follows the line of the lapel.
Halogen, Nordstrom's well priced private label brand, makes a workhorse of a trouser. These "Ela" straight legs come in missy and petite and are on sale at Nordstrom Rack for $40. At that price, even if you need alterations, they are a no-brainer.
You can also incorporate this Halogen ponte knit skirt we recently featured. It's on sale right now for $20 – seriously.
For the shoe, I went with a low kitten heel pump by Sam Edelman since it has a very manageable heel and a pointed toe that continues the line of your leg.
Because the look is classic and conservative, you want your accessories to have the same feel. I'm crazy for these gold hoop earrings with faux pearl detail. They are just updated enough but still traditional.
Finally, you may have heard that Henri Bendel is going out of business in the new year. It's such a shame because I liked their quality and styling, especially their bags. The quilting on this chic tote adds some texture, you could carry this simple satchel, or set a sale alert for this croco bag since I'm sure these will all be marked down in a few weeks.
Need some more inspiration? Check out two of the most popular Wear to Work posts of 2018: