For years I was vehemently anti-backpack for work. I would stand in airports and see otherwise well-dressed men looking like they were about to hike Yosemite, and women in pumps with a Jansport on their back.
Most backpacks ruin a professional outfit. They are a distraction and ultimately knock out any sophistication in your look. The wrong one can make even the most seasoned executive look like a new hire.
But given the rise of more casual work environments, and diversity in how people commute to the office, be it on public transportation, or bike, being hands-free can be super helpful.
I changed my tune about backpacks because of this Tumi option. It is by far the best backpack for work. The designers must have been standing next to me in all those airports, watching the vein on my forehead throb, wondering how they can help me and decided to create a better alternative.
The Best Backpack for Work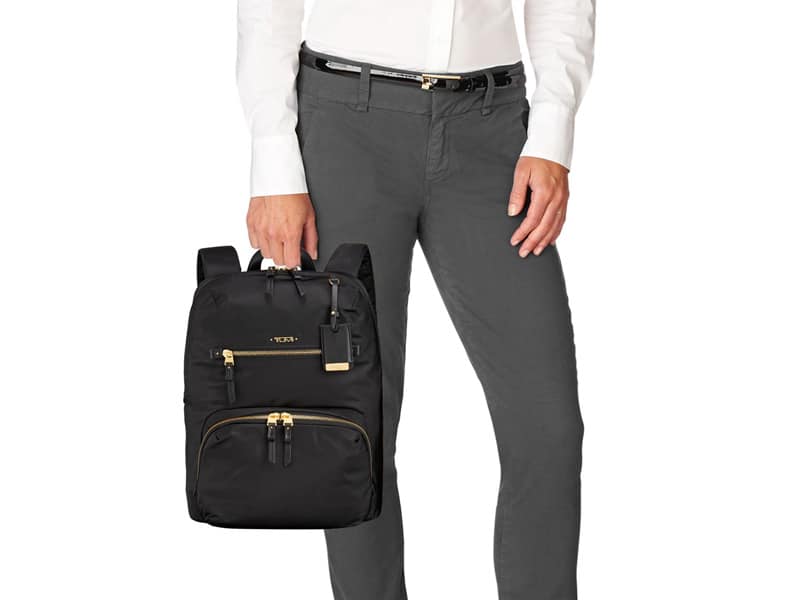 Backpack, $295
If you are a frequent traveler or commute to the office every day with your laptop, this is for you. It has all the organization you need without going overboard (I hate when a bag has too many pockets and dividers.)
If you are on the road, it slips over your roller bag handle and sits comfortably on top. The shoulder straps are comfortable and will fit easily over your suit jacket or heavy coat. You can wear it on your back, or carry it by its top handle.
Inside, you have room for a 12′ laptop, and plenty of room for all your essentials. I like that it slips under the seat in front of you on the airplane, and keeps all your in-flight essentials tidy and easy to access.
Because it is Tumi quality nylon, it can take a beating, and stay in great shape. Stylistically, it's chic and streamlined. You don't want a backpack that draws attention; you want it to blend into your look.
Need a slightly larger option? They also make the same style that fits a 15″ laptop.
For more Tumi options, shop this post below.
Shop this Post