This content has been archived. It may no longer be relevant
If you like a monochromatic look but want an alternative to wearing all black in the warm weather, try combining a palette of muted dusty neutrals.
I found this slouchy blazer at H&M ($50). You don't always have to "invest" in wardrobe building pieces. When you do purchase an inexpensive piece look for a few things. First, make sure it fits you well or have it altered to fit correctly. Second, look for elements of a well-constructed garment. Here, the blazer is lined and has well placed seems. Finally, choose a sophisticated color, it helps elevate the piece to make it look more expensive than it is.
H&M is worth checking out when you need modern and stylish budget friendly clothes. Don't wear it head to toe, pair it with better pieces, a good shoe and a statement bag.
This jacket has ruched sleeves, a flattering v-neckline, and a lovely statement button. Also comes in a dusty rose that you could drop right into this look, in sizes 0- 18, runs small.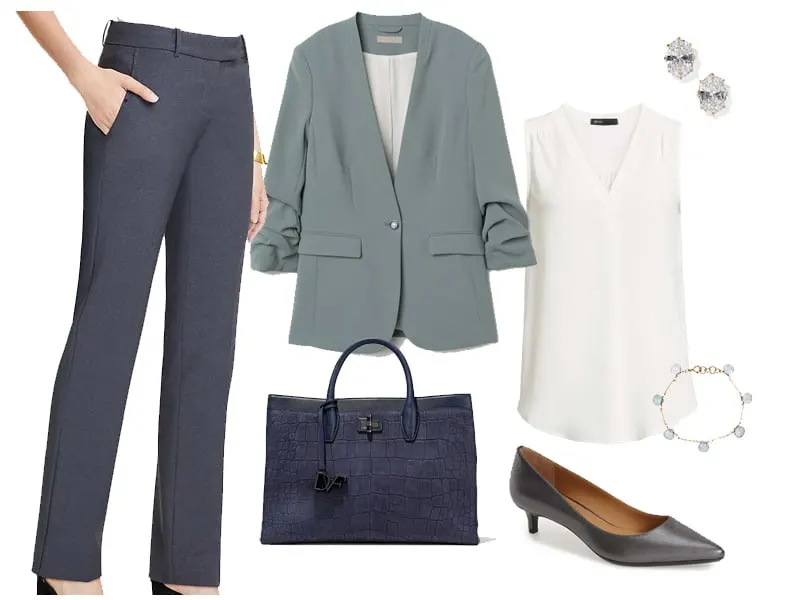 Blazer, $50 | Pant, $129 | Tank, $35 | Shoe, $69 | Bag, $239 | Bracelet, $77 | Earring, $38
I paired the jacket with these pants from Ann Taylor. They are FANTASTIC. Here's the deal, they come in navy and grey (above), in "regular" and petite sizes from a 00 – 18.
But wait, there's more. Within each size profile, you can pick a fit: Modern, Curvy and Classic. "Modern" will be slimmer lined, "Curvy" is self-explanatory, and "Classic" will give you a little more room with a straight leg fit.
Under the blazer, all a loose sleeveless blouse, like this Gibson tank we featured earlier this month. It has the right neckline to run along the lapel of the blazer. You can tuck it in or leave it out, depending on what looks best on your body type.
To keep the line of the pant flowing I used a grey kitten heel. Both the color and point of the toe helps extent the line of your leg making you look longer and leaner.
I love how this navy bag looks with the grey and green blazer. It's on major sale on The Outnet so inventory is likely limited.
Finally, a pretty bracelet that has some movement will pick up the colors in the outfit and a uniquely shaped pair of under $40 studs are a classic and modern.

Shop this Post