When you have to get dressed every day for work, it's easy to fall into a rut. It's why so many of us look in our closet and find zero inspiration. Sure, it's all fine, but, gosh, it's so boring when you feel like you're wearing the same thing all the time.
Today, we're pulling together an affordable outfit you can wear to pretty much any office, with pieces that will brighten and freshen up your current wardrobe staples.
How to Rock Patterned Pants to Work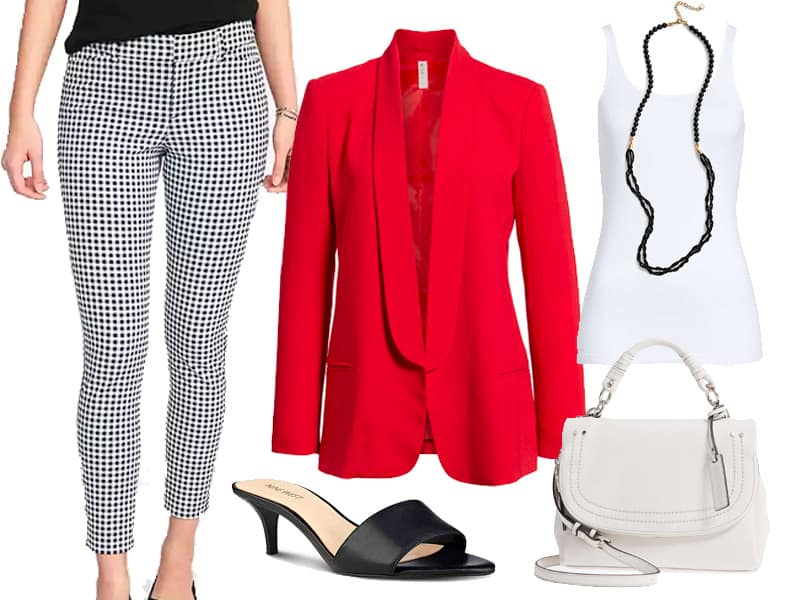 Pants, $35 | Blazer, $74 | Tank, $58 | Sandal, $80 | Bag, $60 | Necklace, $30
My idea was to work with a patterned pant. I didn't want something super specific, so I went with a gingham print (that looks like dots) that works as a neutral while adding visual interest. Don't spend here. These pants from Old Navy are $35 and come in petite, tall and missy up to a size 20.
For this look, I went with a cheerful red blazer. I have several Mural blazers and have been very please with the quality. For under $100 you get a fantastic, casual, cardigan alternative that will add structure to your look.
Both of these pieces can get tons of use outside of this outfit. For the pants, pair them with a simple summer weight sweater, add a pop of color with a bright blouse, or tone it down with a classic black tank and blazer.
The Mural blazer works wonderfully with slim lined black pants, white jeans, or your favorite pair of dark jeans. It's available in red, black and a soft and pretty blue.
To keep this look clean, I used this tank by Eileen Fisher. It's more expensive than the Old Navy scoop tank we've featured over the last few months but feels more substantial. It just a great staple that comes in white and black. Her quality is always excellent so this will wash and wear well season after season.
There are a few elements to this look that are important. These black slides by Nine West, are on sale at DSW. If you tend to wear a lot of ankle length pants in warmer weather, the height of these slides are perfect.
For this outfit in particular, you need a shoe that grounds the look. There's a lot going on, so the shoe creates balance. A white or "nude" would be too light.
We make black the primary color of the outfit by using this long beaded necklace. Even though the red is bold, by using black three times we create cohesiveness and symmetry.
Finally, I wanted a bag the mimicked the structure of the blazer but didn't stand out. Don't be afraid of a white bag and don't spend a lot. Sole Society is my go-to for trend-right, affordable bags. I like the shape and size of this one. I just wish the hardware was gold, so it complimented the necklace, but it disappears enough that it might not make a big difference.