This content has been archived. It may no longer be relevant
When you consider purchasing an interesting piece, be sure you can wear it three different ways. Doing so ensures that when you bring it home, it doesn't hang in your closet and become yet another piece you don't know how to wear.
Why three? During my time working with personal clients, I found that three was the magic number. I could always come up with three; once you hit four or five combinations, you start to lose the composition of the outfit.
It was a good lesson to learn: don't mix and match for the sake of mixing and matching.
Today's featured blouse by Michael Michael Kors is in a lovely subtle pattern with movement in a professional and feminine style.
It's on sale for $66, so if you like it as much as I do, I would scope it up since sizes are getting limited.
I styled it three ways, with jeans for a casual look, suited for a big meeting, and with a simple pencil skirt for an everyday office outfit.
Let's start with the most casual look …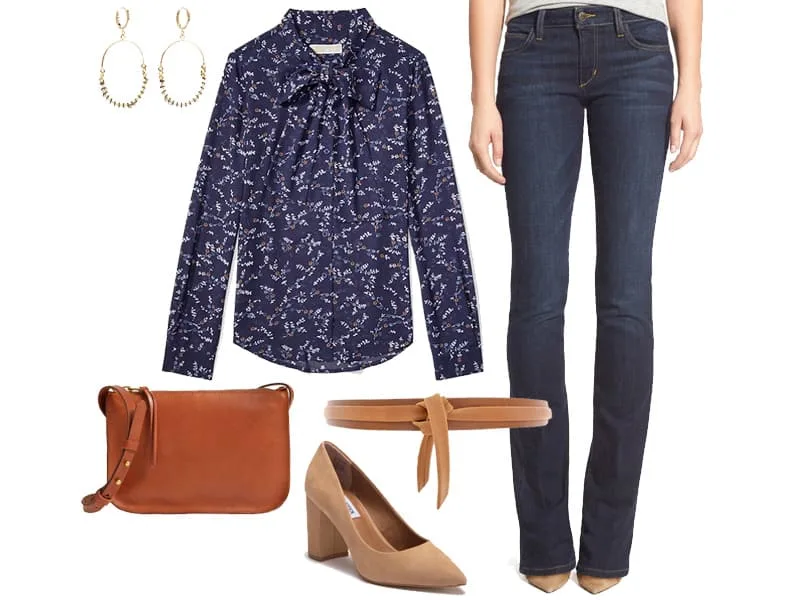 Blouse, $66 | Heels, $50 | Jeans, $85 | Belt, $69 | Bag, $98 | Earrings, $180
If you work in a professional environment and can wear jeans stick to a boot or trouser cut. They are more appropriate than a super skinny. If straight leg jeans work better for your body type, go that route instead.
Joes Honey Bootcut jeans are by far one of my favorites. They are timeless, have a modern cut and accommodate a booty. Regardless of which brand you wear, if you opt for a bootcut and wear a heel be sure the hem breaks slightly on the top of your foot. If a bootcut is worn too short, you will look ridiculous.
Keeping the style of jeans in mind, I went with a block heel pointed shoe in tan suede that pulls out the accent color in the blouse. A block heel also works best with a full pant leg because it creates balance.
For a polished look, tuck the blouse into the jeans and add a neutral colored belt. If you have a traditional skinny belt, wear that, or pick up something a little different. This wrap belt is a versatile addition to your wardrobe. You can wear it with jeans, or a skirt to help define your waist or to create a layered look without adding bulk by wrapping it around a dress.
You can wear this one with the tie in the front or back.
I finished the look with a gorgeous pair of earrings, definitely a considered price but many readers have been asking for better jewelry recommendations. And this simple bag works well if you don't need to carry a ton of "stuff" to the office every day and is under $100.
Moving on to the most professional option …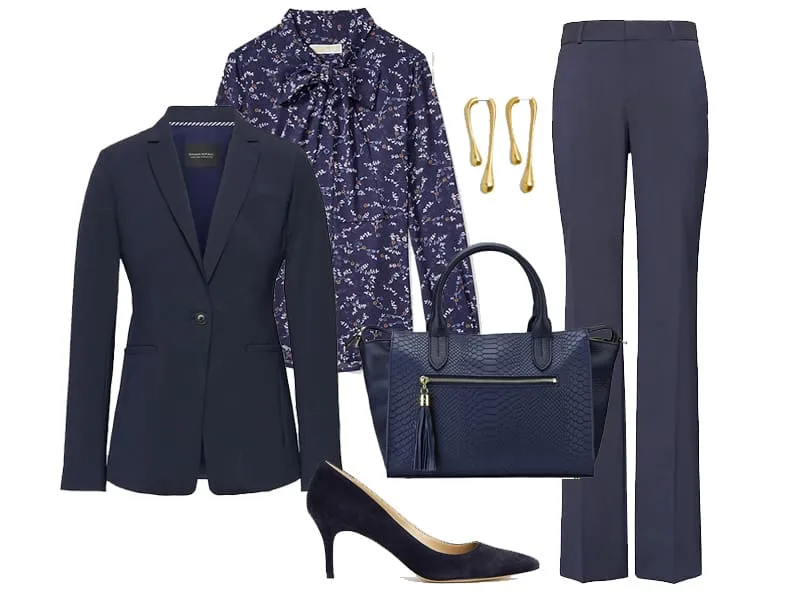 Blouse, $66 | Blazer, $199 | Pants, $120 | Heels, $128 | Bag, $495 | Earrings, $50
I love this look. Like, really love it. It's powerful, modern and also feminine. Makes me want to get dressed and do something big.
I picked this particular suit by Banana Republic for a few reasons. It's affordable compared to what a better quality suit costs. The cut is classic and modern, and the fabric is seasonless. Anytime I see "washable wool" I get excited. I know many women try to avoid having to dry clean clothes for several reasons, but it's tough to find professional clothes that are wash and wear. This suit is a great option whether you're down with dry cleaning or not.
It's also size inclusive going up to a 20. That's always been a priority for us, so the fact that better mainstream retailers are finally getting on board with sizing for everyone makes my life a little easier, and I'm happy to promote them.
The blazer has one button which helps pull the eye in and highlights your waist. Much like the jeans, the pants have a flared bottom. Not too much flare, just enough to give a long and lean line to your leg. Who doesn't want that?
I used a basic navy pump that you can find anywhere. Always opt for the darkest navy, it will work in more outfits. Sometimes the navy looks too blue, and that can cheapen your look.
There's something about these earrings that complement the pattern of the blouse. They feel organic and fun. Finally, this Gigi New York tote is one of my favorites, a total investment but the quality matches the price tag.
Lastly, a skirt option for spring days in the office …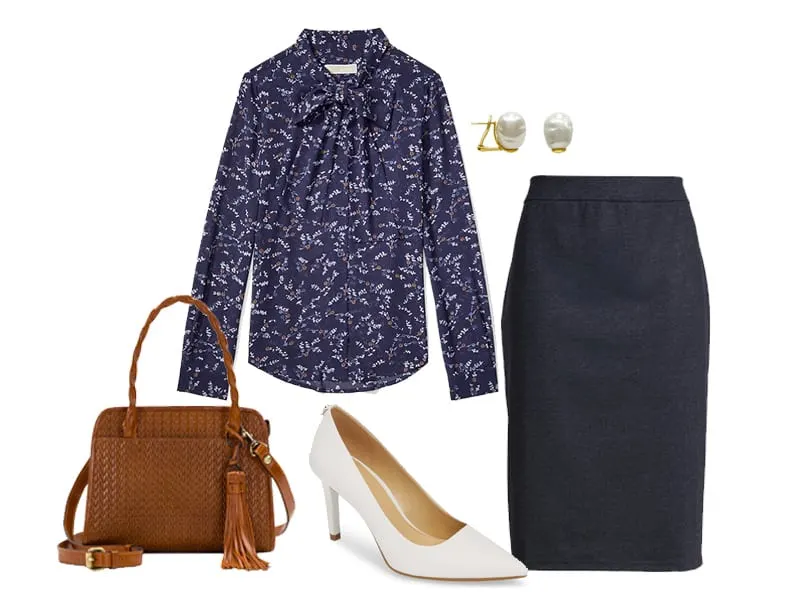 Blouse, $66 | Skirt, $41 | Heel, $99 | Bag, $229 | Earring, $100
Isn't this pretty?
I used this knit skirt by Halogen at Nordstrom because of the color, cut and price. The color is called "indigo" which dresses down the outfit without making it too casual. The cut will work for most body types, and the price is $41.
Need something a little more professional? I like this dark grey skirt from Ann Taylor.
To lighten things up, I used a white pump. White pumps are a fun spring trend, so if they work with your style and fit in your budget, they might be worth picking up. These Michael Michael Kors heels are under $100.
Finally, these earrings are a sweet way to wear pearls without them looking too precious. And this gorgeous woven bag from Macy's adds some lovely texture to the outfit while pulling out an accent color in the blouse.
Shop this Post