This content has been archived. It may no longer be relevant
A big thank you for everyone's patience this past week. After my grandmother passed away, I was hit with a nasty upper respiratory infection that I'm still battling (thank you pregnancy immunity), had to fly to Miami for a quick work trip and then had to take a few days off for the funeral. I never want to take advantage of your inbox, and since I could barely form a thought, I didn't think sending out half cooked content was a good idea.
The last couple of weeks have been a lesson in doing the best I can, and how that's going to look different depending on the situation. I'm delighted to be getting back into the swing of things and getting set up to take a bit of a break when the baby arrives.
I'm excited for today's post because it's stylish and practical in so many ways. A few readers have asked about pattern or plaid pants, and how to wear them to work. The challenge I found was finding one that was wearable and classic yet updated. When it comes to prints and pattern on a bottom, you want it to be subtle. You don't want it to be the first and only element you notice about the look. Instead, it should enhance your overall outfit without being overwhelming.
I decided on these T Tahari straight leg trousers (available at Bloomingdales) for a few reasons. First, the fit. I've always had great luck with T Tahari pants, they just work. When I worked with clients I turned to them over and again. I think they are a bit on the short side on the model. I would take the hem down about an inch. Because these are menswear inspired, be sure to have a break at your shoe. This just means that the bottom of your pant hem slightly puddles on the top of your shoe. Proper tailoring is extra important when it comes to patterned bottoms because the pattern will highlight even the slightest imperfection.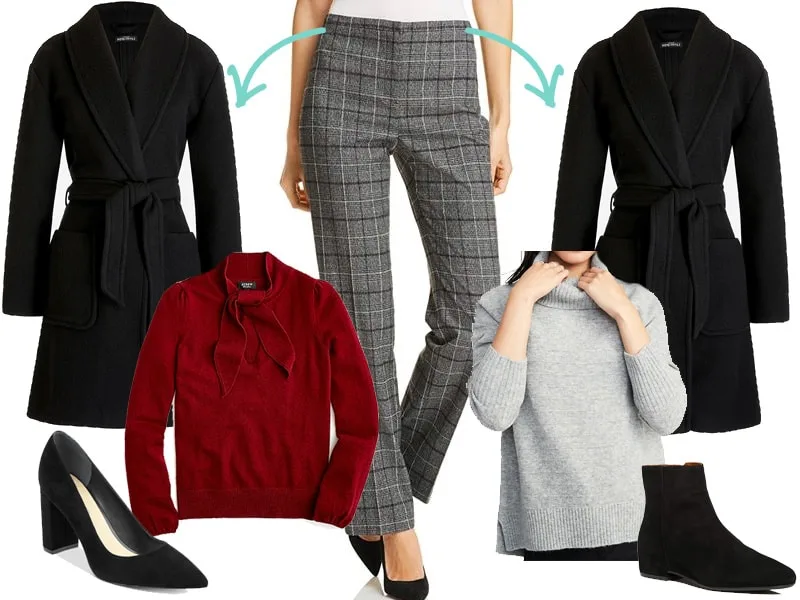 Key Piece: Pants, $98
Left: Sweater, On Sale, $105 | Heels, On Sale, $62 | Coat, $148
Right: Sweater, $35 | Boots, $495 | Coat, $148
When buying a memorable piece (i.e., anything not a basic), it's helpful to be able to wear it a few different ways. This prevents the item from hanging in your closet, barely worn. Today, we broke it down into two simple looks that use some new pieces and a few that will look familiar.
For the first look, I used this lovely burgundy tie top sweater. It's different, with an open neck and feminine tie detail. I so appreciate J. Crew this season, in both styling and size options. This sweater goes to a 2x and is available in three additional colors.
For the shoes, I used these Marc Fisher block heel pump in black suede. The suede complements the texture of the sweater and the pant, the block heel gives support and comfort, and the pointed toe helps elongate the line of the leg. They're pretty much perfect.
For the second look I opted for this cozy Old Navy sweater that landed on our October Reader Favorites list. With the holidays upon us, you might have a few office days when you have to get dressed, but maybe you're just cleaning out files and getting organized for the New Year. For those kind of days this outfit is comfortable but still professional.
The boots are a total splurge but worth every penny. When I would travel to New York, or Chicago in the winter months, these are what I would wear under my pants. No need to carry an extra pair of shoes. Just brave the elements, get to the office and brush them off. They are ideal if you commute via transit to work or navigate a busy city.
Finally, so many of you picked up this wrap coat I wanted to remind you how easy it is to wear. It's nice because it's unstructured, so it will fit over bulkier sweaters. It's on sale for $85 and is still available in most sizes in two colors.
Shop this Post