This content has been archived. It may no longer be relevant
A dress for work is ideal since it's one step dressing that looks like you put in so much more effort. I tend to lead toward structured sheath dresses for the office, but I adore this soft and flowy tie waisted option. Today's look feels a bit but reads more fresh and modern than costumey.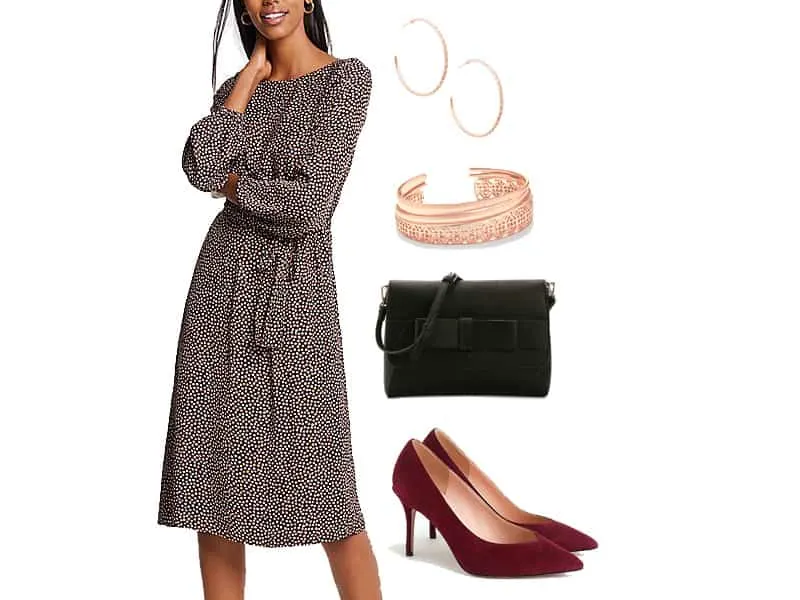 Dress, $159| Heels, $248 | Bag, $25 | Earrings, $70 | Bracelet, $90
This dress from Ann Taylor is wonderfully modest. I also like this plaid dress in even more size options. So many dresses these days just cover your bottom, our go down to your belly button, or both – and these are supposed to be for work? To keep this from looking frumpy, you want it to fit in a way that skims your body, and have it hemmed to very top of your knee.
Because dresses are so simple, you need minimal accessories. For shoes, I went with these burgundy suede pumps. Yes, you could do black, a nude-to-you, or even cognac. I like how burgundy blends with the dress without matching, and the suede keeps it seasonally appropriate and adds some extra texture.
I found this $25 crossbody bag that is both structured and feminine. It's a nice size, and while you can't keep your laptop in it, it will fit everything else you need to carry.
For jewelry, you could do either a necklace or earrings. I went with oversized earrings that are thin, so you could still pull them off in the office. Rose gold is a softer option than traditional yellow gold and goes with the overall feminine feel of the outfit. Because rose gold is a specific color, I included this set of 3 bracelets also by Kendra Scott to balance out the look.
Plus size? Not a total match but this Michael Kors dress has a similar shape, feel and price.
Shop this Post