This content has been archived. It may no longer be relevant
If you have a lot of basics in your wardrobe you may feel like you could use a few pieces to add some personality and bring your style to life. The challenge is how do you layer in interest without those pieces looking out of place? If your style leans toward the classic and timeless side, when you add more trendy items, they need to have the same look and feel as the rest of your wardrobe.
A few thoughtfully curated items, that work in conjunction with your better basics is the cure for a wardrobe that's starting to feel a little bland.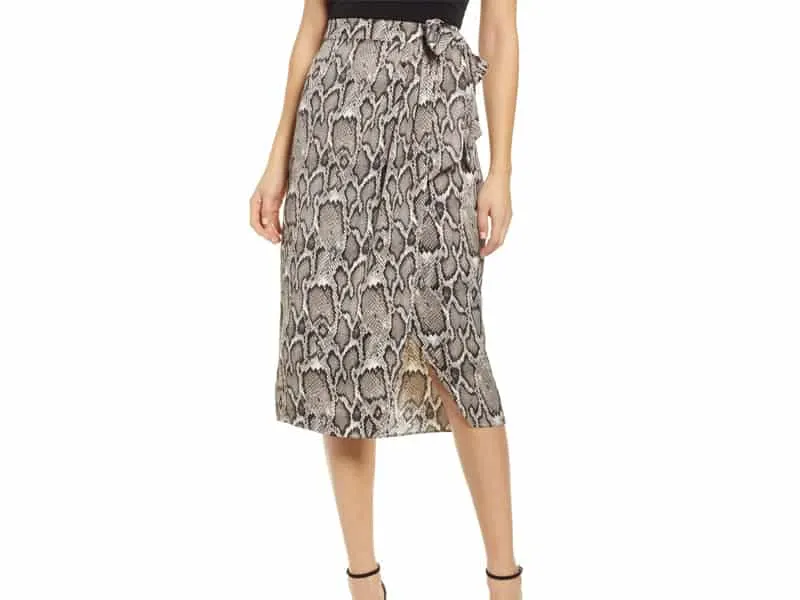 Skirt, $59
Which is why I love today's featured skirt. When you take a conservative piece and give it a twist or two, you get instant sophistication and a little whimsy. This skirt by AFRM at Nordstrom for $59 combines midi length, with a wrap skirt style in a snakeskin print.
If I were reading the description without seeing the skirt, I would think it was too much, but somehow, it works.
You can wear this to a creative office, of course, if you work for yourself, and don't be afraid to take it to a casual office too. Just because your colleagues are wearing jeans all day every day doesn't mean you can't have some fun and play with clothes.
The skirt length will depend on your height. Because it's meant to be midi length adjust the hem to hit slightly below your knee.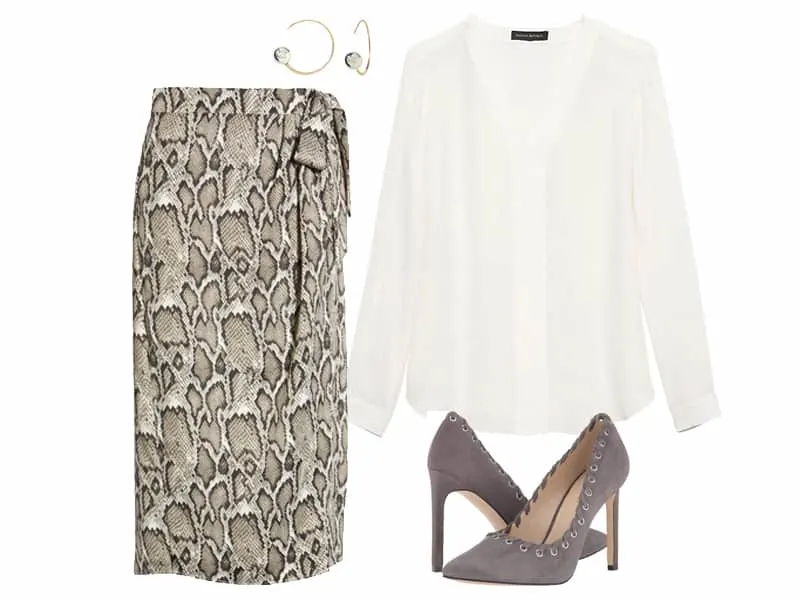 One: Skirt, $59 | Top, $80 | Heels, $78 | Earrings, $38
In the first outfit, I used the popular Banana Republic blouse we featured a few weeks back. It's as versatile as it gets. To make it work here, roll the sleeves and give them a little zush up your arm. Tuck the blouse in to highlight the flattering wrap style waistband.
I found these suede pumps with grommet trim detail by Nine West and thought they brought some balance to the boldness of the skirt. You could also wear any neutral to you pump, in any heel height.
Other options include these kitten heels by Steve Madden with a wearable heel and on sale at Nordstrom Rack for under $60, and these Rag & Bone heels are gorgeous and deeply discounted at Barneys.
Just keep in mind that a midi length requires some kind of heel to help you maintain your height. A flat will bring the look down and you run the risk of looking frumpy.
Because there is a lot going on with the skirt don't go overboard with jewelry and accessories. Updated hoops are all I incorporated to finish the look.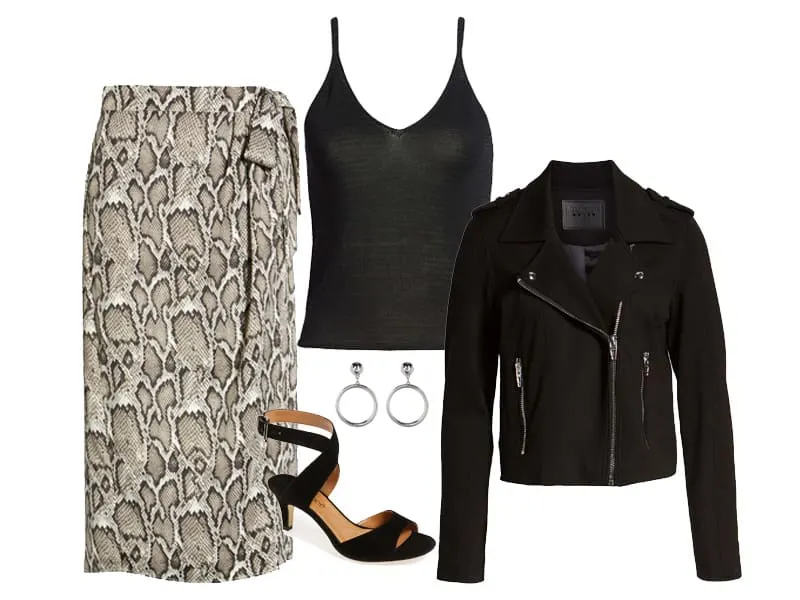 Two: Skirt, $59 | Tank, $39 | Jacket, $98 | Sandal, $100 | Earrings, $15
The one thing I miss about working in a proper office is the social aspect. So for the second outfit, I was thinking about a day in the office with plans after to have dinner and drinks with friends and colleagues.
This simple tank by Leith is called their "Date Night Tank" and that feels very appropriate. It's slim cut to the body making it ideal to layer under a jacket and tuck into a skirt. If you are busty this probably won't be office appropriate, though I would totally recommend it for a Friday night out.
I'm featuring it here because (1) we're putting a jacket on top, (2) it's under $40 and (3) it also comes in plus. If you need something with more coverage, this Gibson tank we've featured a few times would be lovely.
When I first saw the skirt,I knew I wanted to offer some kind of jacket option. A traditional one or two button blazer doesn't work, it feels mismatched. A moto jacket seems like the best option, but they are usually made of leather, or leather-like material, which is too heavy for the skirt.
I was starting to get frustrated because I knew what I wanted to but couldn't find it, and then I landed on this lightweight, knit moto that perfectly complements the skirt. The best part? It's under $100 and it's washable! You can wear it here, and a variety of other ways both to the office and on the weekends.
For shoes, I feel like I keep going to back to the well with these Sam Edelman suede pumps. If you have them, you can wear them with this look. Above, I switched things up with these ankle strap sandals with a kitten heel. I also like these by Banana Republic sandals with a block heel as an option.
In any case, the shoe here should be black to help ground the look.
You want to be mindful of the details on the jacket. Anytime you are working with a piece that has a lot of zippers, keep everything else subtle. A simple pair of silvertone earrings enhance the look without competing with what is going on with the jacket. And remember, if the zippers are silvertone, your jewelry should be as well, this gives a cohesive vibe to the outfit that feels purposeful.
Shop this Post