Today's Wear to Work look is a simple and affordable outfit for a casual office. You know those mornings when you couldn't care less about getting dressed? It's a million degrees out, so the last thing you want to do is add on the layers. For days like that, try to have a few tops that have some added details, that creates some visual interest without bulk and weight. That's just what I found with this simple floral wrap blouse.
Personally, I don't stop into stores like Marshall's, TJ Maxx, or even Nordstrom Rack that much. Not because I don't like to save a dollar, but because I'm tall, I rarely find enough variety in my size to make it worth my time. In the past, when I have picked up some pieces, I find I'm only buying it because it fits or serves a purpose, not because I love it.
Searching for pieces at these stores online is a different story. You have more options, sizes and can often find designers you would pay full price for at significant savings. Just be aware that some labels are exclusive to the outlet. Which is totally fine with me if the piece is priced and made well.
The floral wrap blouse featured below, (available at Nordstrom Rack) is just the piece to bridge the weeks between the heat of summer and early weeks of fall. The olive color makes it ideal for transition dressing, while the shape, and style gives the blouse enough oomph to stand alone and feel complete. (For a similar plus option I like this yellow floral blouse at ASOS.)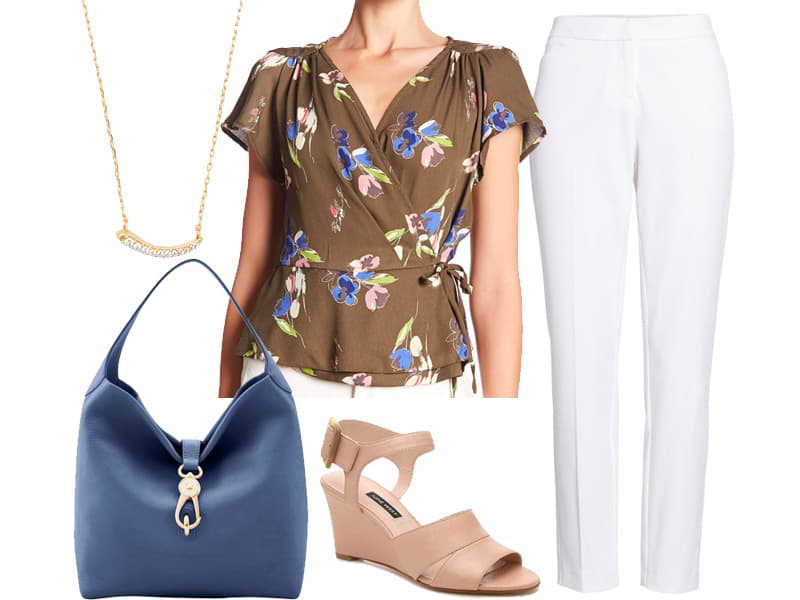 Top, $25 | Pants, $69 | Sandal, $55 | Necklace, $60 | Bag, $298
I like a wrap top or dress for a million reasons. It's universally flattering, shows off your shape and is comfortable and feminine without being overtly sexy. The pop of color from the floral pattern keeps it fresh but doesn't limit you to only wearing it in the warm weather.
Simplicity is key to classic style, especially in the summer. I'd rather you be thoughtful in your choices than layer on a million extra pieces. Slimline white pants compliment the shape of the blouse. For a plus size option Sejour is Nordstrom's private label plus size equivalent to Halogen. A light beige wedge gives you height and comfort. A lightweight necklace is barely noticeable but adds a subtle touch of a layer to your neckline.
I splurged a bit on the handbag. It's a classic shape in a four-season color that would get lots of use in a classic wardrobe. You could pair it with dark jeans and a striped boatneck, or navy ankle pants and a crisp white button down. I also appreciate that there isn't a logo splattered all over the body of the bag. Maybe it's me, but I think if you're fortunate enough to have the ability to buy better brands, it's chicer to be subtle about it. You're not a race car unless they are sponsoring you, I don't think you need to wear labels all over your body.
Shop this Post