August is the most challenging time of year to get dressed for work. It's still hot (so, so hot on the east coast), so the lack of layers makes it hard to pull together a cohesive outfit. You also don't want to spend any more on summer clothes, because, well, it's almost fall. Like we do every year, for the next few weeks, as we transition from summer to early fall, our weekly Wednesday Wear to Work post will feature items to wear now and later. We'll start with this sleeveless tie front blouse.
I love a piece that is simple with something extra that adds interest without bulk or weight. In the warm weather, that small detail makes a big impact. To wear now, we paired it with simple black ankle pants (a steal at $55). I went with Talbots because of the size selection and to show an example of seasonless wool. Seasonless wool is just what it says, wool you can wear all year long. It has a professional drape and packs well so it's perfect if you travel a lot for work. The sleeveless blouse and ankle pant paired together creates your base.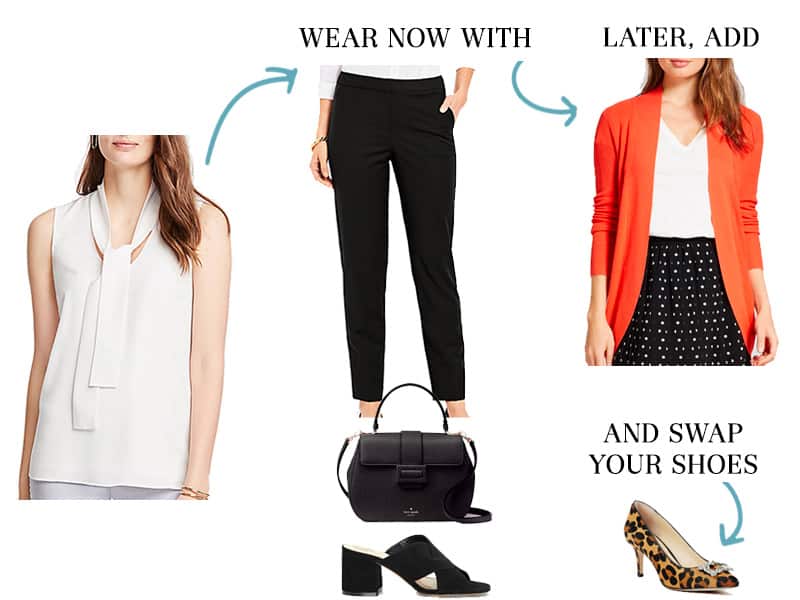 Shell, $54.50 Wear Now with: Pant, $55 | Sandal, $55 | Bag, $244 To Wear later add a Cardigan, $16 and swap shoes with Shoes, $50
I like a bag with structure, like this top handle (that converts to a crossbody) by Kate Spade. Of course, you can carry your every day work tote, this is just a fun option. When shopping for a classic style bag, especially if your spending a few hundred dollars on one, keep the hardware and branding subtle. You'll be able to wear it longer and won't look like a billboard. For appropriate and comfortable shoes, these Vince Camuto block heel wedges are a winner and also 50% off. Combined with your base outfit, you get a clean and unfussy look. Layer in some of your own jewelry and you're good to go.
Taking this into the fall is easy peasy. Simply add a jacket (this one from Monday's post is perfect) or a cardigan. I found this $20 option at Target. I like it because it's inexpensive and the length feels just right. Some cardigans are so long they look like bath robes. Not a good look for the office. Finally, I jazzed up the look and feel by swapping the slide with a classic leopard print pump with a little bling. They might not be appropriate for all offices, but if you're a creative, or more laid back, you can pull them off.
Shop this Post (with plus size options)