I am itching for fall. Surprisingly, I'm not ready to throw the kids out of the house yet, though check back in about two weeks and I'm sure I'll be trying to put them on any bus that drives by our house. I'm just yearning for crisp mornings, a quiet office and most of all, routine. We have so much going on I can barely wrap my head around everything that needs to get done before baby girl #3 arrives. And while I can't wait for December, I need every minute we have left to get ready. I feel like things will move more smoothly once we get into our back to school rhythm.
Plus, I'm bored of warm weather clothes, especially for the office. I want LAYERS, and BOOTS and COATS! Today's Wear to Work Now and Later is one of my more favorite posts we've done in a long time. Every single piece is super wearable and versatile.
Let's start with the dress, which is our key piece. You can wear it all year long. I've talked at length about Lafayette 148. It's a consistently gorgeous collection of sophisticated wardrobe pieces. You'll find workhorses you'll wear for years, and stunning statement pieces with the price tag to match. They are on the expensive side of things, but their quality is worth it if it fits your budget. If it doesn't fit your budget? Shop their sales. Today's simple, classic black sheath, with a subtle yet lovely satin trim is on sale for half off making it an investment piece that doesn't brake the bank. I find their sizing to generally run on the big side so double check the measurements. I can wear a 4-6 in their pieces, but generally I'm more comfortable in a 6-8 in other brands.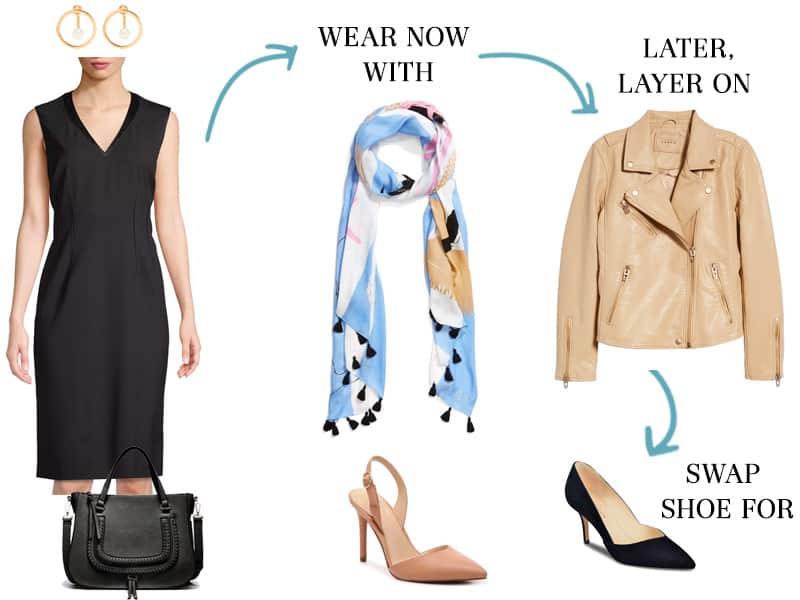 Dress, $223 | Bag, $70 | Earring, $345 Wear Now With: Scarf, $98 | Heel, $60
Later Layer On: Jacket, $98 and Swap Shoe for: Heel, $60
We frequently talk about looking for subtle details in stand alone pieces. Here, the satin trim of the dress, interesting neckline and seaming at the waist all elevates the dress and makes it look more substantial. Take note of the back of the dress. So often a perfectly good work dress is ruined with an open back, this one goes right up to your neck and balances the front v-neckline.
I do not love a lot of handbags right now. Nothing feels fresh and modern, it's a lot of the same. I do like this affordable satchel for $70 by Sole Society. It looks higher end, doesn't have any obnoxious logos and has enough details to keep it interesting. To add a warm weather appropriate layer, this scarf by Kate Spade is beautiful. You can wear it in so many iterations. For the remainder of the summer loop it around your neck to add color and movement.
Can we talk about these earrings for a minute? I have a tendency to wear the same version of studs day in and day out. But when I saw these, I thought they were stunning and different yet still wearable for work. These are an investment, for sure, so use them more as inspiration.
The combination of these elements makes an easy to pull together look for the rest of the summer. You'll go to work looking polished and pulled together. For the summer, and even early fall, I like a slingback. If you work in a more conservative office, it can be a challenge to find a professional heel that feels seasonally appropriate when the weather is warm. To keep it light, pick a neutral-to-you pump, like these Vince Camuto slingbacks on sale for $60.
Now we'll make some simple updates to bring you into fall. Keep the dress, scarf, bag and earrings and simply add this buttery faux leather moto jacket. I love the contrast between the ladylike sheath with an edgy moto. It's fresh take on a blazer, and the faux leather adds some unexpected texture.
Finally, swap your shoes. I was delighted to find this pump for $60. It looks like a designer version that would add another zero to the price. The shape is elegant, again, balancing the variety of elements we're mixing together. As the weather gets colder, you can add black tights and a high heels ankle boot.
Shop this Post (including plus size options)