This content has been archived. It may no longer be relevant
Wearing a blouse and pair of pants to the office is just about as standard as it gets. After a while, though, you can start to feel uninspired. That's why having a closet full of interesting basics is the key to creating a composed work appropriate outfit, that is still easy to throw on.
Everything about today's look is simple, but with the exception of the pants, each piece has something extra. It's these extra details that add the interest needed to create a cohesive outfit.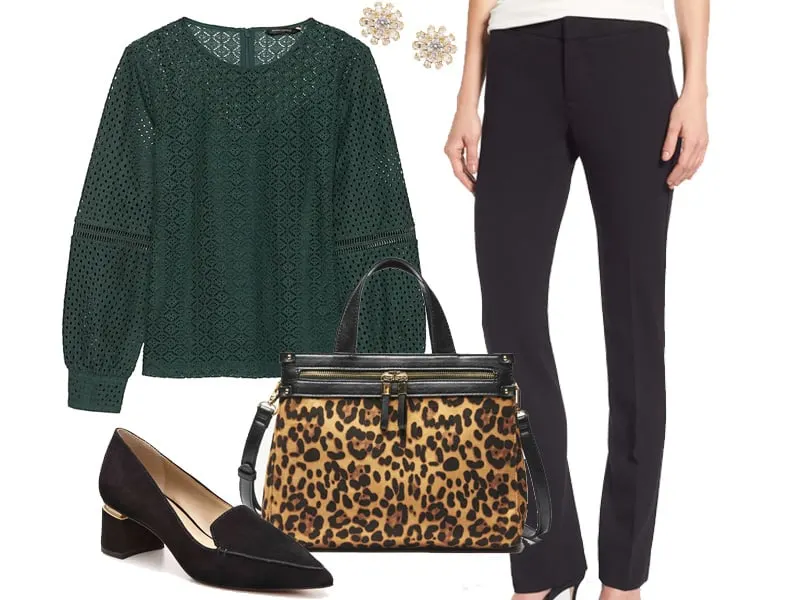 Top, $68 | Pants, $119 | Pump, $70 | Bag, $65 | Earrings, $30
I feature many, many slim lined ankle pants. So today I wanted to make sure I showed an alternative with these full-length trousers with a slight boot cut. NYDJ offers a classic cut, with great stretch that run the size scale including Regular and Petite in 0 – 16. They are fantastic.
Blouses are tricky to find. I find many are either so inexpensive you know they won't hold up, or priced so outrageously they rival a car payment. So I was happy to see this one by Banana Republic. It's lightweight but feels substantial. The lace adds the detail needed to elevate the look, and the color (shown here in olive) is ideal for the season. It's also available in black and white for under $100.
Or maybe it's a loafer? Either way, it's super elevated and yet wearable. The shape of the toe will elongate your leg and is ideal for the shape of the pants. From the front it looks like your standard pointed toe shoe, but the party is in the back. The gold detail on the heel makes them look designer even though they are on sale for $70.
The Accessoires
The fall is the best season to start to incorporate leopard print as a neutral. Here, we used it in the bag. For something like this, you don't want to spend a lot, so I turned to Sole Society for this $65 option. It's good enough quality for the price but doesn't run into triple digits. Finally, sweet and sparkly flower earrings work like studs while playing off the lace detail of the blouse.
Shop this Post