This content has been archived. It may no longer be relevant
If you're starting to feel "blah" about your current work wardrobe situation, now is a good time to shake it up a bit. Sometimes an update is as simple adding one new, cool piece — something that adds a twist to the pieces you already own.
I call these "novelty pieces." A novelty piece is the opposite of a basic, but just as important. They add interest, help you look modern, and add a stylish element. They offer loads of impact, especially if most of your wardrobe is composed of simple basics.
Today we're using a bold pink double-breasted blazer. I'm crazy about this outfit, like, I would wear it today if I had to go any place more interesting than my home office.
All the pieces we're featuring today have loads of mix and match potential. Think of this as a mini capsule. This is one way to wear these pieces, but you can get some dangerous life out of every piece.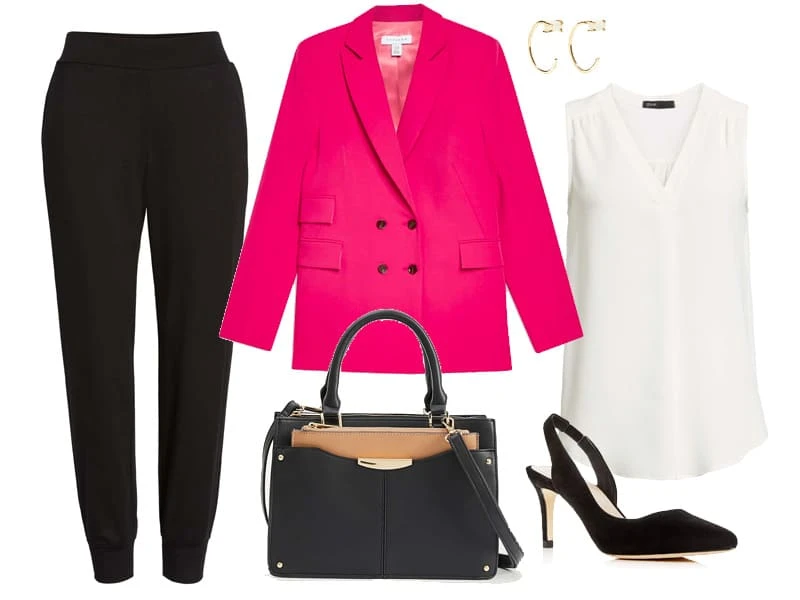 Blazer, $57 | Joggers, $49 | Blouse, $59 | Slingbacks, $119 | Satchel, $128 | Earrings, $210
I started with a double-breasted blazer in a gorgeous hot pink. This one by Topshop is all sorts of cool. If you like this one be aware of their sizing. It runs a full size small, so if you wear a 10, pick up a 12.
It's on sale for $57. Generally, you don't want to invest much in novelty pieces. This one happens to look more sophisticated than it's price tag.
Other options to consider: Banana Republic did a classic one button blazer in an equally pretty hue (all sizes available).
You can pair it with any slimmer lined black pants you already own. Make sure you use a slim pant to balance the volume of the blazer, otherwise your outfit will look oversized.
If you opt for the BR option, you could wear an updated bootcut like the Talbots "barely bootcut" we featured last month.
Or you can up the style factor even more and use a "dressy" pair of joggers. These are different than the sweatpant version we worked with last week. They are made of a ponte stretch knit, so they are equally comfortable, but have a better, more office appropriate hand.
I wear a version of these frequently, with various blouses and blazers. Every time I put them on, I feel like I know what I'm doing. For under $60 you can build out your outfit options. They work with everything you would wear with a classic black trouser.
When I discover a layering piece worth sharing, I shout it from the rooftop. Why is it so hard to find a simple, basic well made shell or tank to wear under blazers and cardigans that aren't $400?
Buy this Gibson tank at Nordstrom immediately if you need a base layer for under suits and separate jackets. It's $59 and comes in 11 different colors and patterns. Easy-peasy.
For shoes, this look is screaming for an airy pump, so a slingback and ankle strap would work well. I went with these Pour La Victoire slingbacks in black velvet on sale for $112. They are a classic style with a wearable heel. Definitely a piece you'll use a lot.
This, a tailored satchel from Ann Taylor will neatly fit all of your daily must haves and probably work with most pieces you already own.
Finally, I used a more expensive earring. I'm trying to offer a variety of price points throughout this series. Personally, I'd rather have one cool pair of earrings I wear often than a drawer full of cheap options. I love the modern feel of these gold and opal backward huggers. They are subtle and add a little edge.