I'm someone who loves a good party but the holiday office party was never my favorite. They always felt like more, well, work then I ever wanted to do after a long day in the office. I remember one I had to go to when I was at my last corporate job before I started my own business. It was at the massive home of our VP and was hour after excruciating hour of forced conversations.
Then there was one in NYC for my husband's company that I was pregnant with our oldest for and possibly the only sober person in Manhattan. No one really knew each other and it was just awkward.
But this time of year you might have to suck it up and attend your own, your spouse's or a celebration for a client or your network or industry.
I was trying to think about what I would wear if I had to go to an event that was festive but still professional. Cocktail dresses are often too much, and you don't want to go in what you typically wear to the office. This is what I came up with, and I have to say, now I wish I had somewhere to go!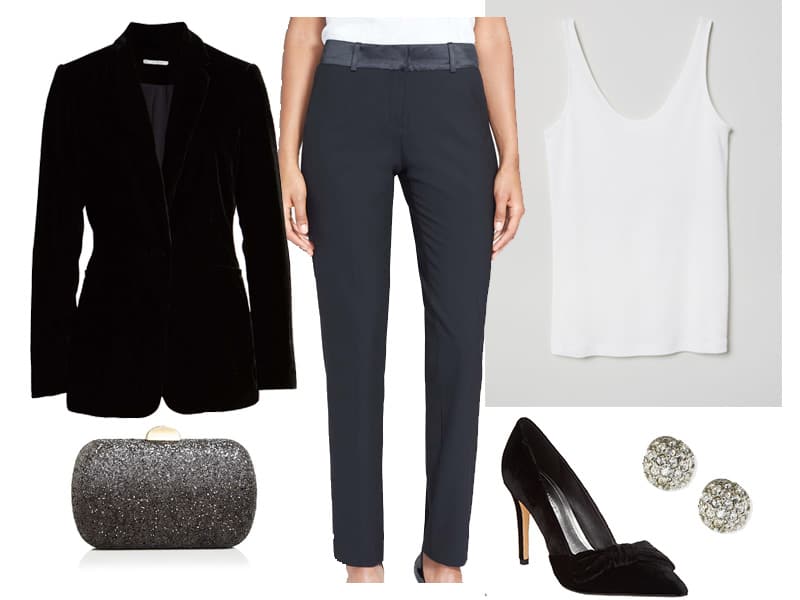 Blazer (Missy and Petite), $99 (Plus Here) | Heels, $57 | Pants, $150 | Clutch, $72 | Tank, $30 | Earrings, $142
Everyone should have a velvet blazer in their closet. It's not a basic, but rather a second level staple. You can wear how we have it styled here, over a cocktail dress, or with jeans and a tank. This one from Halogen is under $100, available in all sizes.
I paired it with a classic pair of tuxedo pants. They look off black in the photo, but they are true black. The straight leg style is elevated with a satin waistband making them just different enough from your typical work pants to feel special. To balance the weight of the blazer, I used a velvet pump. These Marc Fisher pumps look so much more expensive than their $57 price tag. For special occasion shoes I go one of two ways. I either spend big (I splurged on a pair of gold Jimmy Choo's a few years ago and reach for them all the time) or I spend under $100 and use them like a novelty.
To keep the look elegant but still holiday appropriate subtle sparkle is in order. This pewter and gold clutch is pure perfection. I would carry it in my hand, but it has a shoulder strap so you can stay hands free. These pewter button hearings go without matching too much.
For under the blazer, I went with an effortless silk blend tank from H&M. You'll keep the blazer on so all you need is something between you and the jacket. No need for anything sparkly or shiny, the elegance of the outfit is in the play on textures of the shoe, pant, jacket, and accessories.