Apparently, black and navy is a controversial color combination. A fact I didn't know until a few years back when I tried to tell a client that she could wear her black heels with her very dark navy pants. She was aghast, and I had no idea why. I eventually convinced her that it was entirely appropriate, considering the blouse she was wearing was a black and navy pattern. I left the appointment as I did so frequently, wondering how such a silly job could be so mentally draining.
The fact is there are a lot of old-fashioned sartorial rules that we just don't have to follow anymore, like wearing white after Labor Day and matching your bag with your shoes. What's so interesting to me is how some style no-no's are now considered chic options. Pairing black with navy is a sophisticated color combination and is so easy to pull together.
Today's jacket is one my most favorite statement jackets in a long time. The price is right. I've seen similar styles for $350+. It's a solid buy now, wear now and later piece. I bought it to freshen up my corporate capsule wardrobe, which makes getting dressed and packing for a trip so easy.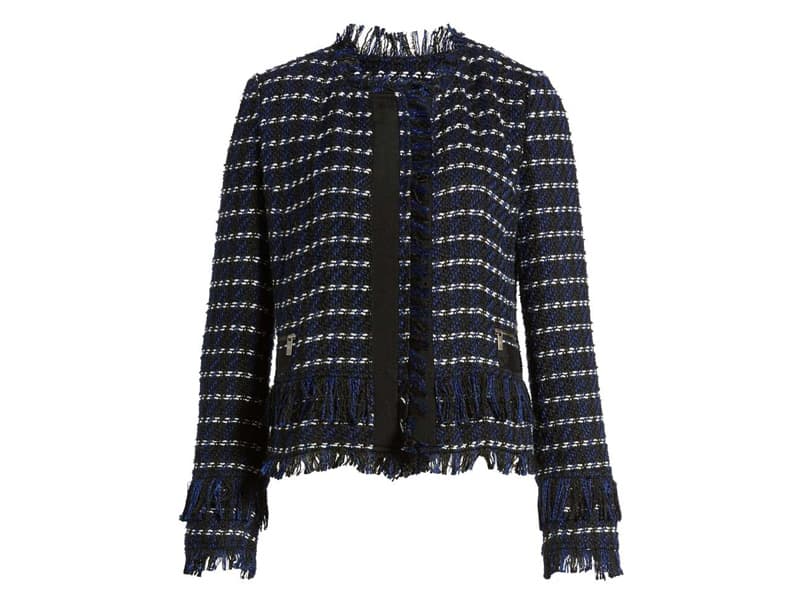 Jacket, $129
There aren't a ton of ways to wear this but that doesn't mean it won't be in constant rotation. It goes with all sorts of jeans paired with a white shell, or a black tank and skirt combination. But I'll probably get the most wear out of it with a simple pant and pumps.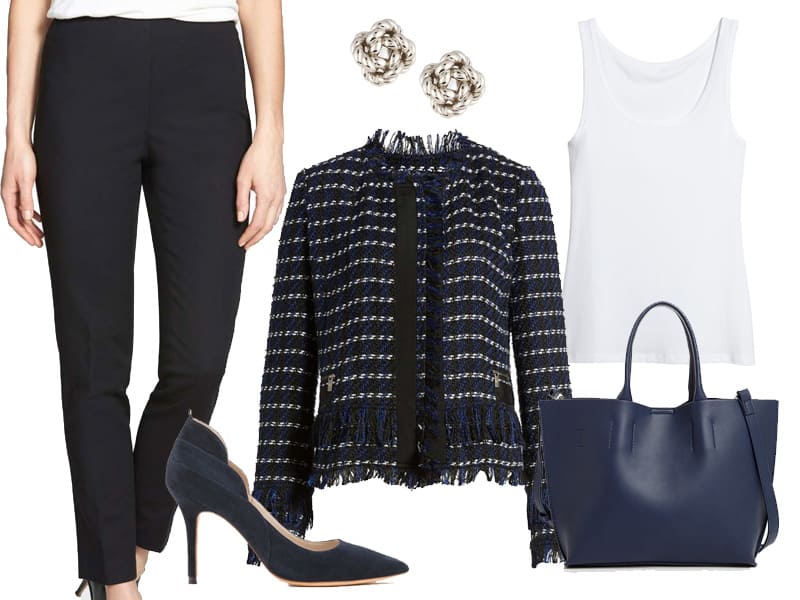 Pants, $79 | Jacket, $129| Tank, $6 | Heels, $75 | Bag, $48 | Earrings, $78
Isn't this so good?
Because the jacket mixes navy, black and white, I strategically used those colors throughout the look. I used a classic black tapered pant to keep the look clean. You could wear any style pant, but I would keep it black instead of navy. To lighten the look, a simple white tank works well. You don't need anything fancy here. I like this jersey tank from H&M (it's $6). If you'd like something with a better drape, we've featured this Ann Taylor Shell for months and it's always a reader favorite. It comes in four colors and an array of sizes.
Where I really get excited is the bag and shoes. The heels are by Boden ($75) and they are gorgeous. The navy is rich, and the scallop trim on the side add a feminine detail that works well with the jacket. They are also available in seven colors and patterns, one better than the next. Since you're taking this to the office, I used a tote ($48) that you can slide your computer into with plenty of room for all your daily essentials. Finally, super simple, but dynamic stud earrings are all you need. Too much jewelry will fight with the jacket. Your look will still have wonderful depth because the shoes have texture, the colors work well and the jacket has so much detail.
Size Options:
I like this Talbots tweed jacket that mixes black and navy in a flattering cut. Available in an impressive range of sizes: Missy, Petite, Woman, and Woman's Petite.
For pants, Vince Camuto did a similar style in sizes 14W – 24W. On Sale for $53.
Shop this Post