When I create these Wear to Work posts, my first goal is to share some inspiration. Maybe you read here and discover an idea you never considered, or realize you have a similar piece hanging in your closet. I hope the tips we share help broaden your options, help you wear more of what you already own and when you have to shop, you'll have a better direction and clarity.
If you like something we feature, you can shop the links directly. I only use retailers that are accessible, and use my experience as a stylist to help find items that work for as many body types and lifestyles as possible. Because everyone's budgets are different, we feature a range of price points. One post might feature an investment handbag, the next something for under $20.
Be sure to look through our other Wednesday posts for more ideas as I try to build off of a few key pieces through out the season. And, of course, if you have questions, drop them in the comments. We use them to create new content all the time.
Today's look is a sophisticated take on polished preppy basics. The pieces work wonderfully together, and can also stand alone and mix with other wardrobe basics.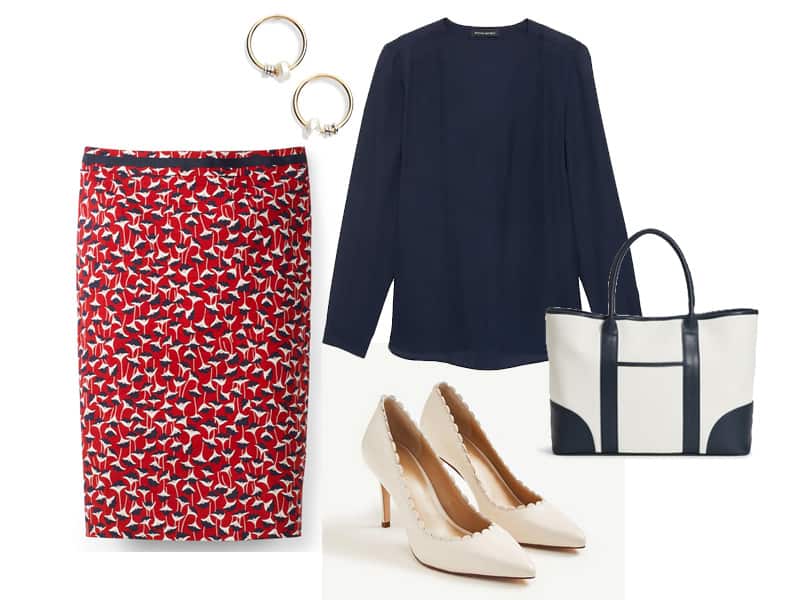 Skirt, $98 | Top, $40 | Pumps, $138 | Earrings, $35 | Bag, $198
This happy skirt is by Boden (under $100) and has a lot of things to like about it. The ribbon detail at the waist is an extra detail that finishes your look. Skirts like this are often surprising, sometimes they hit you in all the wrong places, and other times they are incredibly flattering.
From my experience with Boden, it's always worth giving them a try. If this fits well, it will fit really well because the shape is generally flattering. It's not going to be skin tight, but it will give you some shape.
Let's talk about this blouse because I think it's a wardrobe must have. Do you know how hard it is to find a blouse that is affordable, and practical? You can wear this with EVERYTHING.
I like it here because you can tuck it in and have it drape over the top of the skirt. The neckline is ideal for layering under a blazer; you can wear it untucked with jeans, or half-tucked with ankle pants in the spring. It's available in four colors (red, navy, royal blue, and white) in XXS – XXL in missy and petite. I bought the white ($56) and navy ($40) in the medium.
Then there are these earring. I rarely get excited over well priced jewelry. Everything looks like a lot of the same, but these babies are gorgeous and only $35. I bought them in the white and yellow gold.
Many shoe options would work for a look like this. You could wear a navy or nude to you suede like the Sam Edelman we frequently feature. As the season changes, you can wear a slingback or strappy sandal, but these detailed scalloped pumps from Ann Taylor are so pretty. I used them here in "ecru" or you could pick them up in this beautiful camel that you could wear all the time.
Lastly, I found this sturdy tote at Brooks Brothers. It's fantastic if you have to lug lots of things to and from the office.
Shop this Post