It's not even officially summer, and I'm already over warm weather outfits. Not a great place to be since we have three months of summer and weeks of posts to fill. I think part of my frustration is the current inventory is god awful. Everything is either tiny, skimpy, cheaply made, backless or booby. Would someone please explain "side boob" to me? Seriously, I can't name one woman who would see a top and think, "you know, this is great, but it would be even better if you could see the side of my breasts."
Anyway, when I do find something I like, I quickly try to figure out if I can make it office appropriate. When this floral peplum from MICHAEL Michael Kors floated down my scroll, I stopped for a second look. It's better than a tee shirt but has the same ease of wear. Just put it on and go. If you are print-adverse like I am, this one is sophisticated and reads like texture. Speaking of texture, there is a subtle, lace overlay that adds to the visual interest of the outfit. When you are picking up tops for high temp days, look for details like this. The combination is balanced and creates a layered look without adding more material.
Don't be afraid of a peplum. If it fits you the right way, the peplum will float over your belly and somehow, doesn't enhance anything you may want to hide.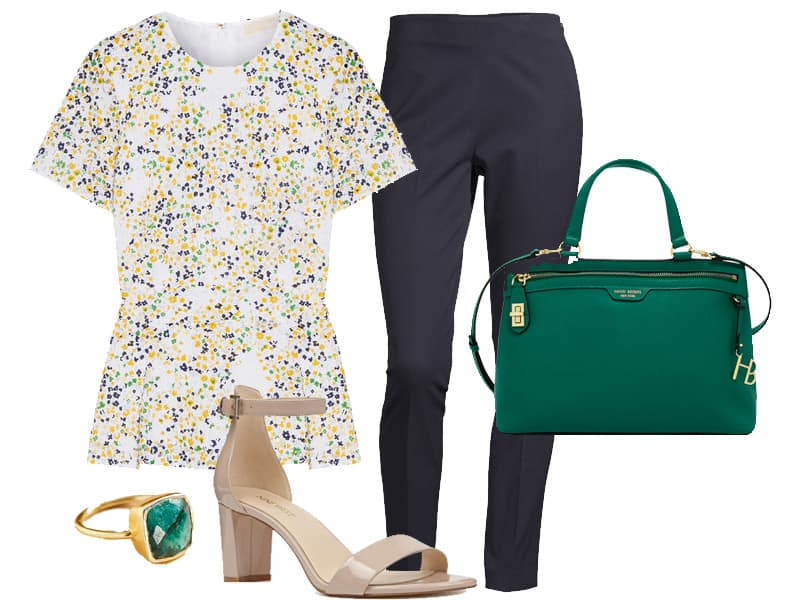 Top, $93 | Pants, $178 | Ring, $118 | Shoes, $80 | Bag, $178
To ground the femininity of the top, I paired it with simple navy ankle pants by Elie Tahari. His fit is fantastic, and the quality is well worth the price point (under $200). For something less expensive and in a broader size range, try these seasonless wool ankle pants from Talbots.
For a shoe, try to wear a heel. It doesn't have to be super high, but a bit of height with an ankle pant helps to elongate your leg and give the pant a beautiful drape. I went with these block heel sandals. They disappear on your feet, and the block heel is comfortable to wear all day long.
Finally, I pulled in color with the bag and ring. Do you need a green handbag? No. But it sure does look great with this look. If you do work with a bold color bag, use it like a neutral and incorporate it strategically. Here, green shows up three times in the outfit, which is a good formula to follow to make a look cohesive and purposeful. The bag is on sale at Henri Bendel. I have many Henri Bendel pieces and always appreciate their timeless style and quality. Of course, you don't have to spend, this option from Target is under $35.00. Same thoughts on the ring, this one from Anthropologie is gorgeous, but this $45 ring from Etsy is almost identical.
Shop this Post