Lots of requests are coming in for flat recommendations for the office, so today we rounded up the best of the best. It's a great time of year to stock up on seasonal shoes because there is plenty of inventory and variety within each style.
If you wait until May, you'll be frustrated with limited options. I kept the picks below versatile, stylish, and affordable, which is relative, so these are all under $130, and most are well under $100. Be sure to click through the links as each style comes in many different colors.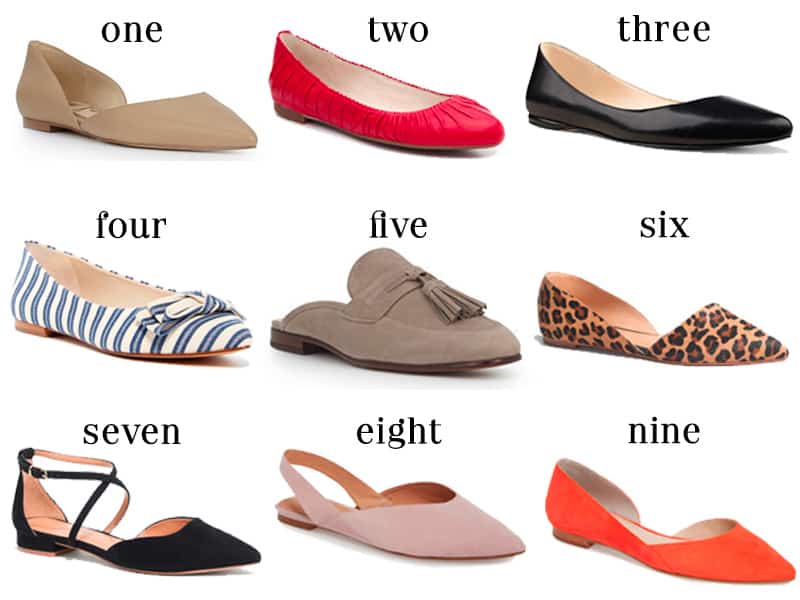 One, $100 | Two, $40 | Three, $69 | Four, $70 | Five, $91 | Six, $54 | Seven, $59 | Eight, $98 | Nine, $130
One, $100: A d'Orsay flat is the most versatile style flat because you can wear it with pants or skirts. Because they are open on the side they have a light and airy feel making them ideal for warmer weather. Available in a rainbow of colors, my favorites are the classic nude leather (above), red suede and leopard print.
Two, $40: Louise et Cie is one of my favorite reasonably priced shoe brand. I have these in black, I purchased them from Nordstrom a year or so ago and I wear them all the time, including when I'm at the airport. If you are looking for a simple but elevated ballet flat, grab these in a few colors at this great price.
Three, $69: I'm featuring these Nine West flats in black patent leather, but they are available in so many colors and prints I don't know what I like more. I'm thinking I need their pink watercolor print, or maybe the black and white gingham. I also love the black fabric option if you want a basic color that adds a bit of subtle texture to your look.
Four, $70: Another Louise et Cie pick, this one is ideal for the office because of the styling. The soft point of the toe will help elongate your leg, an important element of getting dressed that is often lost when you wear flats. It also has a fun but not frilly bow that adds just the right amount of interest to the shoe. We're showing it in stripes, because I love stripes, but it's also available in classic black and red.
Five, $91: Looking for something a little different? These tassel slipper loafers by Sam Edelman are unique but totally wearable. They work best with an ankle style pant, either tapered or wide legged. The color featured above is putty. I also like the poseidon blue suede.
Six, $54: This wouldn't be one of my lists without a leopard print shoe, and this one on sale at J. Crew Factory is perfect. It's a great shape and style with a slim line ankle pant, jeans, or even a simple dress or skirt.
Seven, $59: These are the dressiest option on our list, and another J.Crew Factory find. If you are in a more formal office, but need a flat instead of a heel, these will fill that void. The only thing I wouldn't wear these with is a cropped pant as the line of the pant hem and the line of the ankle strap will fight with each other. Only available in black, and sizes are limited.
Eight, $98: Utilitarian in style, these slingback flats by Madewell are basic and easy to wear. The featured color (above) is called Antique Purple, but it reads more of a blush. It's also a available in a preppy orange and black leather.
Nine, $130: Finally, another d'Orsay flat by Marc Fisher. These feel a little more substantial than the Sam Edelman's but are slightly more expensive. We featured a cheerful orange suede above. They are also available in the best selection of metallics you could wear every day.