Here's the deal with how I get dressed for work: I either look lovely and professional or so bad I would deny I spent a decade dressing people. I've always struggled with that category between professional and super casual. Frankly, part of it is just laziness. If I know I'm not leaving the house or will be the only one in the office, I can talk myself into spending the day in my gym clothes. But, I can't deny that I feel better and get more done when I'm dressed well.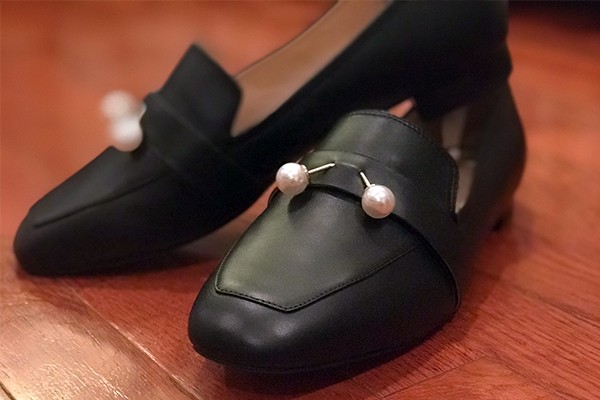 Around the holidays I started to pick up a few pieces to build out my casual wardrobe. (I feel like I'm always doing this!) Thinking strategically, I wanted to be able to have enough pieces to pull an outfit together quickly. We're talking 60 seconds. I bought a fresh pair of black pants, a few crew neck cashmere sweaters, and these loafers with pretty and feminine pearl detail.
They are a nice change from my go-to boots without feeling as precious and impractical as a pair of pumps. Loafers can feel too heavy or masculine, and while I like a good menswear look, it doesn't always complement the rest of my pieces. The pearl accent give these a feminine feel while the slim shape of the shoe keeps the line of your body long and lean.
I'm currently wearing these loafers with a pair of slim pants (featured below) and rotate a few simple sweaters, most from J.Crew factory. I also like them with a lived-in pair of boyfriend jeans and a casual white button down.
This time of year, I only want to bring in pieces that will transition with the seasons. Below is an example of how you can take these loafers into the spring, perhaps in a casual office or one that leans creative.
How to Wear a Feminine Loafer in the the Spring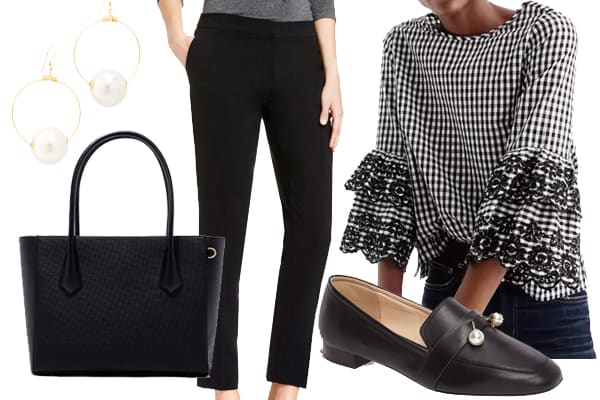 Shoe, $90 | Pant, $89 | Top, $68 | Earring, $23 | Bag, $265
Let's start with the pants (size 2 -18) For the last few seasons I've been thrilled with Vince Camuto's pants. They fit well, have a classic shape, and are under $100. #winning. You can wear them to work and socially easy-peasy. The top (comes in regular, petite and tall) has more going on than what I usually go for – and I love it! Will it be for everyone, no, but use it as inspiration. If you like the idea of a more conservative gingham, I like this tunic, or this button down shirt. The earrings mimic the detail on the loafer, it's subtle but intentional. Finally, Dagne Dover makes a good, sturdy, straightforward tote. If you're a lady that likes a quality bag without any logos or over the top hardware, The Legend Tote is for you.
Shop Loafers and Other Finds in this Post