Not all prints and patterns are the same. Some are juvenile, look inexpensive and downgrade your entire outfit. Others are fresh and fun and when done in a timeless silhouette, are incredibly wearable. When I stumbled on this floral print skirt from Boden, I thought, "yup, we can work with this." Here's how to wear a floral skirt to work.
How to Wear a Floral Skirt to Work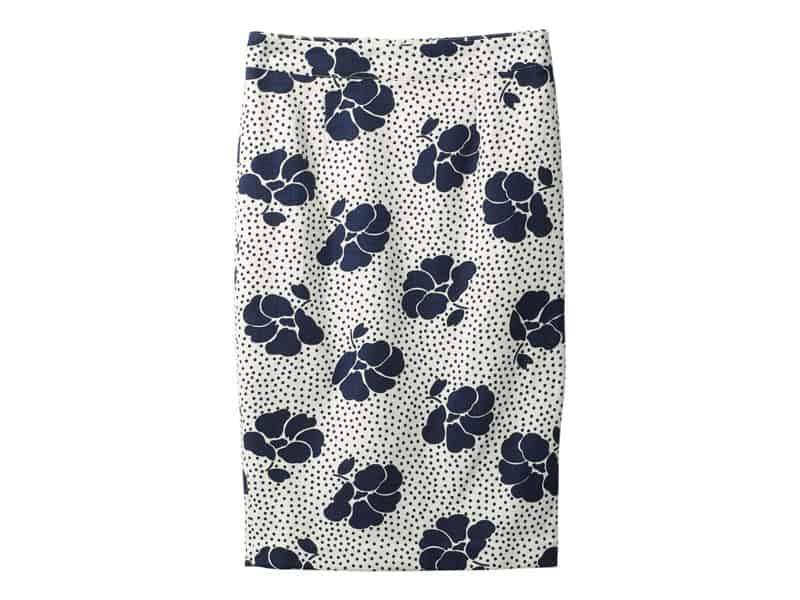 Key piece: Skirt, $110 (size 2 – 14)
I don't typically turn to Boden. Some of their casual dresses are sweet, and I'm a fan of their sweaters and cotton tops, but their patterns generally turn me off. A print can't be that sophisticated if a 40-year-old woman and a four-year-old girl are both wearing it. But I really love this navy and white floral pencil skirt, and it was almost too easy to pull these outfits together.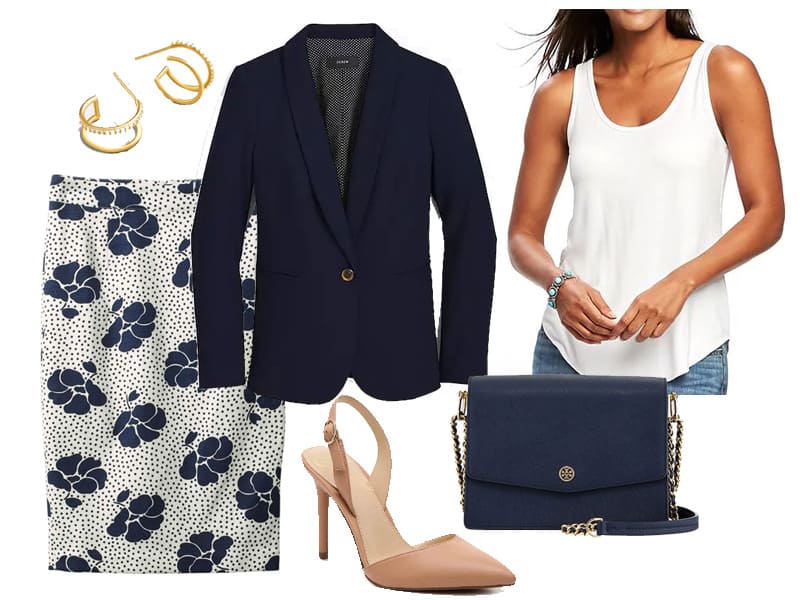 Skirt, $110 | Blazer, $178 | Tank, $14 | Heel, $60 | Bag, $298 | Earrings, $52
I would wear this today if I had a place to go.
First, notice the waistband of the skirt. See how it's finished? The detail of the band tells you that you can tuck in if you want. To create the base of the look, I used our go-to $14 Old Navy Scoop tank. It's seriously perfect, and I know many of you have it. The neckline works with the cut of the blazer, it drapes nicely, and the hem is finished so you can tuck in or leave out. In this case, personally, I would tuck it.
If I had to pick one piece for you to invest in for the spring, it would be a classic navy blazer. You can do so much with it. Pair it with jeans and a white tee or with your black pants and blouse for work (yes, black and navy. Yes, you can do it), or wear it with a pencil skirt like this one. The one button detail pulls the line of your body in and makes any combination of separates a complete outfit. The J.Crew Parke Blazer is as good as it gets and under $200.
You have a lot of options for shoes here. Whatever you wear have it blend with your skin tone so your leg is elongated and the overall weight of the look feels light. I'm showing a "nude" slingback because they are a ladylike yet modern shoe that gives a closed toe option if you need that for the office or just didn't get around to getting a pedicure.
Finally, I wanted a navy bag and found this Tory Burch option that works perfectly. It feels proper and feminine, almost like a Chanel quilted bag. The gold chain detail acts as an additional accessory for added interest. I finished the outfit with these double hoop earrings from BaubleBar. I LOVE them. The design is updated and not at all stuffy. I also love that the shape of the earring compliment the chain on the bag.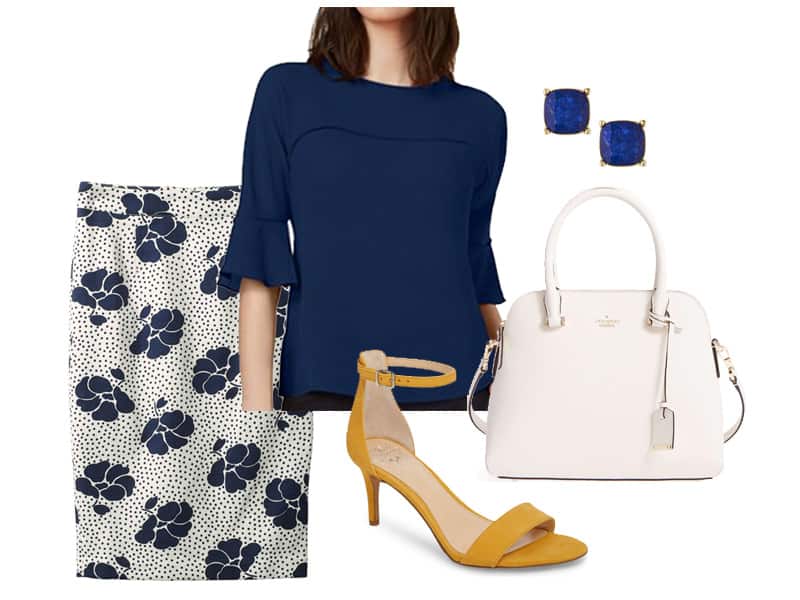 Skirt, $110 | Top, $69 | Heel, $100 | Bag, $298 | Earrings, $25
For a slightly less formal, yet still work-appropriate outfit I used this 3/4 flounce sleeve top with a finished hem that you can wear out and still maintain the shape of the outfit. I especially like the detail at the yoke of the top, it's so subtle but adds some much-needed interest. Because a few style details are going on with the top, I skipped a necklace and used a slightly oversized earring. Almost every pair I found was thousands of dollars. I have amazing taste. Luckily, I landed on these fun studs on sale for $25. They are just right.
I like letting a bold print stand on its own and not bring too much "stuff" into the mix. Here, I used a pretty marigold yellow suede pump, because blue and yellow is always a winning combination. It gives the look a fresh feel, and makes everything look intentional. Finally, I'm a fan of a white bag. Again, it's a way to lighten up an outfit and gives a modern feel. This Kate Spade Satchel is the stuff of dreams. Take care of it and you'll have it for seasons to come.