For today's Wear to Work post, I wanted to do something different. Everyone's professional situation is unique, so we try to offer as much variety in these and our other posts as possible. Plus, as women, sometimes we just want to shake things up a bit in the style department.
A wouldn't call wearing a lace skirt to work a "risk," but it might be outside your comfort zone. Depending on what you do, who you are working with and the nature of your day, a lace skirt might be a fun yet subtle update.
How to Wear a Black Lace Skirt to Work Two Ways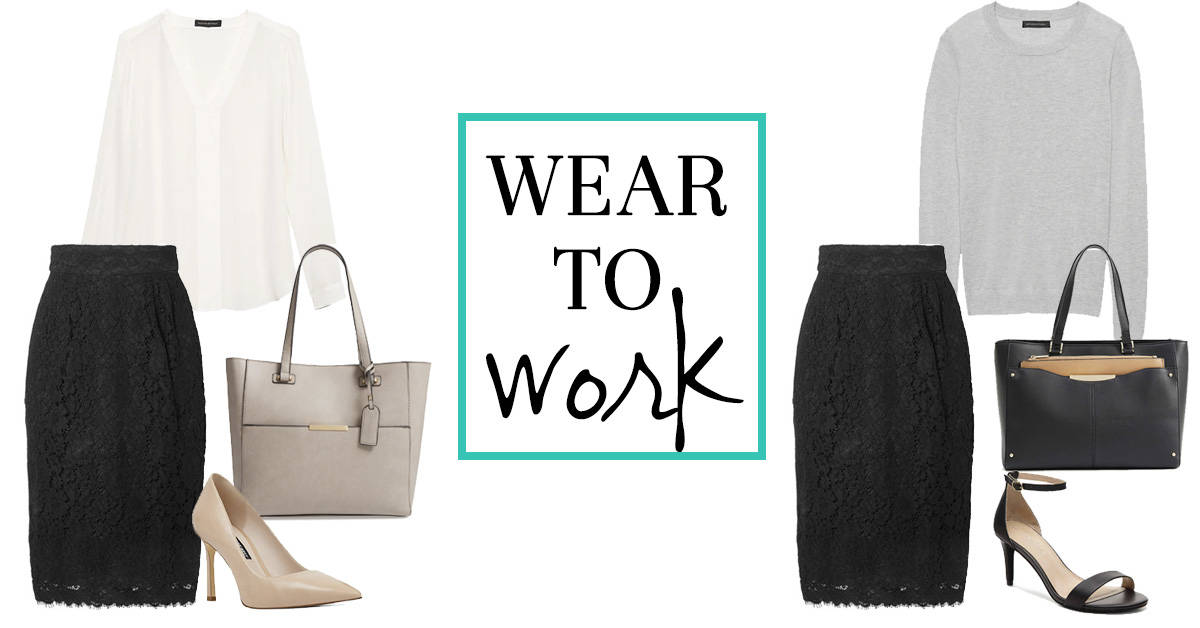 I found this skirt at J.Crew. It will work in a business environment for a few reasons. First, the shape and fit are still conservative. Often, with lace skirts, they are skin tight and cling to your bottom. Obviously, that won't translate well in a professional space.
Second, the lace itself is sweet rather than sexy, especially the way it's finished on the bottom hem. You don't want to see a lot of bare lace without a lining. Instead, you want to use the lace as texture and pattern that will add depth and dimension to the look.
This skirt is only available on Net-a-Porter for $100 up to a size 14. This Talbots skirt is very similar and available up to a size 24, though inventory is limited, for under $70.
For today's post I created two very simple looks.
Outfit One: With a Casual Sweater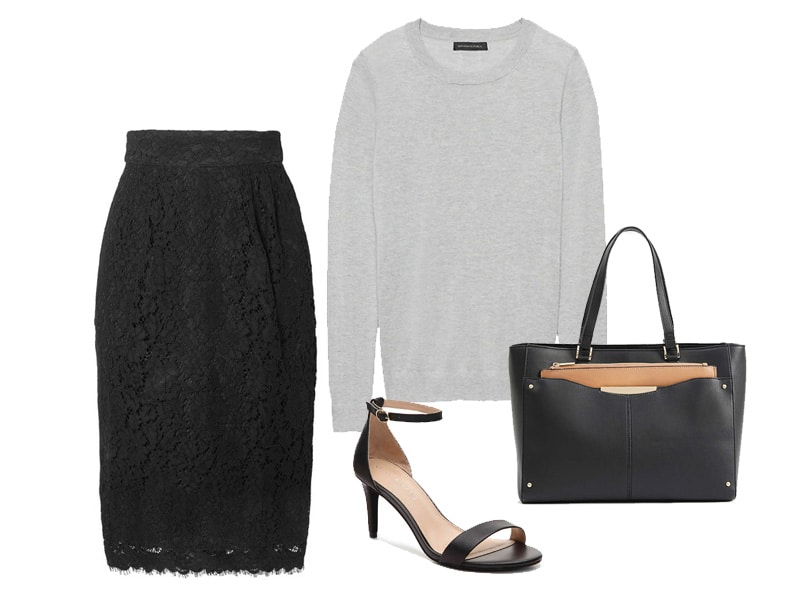 Skirt, $100 | Sweater, $71 | Heels, $40 | Bag, $150
Contrast is the name of the game when you want to integrate a bold or formal piece into an everyday outfit. My first instinct was to add a super casual gray sweatshirt to really play off the formality of the skirt. You could do something fun like that to go to brunch and and switch out a heel for a flat, but for work, we need something just a smidge more elevated.
So I went instead with a thin gray silk blend sweater. You'll get a similar, slouchy, casual look while maintaining your appropriateness for work. I used this sweater from Banana Republic since it's on sale and size inclusive. Wear it untucked.
I skipped jewelry on purpose. Everything I tried looked too forced and fussy, and that's not what we're going for here. We want this to look cool and modern. I would wear my rings, and a pair of studs, but that's it.
We featured this bag from Ann Taylor last month and it's was a big hit. It's a neat, compact and functional work bag for $150. Its clean lines pair well with most outfits, so you don't have to be continually switching bags.
Finally, for shoes, I used a very open strappy sandal with a wearable heel for $40. If it is too open of a shoe for you, you can also wear a simple black pump or peep toe, depending on what you already have.
Outfit Two: With a Classic White Blouse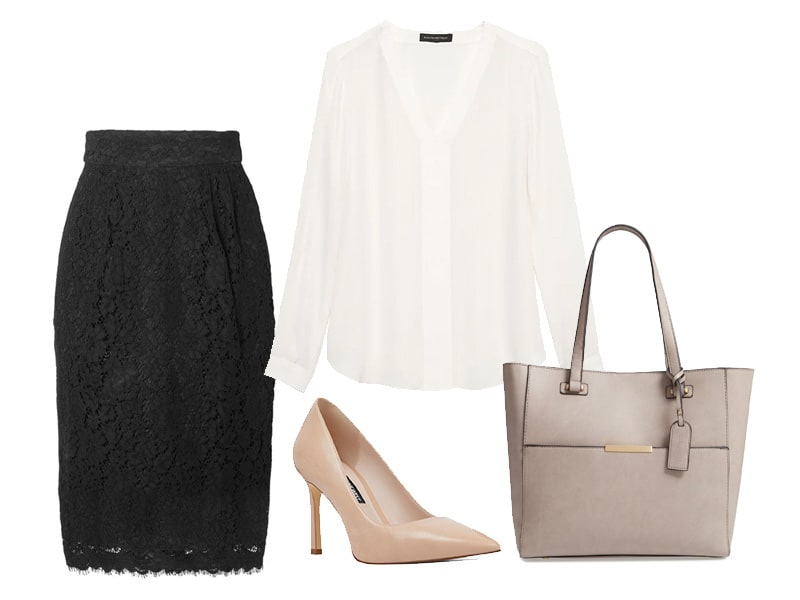 Skirt, $100 | Shirt, $79 | Heels, $89 | Bag, $70
This second outfit is just a little more formal. I used the Banana Republic blouse we've featured several times (I live in mine). Here, tuck the top into the skirt and let it naturally drape out.
To tone down the look, I used a beige pump. This keeps the overall feel casual and creates contrast again, between formal and informal.
Finally, I love this $70 bag from Sole Society. The color, "gravel" is a lovely springtime neutral. It's roomy and, like the Ann Taylor bag above, neat and compact.