Some combinations are just classic, like today's look that combines the timeless style of a turtleneck and the sophisticated color pairing of black and tan. I just love when something is elegant but also comes together easily. For work, it's nice to have a few pieces on hand that you can throw on and have a complete outfit without having to add a lot of layers. It's the definition of effortless style.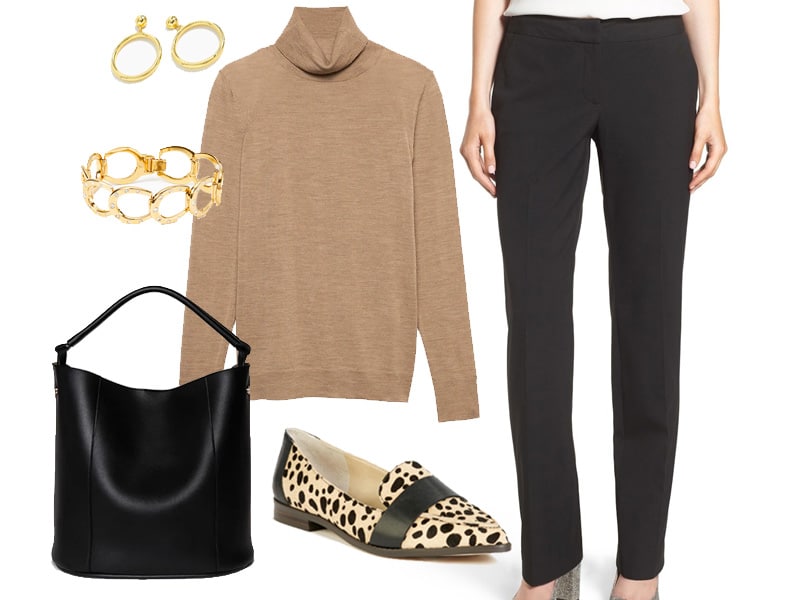 Shoes, $100 | Pants, $40 | Sweater, $68 | Bracelet, $88 | Earrings, $11 | Bag, $40
The Turtleneck
Personally, I love a turtleneck. I live for the day I can walk around like Diane Keaton in "Somethings Gotta Give." The fit of this one at Banana Republic is body slimming but not skin tight. The band at the bottom gives a little extra detail, something you should look for when you are drawn to simple, basics pieces. In terms of weight, it's light so you might want to wear a thin cami underneath, depending on the color. Because of the fabric, it makes for a lovely layering piece. The range is impressive, it goes to an XXL (about an 18/20) and includes petites.
The Pants
I'm featuring these pants for a few reasons. The shape of a turtleneck works great with a straight legged pant. We feature dozens of straight and skinny black pants. These pants are by Halogen, a private label brand of Nordstrom. When I was a stylist and had someone with a tighter budget that needed a lot of good pieces, I always turned to Halogen. They offer high quality basics at reasonable prices. This one is on sale for under $40 at Nordstrom Rack. Many colors are sold out, but black is available in all sizes 0 – 18.
Want to make it a suit? Pick up this blazer to complete the look for $60. That's a whole suit for $100.
The Loafers
These flats make me want to do a happy dance. Aside from the almost perfect leopard print pattern, the shape is ideal. Instinctively, I want to pair a trouser cut pant with a loafer, but often the loafer looks too masculine. These flats by Sole Society are slimmed down enough and give an elegant pointed toe that helps elongate your leg. These will sell out. Bloggers all over social media have discovered them, so they are already limited. Pick them up soon if you put them on your list.
The Bag
This bag is $40 at Target. It's what a $40 black handbag should be: simple lines, unadorned and functional. You can fit all your daily essentials in it comfortably. I like that it's both structured and slouchy adding casual elegance to the outfit.
The Accessories
Because the loafers have a print, they count as an accessory. Keep that in mind when composing an outfit, prints and pattern act as an accessory, so you don't need to pile lots of other things. I added a gold circle dangle earring to go with the turtleneck (that are $11 by the way). Finally, zhush up your sleeves and add a gold link bracelet to tie it all together.
Shop this Post