This content has been archived. It may no longer be relevant
Ten years ago I bought a dress off the clearance rack at Banana Republic. I remember it was on sale for about $40. It was sleeveless, with a slightly scooped boat neckline, and made from a double-knit cotton with a nice amount of stretch. The waist had a seam detail with deep knife pleats along the top, and, best of all, it had pockets.
It was one of those magical dresses that fit me no matter my size or the state of my body. It took me to cocktail parties, business meetings and hundreds of client appointments.
I only recently retired it and sent it off in my Thred Up bag. Unbelievably, after all those years and all those wears, I still received a few dollars for it at resale.
Talk about price-per-wear! The dress owed me nothing.
That's the beauty of a little black dress, it has some major staying power, even with some extra style details. In fact, that's what I think gave that simple, inexpensive dress such longevity: it's subtle yet significant details.
I'd love to replace it with something equally timeless and interesting. So I started looking and found several beautiful options, many also on sale at a can't beat price.
Today, I rounded up five the best black dresses that have the same timeless quality as my magic dress did.
Note: Because of the time of year, sizing on many of these are limited so act quickly.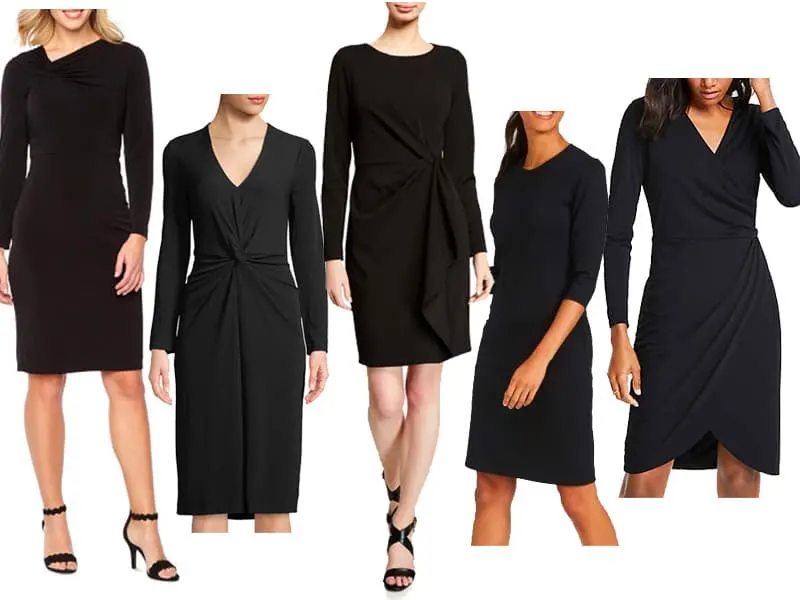 From Left to Right: Liz Claiborne, $50 | London Times, $55 | Donna Karan, $69 | J. McLaughlin, $215 | Ann Taylor, $55
Liz Claiborne, $50: There is a lot to like about this jersey stretch number, from the work appropriate length skirt to the long sleeve, but I like the asymmetrical neckline best. You can wear it to work with an oversized earring and basic pump or dress it up for a business dinner. (Also available in a bold blue, in sizes 4 – 18).
Plus size? This is a similar option also in black and blue.
London Times, $55: Another long sleeve option, with a longer hem – you can always have the hem shorten if it hits you too low on your leg. Ideally, for this cut, you want the hem to hit right at or slightly above your knee.
Style Tip: The v neck line is universally flattering, and the ruched detail at the center of the waist will bring the eye in, helping to show off your shape. Remember, everyone, regardless of size, has a shape, that you want to highlight not hide.
For a plus size alternative, this Tahari is pretty much perfection.
Donna Karan, $69: This dress is quintessential Donna Karen, for under $70. It's simple, chic and a little sexy, in a way that allows you to look professional too. The side tie detail does the same thing for your shape as front ruching, this time it's just pulling the eye to the side, but the effect is similar. Because of that side ruching, skip any kind of necklace and opt for an earring or statement shoe.
J. McLaughlin, $215: The most expensive dress on the list is also the most basic. The front seams is hard to see in photos, but gives a modern vibe in person. And the keyhole back detail looks sweet with upswept hair. Plus, there are pockets … I mean, who doesn't love a dress with pockets?
Ann Taylor, $55: Lastly, this basic black wrap, with a high front hem, looks a lot like a DVF for a fraction of the price. I would skip wearing it to work, but I would wear it to work-centric functions, like a holiday party, or cocktail party at an industry event. Watch how high the front hits you. I'm 5'10, and this would be too short in the front, but if you are 5'7 or less, it will work well.
This City Chic dress at Nordstrom has a similar feel at starts at size 14 to 24.
Shop this Post