Buy Now, Wear Now and Later posts are some of my favorites to create.
The idea behind this series is to help you maximize your wardrobe, in between seasons.
Today, I'm working with this lovely polka dot peplum top, available in sizes 00 – 16 for under $80. (Currently 25% off with code EPIC)
As we move into fall, I'm going to start talking more about specific body types and how pieces I'm featuring can work to hence your shape. So going forward, on posts like this one, I'll highlight how and why it will work for certain body types.
But before I dive into it below, please remember these are just guidelines. Nothing in fashion is set in stone.
Key Piece: J.Crew Polka Dot Peplum Top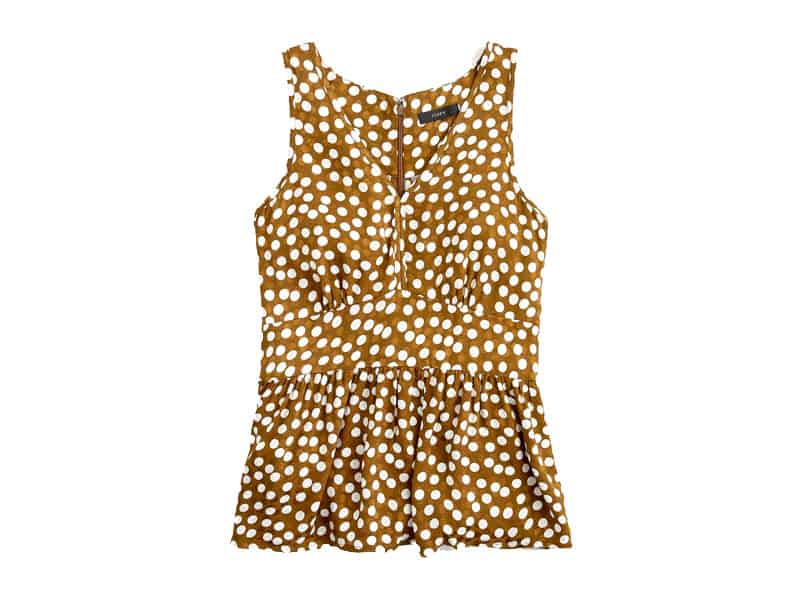 Top, $79.50
A peplum top looks best on lean or straight up and down, sometimes called "boy" shape body types because it adds curves and dimension.
It will add the same benefit for some rectangles.
If you are an inverted triangle it will bring balance to your shoulders.
For an hourglass, it will highlight your curves, so go for it!
Avoid a peplum if you are a traditional triangle, or an apple shape.
How to Wear in the Summer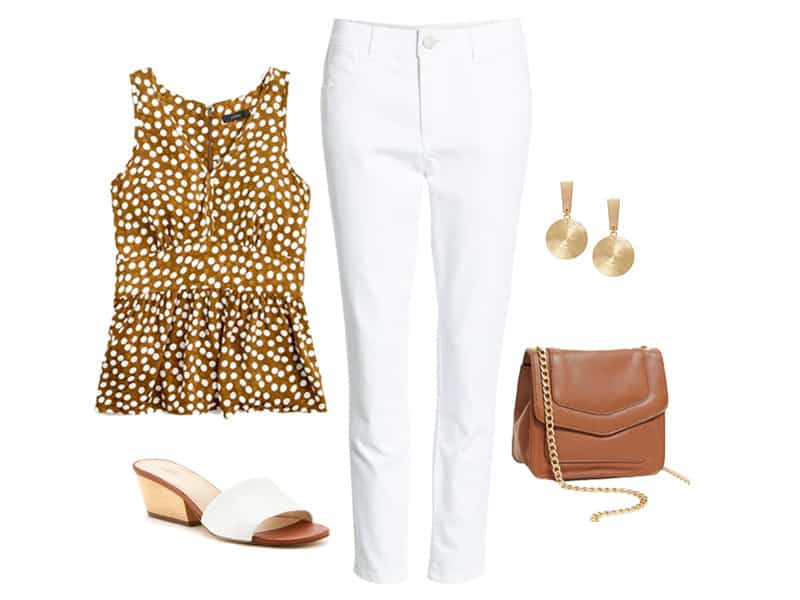 Summer: Top, $79.50 | Jeans, $68 | Earrings, $33 | Slides, $77 | Bag, $38
Shop Summer Look
How gorgeous is this look, made with items you may already have and under $100 if you want to pick up something new.
What's important here are the jeans. If you wear a peplum top you MUST wear a slim bottom, either straight or skinny, depending on what looks best on you.
I'm using these Wit & Wisdom jeans because I know many of you already have them. It's nice that they hit right at the ankles, this creates an airiness to the outfit. For a other white jean options in all sizes check out our series Basics Building: The Best White Jeans.
Now, the accessories. There is a lot going on in the top, so while we want to keep the rest fairly simply, it's nice to also draw attention to your face. These these affordable earrings are stunning. They add texture, movement and are just incredibly chic.
Then, this stunning bag, that was originally $177 is now only $48. WHAT? Yes. Total year end steal.
Finally, since this is for the warm weather, these slides are perfection. They are part of the Nordstrom sale and 40% off. Scoop them up now, wear for the next month or so and have them at the ready next spring.
How to Wear in the Fall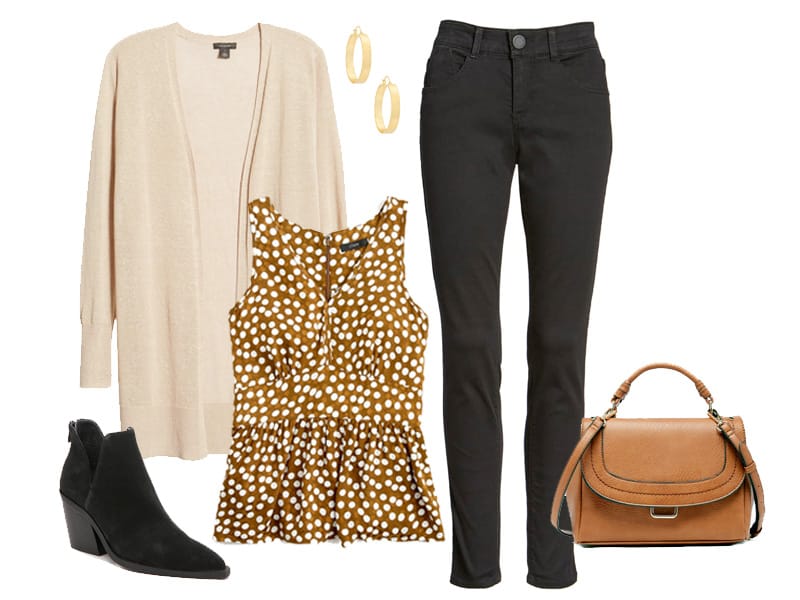 Fall: Top, $79.50 | Jeans, $68 | Cardigan, $40 | Boots, $99 | Bag, $60 | Earrings, $65
Shop Fall Look
Now let's take this pretty piece into the fall. I have no idea where we're going, but let's pretend we're finally go out and about with friends. Like brunch! Remember brunch?
I use another Wit & Wisdom jean, this time in black, but wear your favorite.
As a much needed layer I added this long cardigan by Halogen , also part of the Nordstrom sale, fully stocked and under $40 and comes in regular and petite. I went with a tan instead of an ivory because it's not as sever of a contrast. The tan makes it feel monochromatic and seasonally appropriate.
For shoes, swap out your sandals for a bootie, like this pair by Vince Camuto on sale for under $100 at DSW. They get rave reviews and will become an instant go-to in your fall wardrobe.
Then, for a little more movement a pair of hoops (gold tone will work best with the colors in this outfit).
Finally, another cognac bag option. You don't need both, either work in each outfit. This one by Sole Society is made of vegan leather for $60.
Shop this Post
---
Our Content is Inspired by Our Readers
Our readership inspires all of our posts and is not sponsored or paid for by brands or retailers.
Recommendations are based on my experience as a personal stylist and wardrobe consultant for over a decade. I worked with busy, down-to-earth women who wanted to look chic and feel confident but were often confused by so much of retail.
Some links are affiliate links, which means if you purchase via our site, we receive a small commission.
If you enjoy our content and would like to help us grow, please consider following on Instagram and join our Private Facebook Group to access more advice and exclusive in-depth conversations with other like-minded women.