As July winds down we have a a few more summer specific posts to get you through the work week in the heat before we start talking about transition dressing. I can't believe it either, but if you spend a minute in the stores, blazers and sweaters are abundant.
When shopping this time of year, think in terms of your immediate and long term needs. There is a lot on sale, but just because something is discounted doesn't mean you should buy it. I like to use mark downs as an opportunity to bring in a piece or two that I like, but wouldn't have the budget for otherwise, or to try out a look without feeling committed to it.
Banana Republic is currently having a huge summer sale. Today's featured linen striped pants are only $24 and are still available in a wide range of sizes. Because linen is so limited, I have a hard time spending on pieces so scooping them up on sale is ideal.
Over on our Facebook private page, we just wrapped up a week long wardrobe challenge where members posted their daily outfits and the winner won a $100 gift card to Nordstrom. It was a lot of fun and helpful for me to learn more about our readership. Today's post was inspired by many of the looks they posted.
Quiet Casual Office Day
Pants, $24 | Tote, $348 | Tank, $25 | Sandal, $41 | Belt, $21 | Earrings, $9.50
Casual offices can get very relaxed in the summer and make it all too easy to start to look sloppy. Having some polished basics on hand can help you quickly pull a look together, so you look professional but not overdone.
Of course, you can wear your favorite white summer blouse, but I love the soft and feminine combination of pink and grey. Because these pants feel like a statement, the pop of pink works well.
The challenge with warm weather dressing for work is creating an outfit with dimension without adding layers. This is where a top with small details can make a big impact. (Sizes are 00 – 24, also available in ivory) A belt will create the same effect as wearing layers without bulk. If your office is freezing, bring along a white denim jacket.
We are using a versatile white sandal (on sale for $41 – perfect for casual looks too) but a white flat would be a nice alternative if you need something more substantial.
These earrings are on sale at J. Crew Factory – a great resource for inexpensive, trendy accessories, for under $10. I like how the design mimics the detail on the top. They are called jacket earrings because they wrap around your ear and almost look layered.
The only investment piece in this outfit is this classic Tory Burch tote. I wish I didn't like it as much as I do, but it's so gorgeous. The design is elegant and efficient, and I appreciate the very subtle use of logo hardware.
Work From Home Day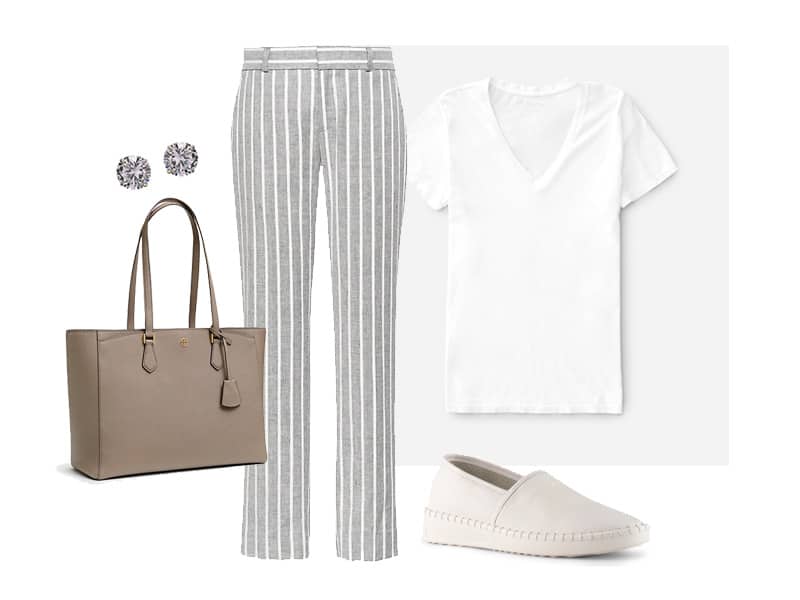 Pants, $24 | Tote, $348 | Sneaker, $75 | Tee, $18 | Studs, $90
So many of us work from home. I have a terrible habit of waking up and going right to my laptop and not taking a minute to get dressed. I also take advantage of my flexible schedule and often work out at noon, so I end up in my gym clothes all day. There's no denying, though, that I'm infinitely more productive when I take a minute to look presentable.
This is the kind of outfit you can slip right into, feel comfortable, and not have to hide in your car when picking up the kids.
All we did was add our hands-down-favorite-white-tee-of-all-time, Everlane's Vneck tee that retails for $18. I would wear it half tucked in to help elongate your leg.
I discovered these earrings when I was a buyer for QVC and have been devoted to them ever since. They are under $100, high quality and look like the real deal.
These white slip-on sneakers are adorable. You can wear them with pants, summer dresses, jeans, shorts – everything. The bit of whipstitching around the trim adds just enough detail to make them basic yet special.
Finally, carry the same tote while you run errands to elevate the look and get your price per wear 🙂