Let's talk about the new trends in cardigans we're seeing for spring.
In our most recent Ask The Well Dressed Life , Elizabeth asked the following question: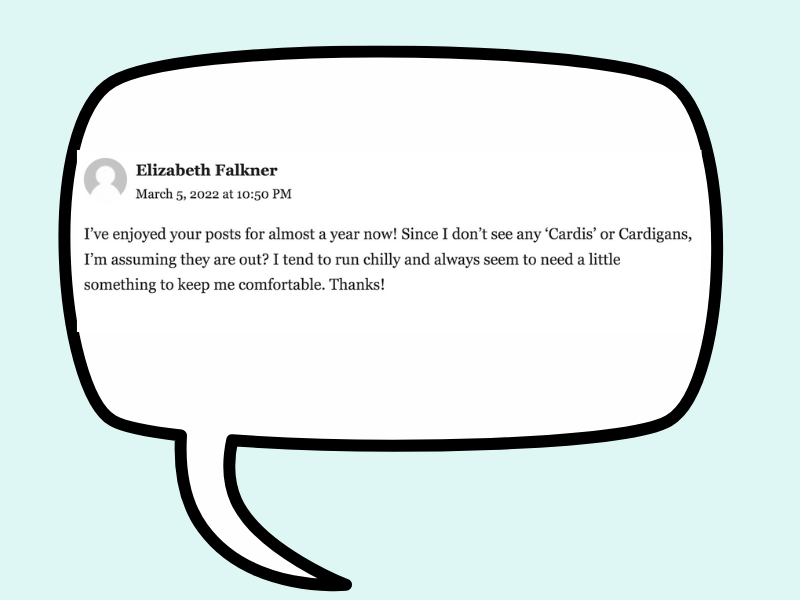 For several seasons, the long, oversized cardigan was all the rage.
But they kept getting longer, and longer, and longer, to the point that they looked like a bathrobe even on my 5'10 frame.
I figured if they overwhelmed me, they were going to drown everyone else.
So I stopped featuring that particular style.
We've featured other styles here and there, but now that the world is officially back up and running, and more people are going back to the office you'll start to see more.
Often a cardigan is an afterthought ,but something to consider when needing that extra layer is to make it part of the outfit.
The New Trends in Cardigans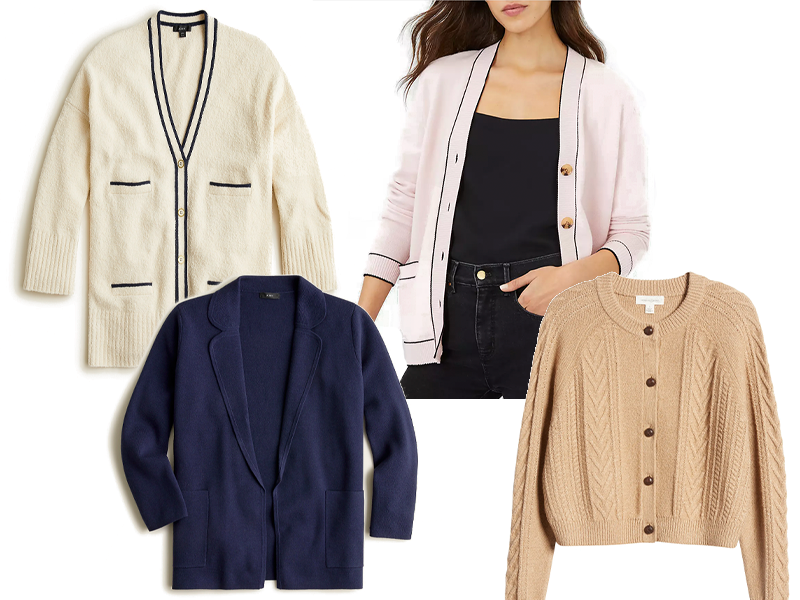 Think about a cardigan as a meaningful layer, one that enhances or even pulls your look together.
The new styles we see in cardigans make that easy to do.
I broke them down into four main types.
Of course, this doesn't mean you have to get rid of what you have. Instead, you may want to pick up one or two of these to add to your wardrobe.
Ladylike Details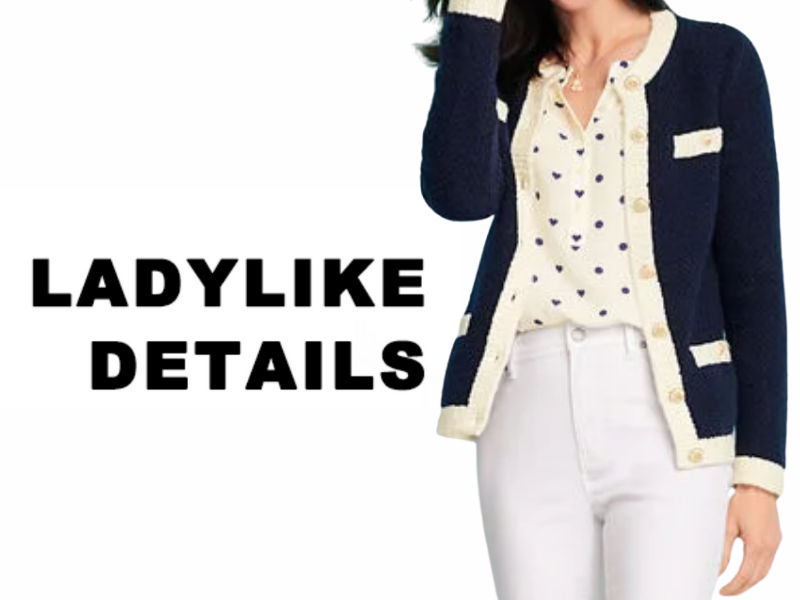 Ladylike Details, $129
You'll see more cardigans with ladylike details, including trim, embellished buttons and subtle puff sleeves.
This one from Talbots is a lovely example with its boucle fabric and contrast trim and will act as the key piece of any outfit.
Available in regular, petite, plus, and plus petite. And right now, everything on their website is 25% off at check out.
I also love this one from H&M ($59.99) in black and white with gold buttons, and, this chain trimmed cardigan from Express.
Cable Knit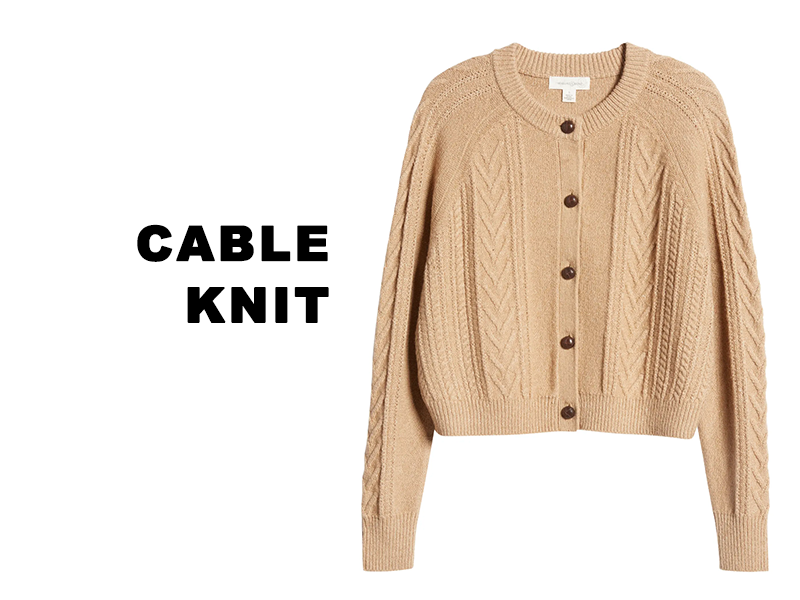 Cable Knit, $69
What's replacing the traditional simple button-front cardigan is a cable knit style. This adds lots of texture and dimension to your look while still pairing beautifully with other pieces.
You can find it in various lengths, but it's most popular in a shorter style. For example, our featured sweater from Nordstrom is called a "cropped," but it's not; it simply sits at your waist. Available in XXS – XL.
We also featured this popular option from Old Navy a few weeks ago, available in regular, tall and petite in XS – 4X for $45 with 30% off.
Sweater Blazer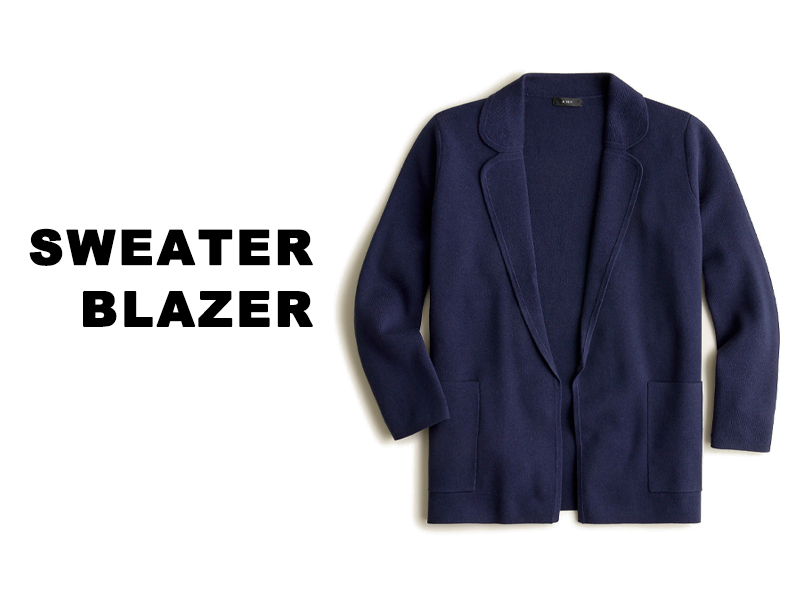 Sweater Blazer, $158
Sweater Blazers are a fantastic option, especially if you are returning to the office or you simply want to add more structure to your outfit.
We have featured this J.Crew style several times (you can see how to wear it three ways here) and everyone loves it.
Varsity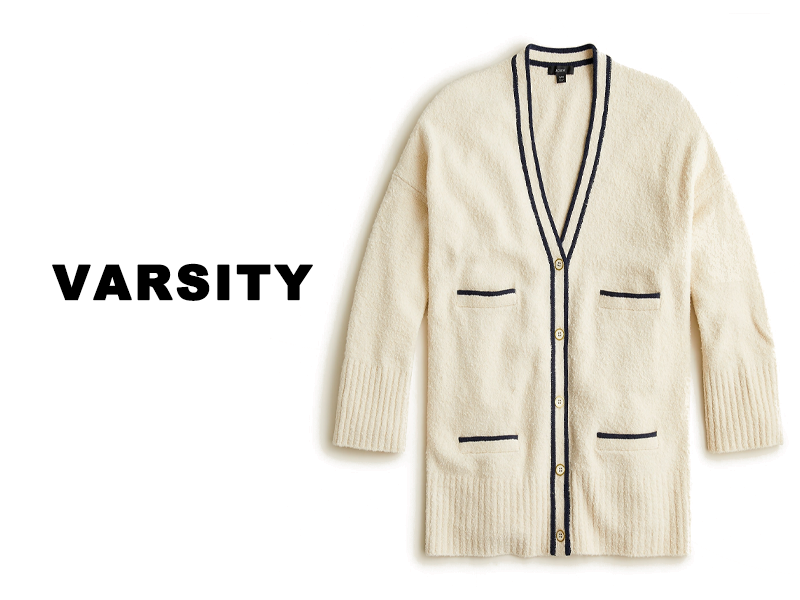 Varsity Sweater, $158
Finally, my personal favorite is the varsity or "boyfriend" style cardigan.
It's has a collegiate feel and works in a variety of styles and looks.
Stay tuned for tomorrow's How to Wear it featuring the J.Crew option above.
Follow Me on Instagram for Real Life Fashion and Style Advice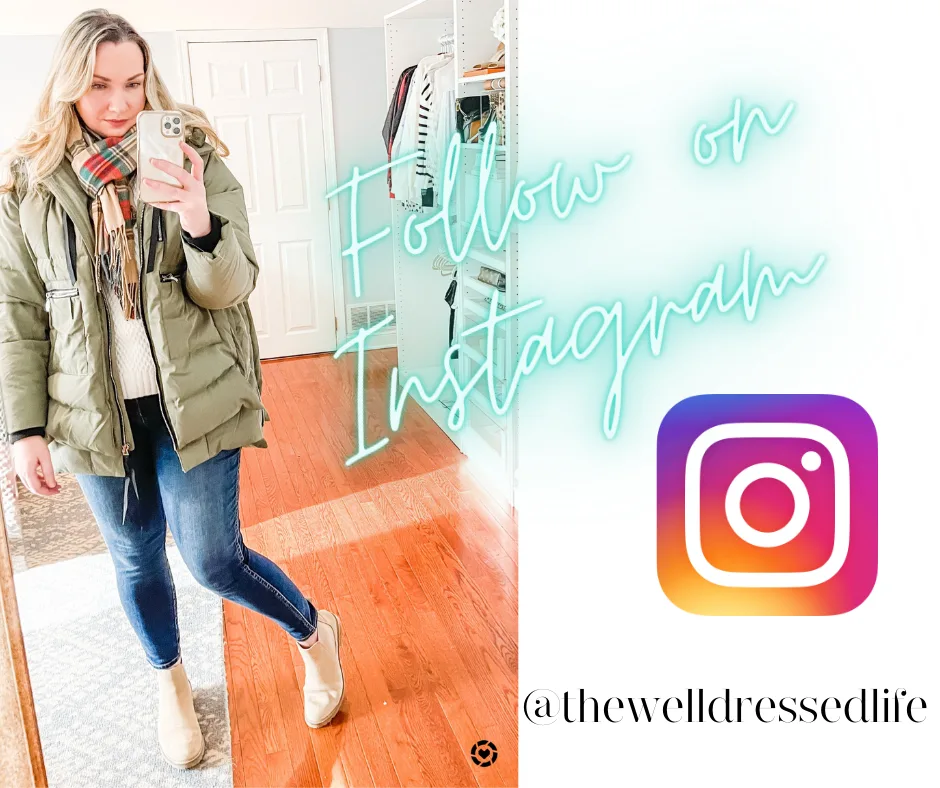 Follow The Well Dressed Life on Instagram for Realistic Style Advice, Fun Behind the Scenes, and Tons of Exclusive Tips and Content.
Our Style Content is Inspired by Our Readers
Our readership inspires all of our posts and is not sponsored or paid for by brands or retailers.
Recommendations are based on my experience as a personal stylist and wardrobe consultant for over a decade. I worked with busy, down-to-earth women who wanted to look chic and feel confident but were often confused by so much of retail.
Some links are affiliate links, which means if you purchase via our site, we receive a small commission.

If you enjoy our content and would like to help us grow, please follow on Instagram and join our Private Facebook Group to access more advice and exclusive in-depth conversations with other like-minded women.
Learn about our mission to help women look and feel their very best, every day, here.
Sign Up for Daily Content and Receive Our Free Classic Wardrobe Checklist