Whether starting a business, working as a freelancer, or running a side hustle, more and more women are mixing motherhood and entrepreneurship. Being a work at home mom is a topic near and dear to my heart. I was 26 years old and six weeks pregnant with my oldest when I started my first business.
I had no clue or idea what I was doing, but what I lacked in experience (and money) I made up for in hustle and determination. All I knew was that I wanted to be a present, available mother and that I didn't want to compromise my career.
Now, 11 years later, I am passionate about encouraging other women to make life choices congruent to who they are and architect a life that feels authentic and genuine. It's the reason I write this blog. If we can inspire you to start a business, hit the gym, read a good book or help you find an outfit you feel fantastic in, I feel like we are adding value.
These days it seems like we are inundated with headlines promising the secret to four hour work days or videos of some over-caffeinated woman claiming she's discovered the formula for "balance." It's so frustrating because women are being sold this false idea.
It's almost like we're being told, if it's not easy for us, we're doing it wrong. But there is no shortcut to success. Living a big, full life isn't easy. But just because something is difficult doesn't mean you shouldn't do it.
Here are a few of my hard-learned

Tips to Be a Successful Work at Home Mom

.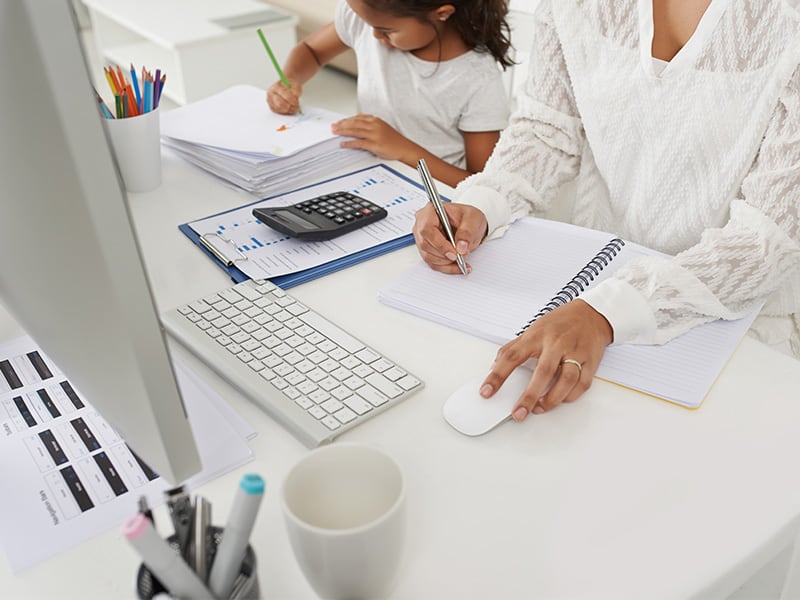 Tips to Be a Successful Work at Home Mom
Manage Your Mindset
Accept that you are going to be different. It's not like you're some kind of special snowflake, but you'll definitely feel a bit like an outsider. You're not a stay-at-home mom, and you're not clocking in at a 9-5 job.
At many points on this journey, both will seem like epically better options than what you are trying to pull off. Working for yourself means you are responsible for everything and that breeds a lot of stress. You'll find your way, just know you're not alone in feeling a bit like a freak.
This is why the next point is so important.
I keep a clear vision of what I want my life, and my family to look like, the kind of mother I want to be and a sense of gratitude for the opportunities we have because of my work top of mind. You need to know your why to push you through the rough patches because there are going to be a ton of them.
A note of caution: If your why is to get rich quick, play the lottery. You can certainly build wealth, but it's a slow, steady and strategic process.
Keep a Firm Yet Flexible Schedule
Sticking to a set work schedule is essential. Early on, when my girls were babies and toddlers, I worked early in the morning and late in the night when they were asleep. When they napped, I caught up on emails and did some housework. Every few months evaluate if the current schedule still works, because as the kids schedule changes, so will yours.
Life becomes infinitely easier when they are in school all day. When you're able to take advantage of the school day use it primarily for work. Schedule errands and other activities for after school or on the weekends.
But as we all know, sometimes shit hits the fan and our days are upended. There will be sick days and snow days; days you're walking around like a zombie because you were up all night and all the general chaos of family life. When this happens, take a deep breath, do your best to focus on what needs to get done and surrender to the day.
Take all the help
You cannot do everything. Many women feel like they should and are guilty when they can't. Asking for and accepting help is the key to your success. When your mother-in-law offers to take your kids for a few nights, say yes. Ask your neighbor across the street to watch the kids for a few hours while you're home so you can have some uninterrupted time to work. Don't just use help to get work done, use help to rest and take care of yourself. I was the definition of sleep-deprived early in my business if it weren't for my parents helping, I would have burned out fast.
Buy help if you have to
I use to think "doing it all" was economical. Especially when I wasn't making much money. The day I realized how wrong I was is burned in my memory. Maddie was around 6 and Ava was 4. My husband, of course, was on a business trip. I was having a terrible day, nothing was working out, and I was convinced I should never have left my "real job."
On top of that, the girls were giving me a real run for my money; I had nothing to make for dinner and piles of laundry were everywhere. As I sat in the middle of their playroom, I didn't know if I wanted to scream, or burst into tears, but I clearly remember thinking, "this is ridiculous."
I needed a reset. So I rounded up the girls, dropped off every piece of laundry (at that point I didn't know what was clean or dirty) to the wash and fold and took us out to dinner.
At that moment I would have paid anything for someone to get me back to center or at the least make me a cup of tea and put me to bed. Outsourcing isn't just a way to buy back your time; it's also a vital act of self-care. And you need to take care of yourself, so you can care for your kids and your business.
Give yourself physical and mental space
Any article you read about working from home will tell you to designate a workspace and for a good reason. Establishing a workspace and stocking it with everything you might need to be productive will help you get into your work groove quickly. That's super important when you are working with limited time.
Something as simple as working at your kitchen island, with a box of essentials next to you, is all you need when you're getting started.
Now and then, get out of the house. When your schedule and available help permit, escape to a local coffee shop or sit in the park with a notebook for a few hours. You need the change of environment. You'll unlock your creativity and feel recharged.
Think outside the box
One of the great things about working for yourself out of your home is that you are in charge. While it's very helpful to follow a standard work day, you can also do some things that work specifically for you.
For example, on Mondays, I keep my schedule clear. I will not schedule any meetings or phone calls. I use the day to get set up for the week, write, schedule my marketing, maybe take an online course, do some admin work.
In the same spirit I try to keep all of my conference calls to one or two days during the week. By scheduling certain activities into blocks of time, I get much more done. Experiment with different systems until you find the one that works for you.
Now that I'm over a decade into this, I know it was the best decision I ever made. Sometimes I feel like I work all the time (because I do) and it's not always easy. There are days when you will take a conference call in your bedroom closet. You will bribe your kids with whatever they want to give you one more hour to work. You'll drop your laundry off at the wash and fold because you just can't do one more thing.
This isn't suppose to be easy, or everyone would do it. With all the craziness, you'll still be able to spend quality time with your kids. You'll be able to be part of your community, volunteer at school, and be there for the important moments.
If you have a dream in your heart, pursuing it will make you a better mom. You'll inspire others and will help create a world where women are empowered to live a life defined by them and no one else. Write your own rules and see how the life you really want unfolds in front of you.