This content has been archived. It may no longer be relevant
When rompers first became popular a few seasons ago, I quickly associated them with the cute little outfits my kids wore and ignored the idea for grown-ups.
In my defense, the first round of rompers as a category in women's fashion were either strapless or off the shoulder, and the shorts were short, short, short. Most were skimpy, like something I would have worn to a bachelorette party in my twenties – ah, youth.
Happily, trends evolve, and while I wouldn't call a romper a "staple," it has expanded its style to make more sense for the average woman – myself included.
So right before we left for the beach, I ordered this romper from Amazon. It's by Daily Ritual, an Amazon brand known for quality casual pieces at affordable prices. I have a few items from the line and have always been pleased with them.
Let me tell you; this is the coziest thing I have worn all year. (See it in real life at the bottom of the post.)
Three Easy Ways to Wear a Romper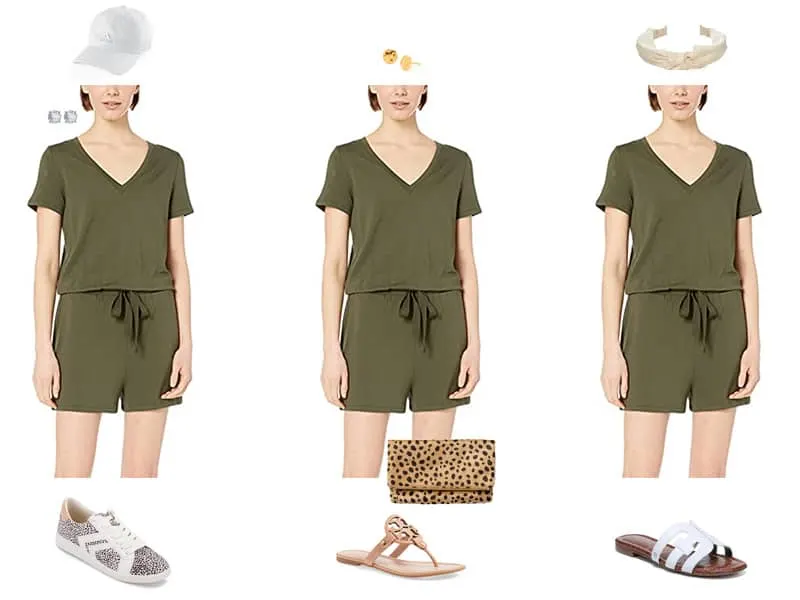 Romper, $31 Available in sizes XS (0-2) – XXL (20 – 22) in olive (above), black, navy and stripe
While we were away last week, I spent mornings on the beach, and around lunchtime brought the baby back to the condo for a nap. I slipped into this and sat out on our balcony, reading and enjoying a glass of wine; it was divine.
There is no better feeling than washing the sand and sunscreen off your body and wrapping yourself up in something soft. So if you are beach-bound, consider having this on hand.
I barely styled it. Instead I pulled my hair back and wore flip flops. Now that we are back home, with a restrictions almost completely lifted, there is more opportunity to leave the house.
Below are some ways to bring it into your everyday life, using pieces I've featured over the last month.
Errand Running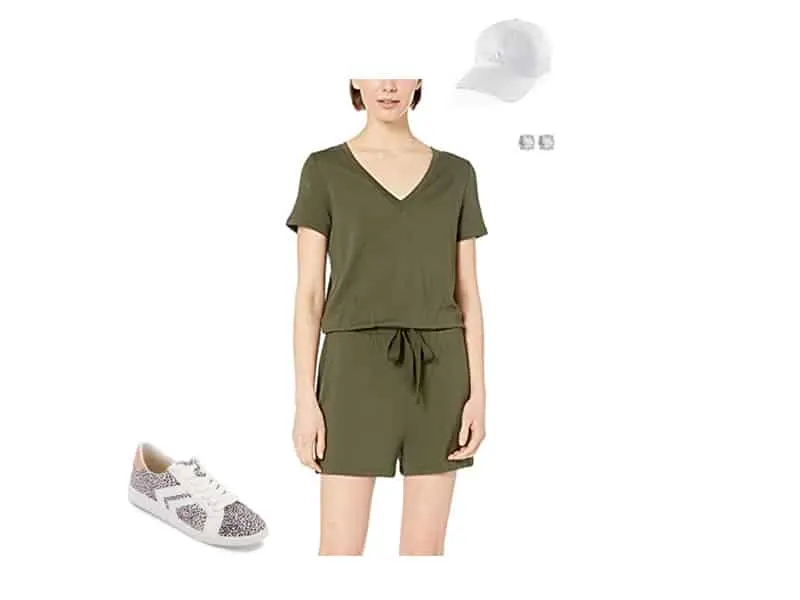 Romper, $31 | Sneakers, $50 | Baseball Hat, $15 | Studs, $55
After almost four months of being cooped up at home, I am SO HAPPY to feel busy again. For days of running errands or picking up and dropping off kids, this is perfect. I have and love these chic sneakers from Dolce Vita at DSW for under $50. They add a fun pop of print to so many outfits.
Then a simple baseball hat. This one I have in pink, but white feels fresh and will go with more in your wardrobe—finally, these studs from QVC. I've highlighted them a few times this month. They are just comfortable, everyday earrings you can wear with anything.
Low Key Date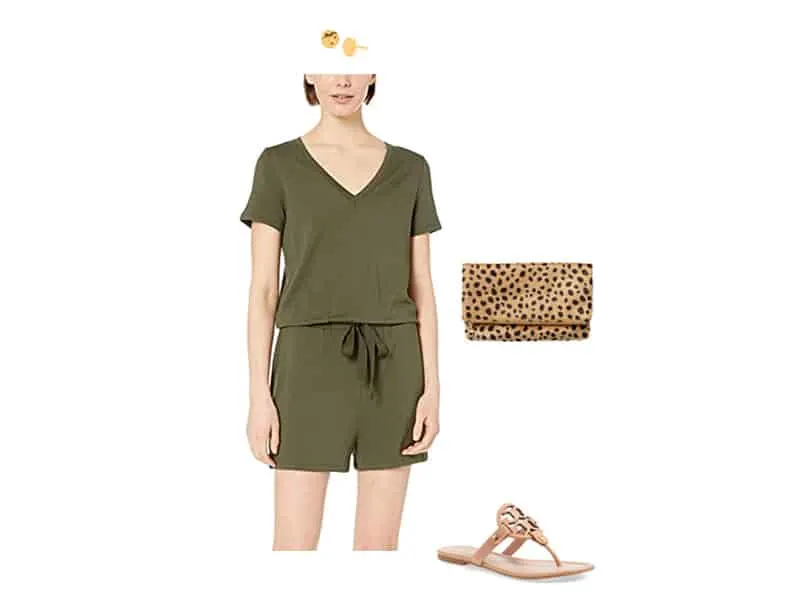 Romper, $31 | Sandal, $198 | Clutch, $48 | Studs, $35
I love the casualness of the beach. At least in the shore towns we frequent, everything is so wonderfully relaxed. In normal times I was always found it a welcomed break from how intense life on the east coast can feel.
For a night meeting up with friends at the beach, I'd throw this on and then add some elevated basics.
These Tory Burch "Miller" sandals are a step up from a flip flop. I'm crazy about this color called "make up." You can also find an array of colors that will work as a neutral-to-you over on Zappos.
Then I added this gorgeous clutch from Tuckernuck, it's my favorite leopard clutch ever – and you know I have a million of them 🙂 If it's your first purchase, be sure to sign up for their mailing list and get an additional 20% off.
Finally, you don't want to over do it on the accessories, so I used these simple studs from Gorjana that I know many of you already own.
Work from Home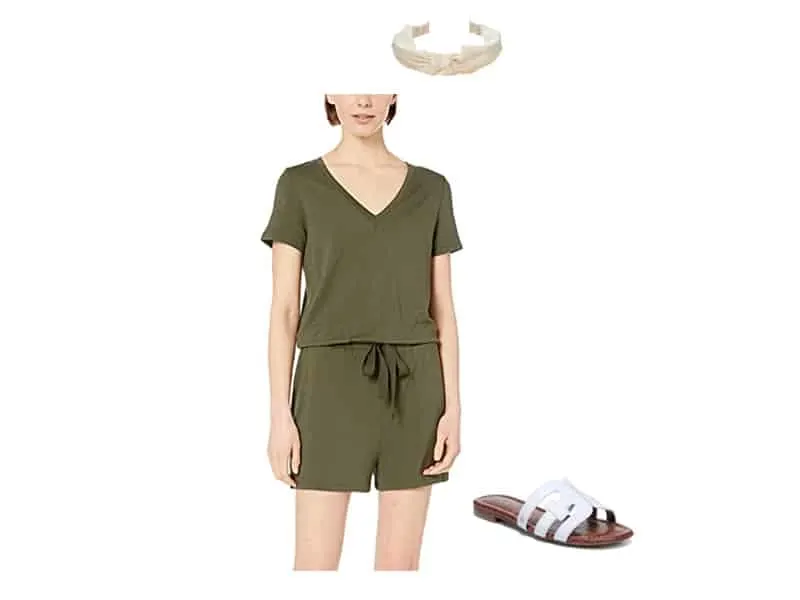 Romper, $31 | Sandals, $100 | Headband, $10
Lastly, many of us will be working from home for at least the rest of the year. While it's so convenient, I suspect that for many, the novelty is wearing off a bit.
It's too easy to stay in loungewear all day, but if the loungewear looks like an outfit – you have a win-win.
Here, I added a real shoe. This sandal slide from Sam Edelman has been popular with readers this month, it comes in a ton of color options. Sometimes wearing an actual shoe while working from home can help you focus.
And then I added a pretty headband to quickly create a Zoom -ready hairstyle with little to no effort.
After a Day at the Pool … How to Wear a Romper In Real Life
---
Our Content is Inspired by Our Readers
Our readership inspires all of our posts and is not sponsored or paid for by brands or retailers.
Recommendations are based on my experience as a personal stylist and wardrobe consultant for over a decade. I worked with busy, down-to-earth women who wanted to look chic and feel confident but were often confused by so much of retail.
Some links are affiliate links, which means if you purchase via our site, we receive a small commission.
If you enjoy our content and would like to help us grow, please consider following on Instagram and join our Private Facebook Group to access more advice and exclusive in-depth conversations with other like-minded women.
---