Is there really such a thing as "work-life balance"? We put ourselves under so much stress trying to achieve some equal scale when the truth is something is always going to be off. Instead of focusing on achieving some mythical "balance" every day, week or month, try thinking more long term. We go through seasons, with priorities constantly shifting. Eventually, everything equals out
Right now, my life feels a little out of whack. I'm focused entirely on getting ready for our new baby, and my husband and I are both setting up our work to accommodate our changing family dynamic. At first, I felt like I was failing because I wasn't able to do it all. But with some perspective and a lot of encouragement from this wonderful community, I realized there's a time and a place for everything and to just take it easy on myself.
Work-life balance is a seductive headline but it's often an empty promise and an impossible ideal. No one has figured out how to do it all, without being totally exhausted in the process. Let's give ourselves permission to focus on the now, address the immediate priorities in life and let go of the idea that we have to be all things to all people.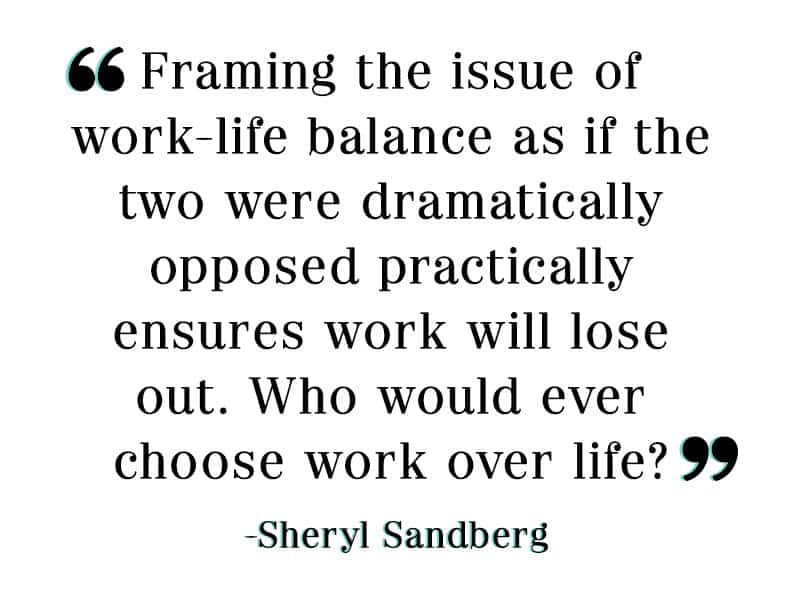 2. Office Flats: These Marc Fisher flats are gorgeous and ideal for work. Available in black, gold, blush and a sophisticated leopard print, they are under $80 and have a sleek and feminine cut that will work with pants or skirts.
3. Chic Commuter Lunchbox: Buying lunch every day gets expensive and can lead to making the quickest, but not the healthiest choices. Sometimes all you need is a few new supplies to make packing lunch fun, like this streamlined insulated lunchbox (for $15!) and this versatile bento box.
4. True Size Inclusion: This may pain some of you to hear, but Good American, the denim brand co-founded by Khloe Kardashian, makes incredible fitting jeans. Their styling might not be for everyone, but as a brand, they are an example of how success comes from listening to your customers.
After analyzing consumer data, they realized that 50% of their returns were coming from sizes, 14 – 16. Industry-wide, the space between going from a 14 – 16 is the toughest fit, so they went ahead and made size 15 to help bridge the gap. I hope other brands start to follow suit.
5. Don't believe the hype. Over the last decade, there has been this narrative sold to women that owning a business is easy peasy. "Make your own schedule!" "Achieve financial freedom!" and of course, the ever-elusive, above mentioned, promise of work-life balance.
I'm here to tell you, if you're thinking of running a business of any kind, whether it's your own idea, or you are selling the new hot thing (oils, lashes, shakes, etc.) be ready to work harder than you ever have before. There is no shortcut, no magic formula, no guaranteed system of success. If your goal is to make a real income, the kind that pays the mortgage, sends your kids to the college of their choice and funds investments, you have to be willing to make some big-time sacrifices.
I've been doing this for over a decade and still work 70 hours a week. The pros far outweigh the cons, but I promise you I never worked this hard in the corporate world. This article breaks down a lot of the myths of owning your own business far better than I can.
6. Won't You Be My Neighbor? Bri and I watched this lovely documentary about Fred Rodgers on Saturday night and were both overwhelmed. Mr. Rodgers was a gentle soul and a fierce advocate and defender of children.
Not only was he a big part of our childhoods but his influence can be seen in how we try to raise our girls today: by respecting their feelings, being thoughtful in explaining big and scary things to them, and letting them know how worthy they are of love and acceptance.
It wasn't lost on either of us that his brand of kindness and inclusion is what's missing in our society today. It's worth watching, especially if you grew up with him as we did. And have few tissues handy, this pregnant lady had a good cry throughout.
7. Scarf Weather: I love a plaid scarf … LOVE one. If you keep your wardrobe simple, they are an easy way to update a simple crew neck sweater or cardigan. You don't have to spend much either, I have my eye on this classic beige scarf at Nordstrom for $25, this black and white buffalo check at Target for $13, and this perfectly autumnal combination at Modcloth for $19.
8. Our favorite "Chili": It's not technically chili, but this turkey chili recipe from Martha Stewart has been on a weekly rotation in our home for the last few years. My kids, their friends (who I feed regularly), and my husband get excited every time they see it simmering on the stove.
I make it extra good for us by using bone broth instead of chicken broth. It comes together quickly, so you can easily make it after a busy day at work. I serve it with chips and some Mexican cheese and it's just about the most comforting meal ever.
9. Good for You Mascara: I've been cleaning up my skincare and makeup products for years now. While I'm not at 100% yet, I'm getting there. Mascara was one area I've tried countless options, but keep coming back to Juice Beauty's PHYTO-PIGMENTS Ultra-Natural Mascara ($24).
It gives great coverage, coating every lash, and leaves your lashes looking long, but not Tammy Faye Baker long. My one call out is that I hope they redesign the tube so it scrapes off a lot of excess product on it's own, so just be sure to wipe off the brush before you apply.
10. An Organized Christmas: It's hard to believe but the holidays will be here before we know it. I'm due to have a baby by the second week of December, which means, on top of everything else like managing our day-to-day life, getting work ready for my leave, and oh, having our remodel finish on time, I need to have our holiday planned and executed before I check into the hospital.
Luckily, I'm organized by nature, so I thought it would be fun to share some tips and tools I use to not go totally crazy. I'm putting together a comprehensive post, but wondering, what are some of your BEST tips to keep the holidays from being totally overwhelming?
Let us know in the comments below:
And don't forget! Tomorrow starts our 4 Weeks to A Better Wardrobe Series. Be sure to check it out and follow a long – there's no sign up, just weekly post, every Tuesday for the next four weeks!