Sometimes we need to remind ourselves that we're doing the right thing and that we're on the right path, even when times are challenging. I always look for signs, big or small, to give me the encouragement I need when life doesn't move either in the direction I want or at the, um, pace I've decided is best. (Why does everything take so long??)
Whatever journey you are on right now, don't get discouraged, don't talk yourself out of it, don't find reason to give up. If you are doing something you love, you are already winning. The world needs more women who are following their passions, no matter what they might be.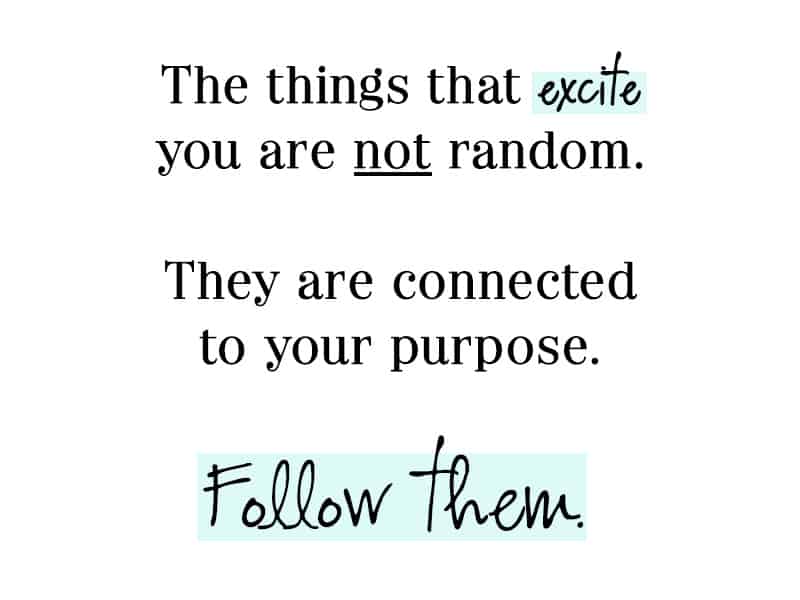 2. Sneaker Upgrade. I wear my gym sneakers into the ground. Not on purpose, I just don't think about it, until I find myself slipping and sliding around. Recently, I bought these ASICS running shoes. (In indigo blue/ opal green.) I bought them because I thought they were pretty, but when I brought them home, Bri commented that they are great sneakers, and he's right. They are incredibly comfortable, have a nice bounce to them, and provide lots of support.
3. Tweed on Sale. Stocking up on interesting blazers is an easy way to make sure you always have something to wear to work. This black and ivory option from DKNY for Macy's is under $100 and will work with any black bottom currently hanging in your closet.
4. Mistakes Women Make in Business. I thought this article fell a bit flat. Typically, women are responsible for many if not all of the domestic duties at home too, so blanketed advice like, "find a mentor" and "network more" isn't very helpful. I know I need to do both, but there is only so much time in the day. I wish regular (i.e. non celebrity) professional women would share more of how they actually pull life off, the challenges they have and how they over come them. I wonder what you think?
5. Tired Eyes. I'm almost 7 months pregnant and officially not sleeping at night. I'm exhausted, and look it. Luckily, I spend most of my work day by myself at my desk, but on the occasion that I have to see another human in a professional setting, I've been using these under eye lift masks by Juice Beauty. They give you a little extra help by decreasing the puffiness and brightening your skin, at least for a couple of hours.
6. Maybe food will help? Speaking of being tired and having a total lack of energy, I am watching everything I eat to give me a fighting chance of staying upright during the day. These foods are proven to help sustain your blood sugar. and give you a boost. And the good news is many of these can be thrown in a blender for a smoothie making it easy to get as many in as possible.
7. Roll it Out. Whether you're on your feat all day, or hit the gym religiously, learning how to use a foam roller will change your life. I use mine a few days a week, especially on my lower back and hamstrings. This article has some easy, straightforward moves you can do at home.
8. Makeup Bag Geek. I get real excited about new makeup bags. Really any kind of bag you can put things in thrill me. The other day I was running through Target to pick up a few odds and ends and spotted this out of the corner of my eye. It looks simple enough, but it is fantastic for travel. There is plenty of room to keep all of your makeup, skincare, and brushes clean and tidy and a bonus bag to use to get through security. I'm about to start a crazy few weeks of travel before the baby is born and am stocking this up so it can live in my carry, then I'll restock for my time in the hospital.
9. Tasty Recipe Videos. I am mildly obsessed with Tasty How To recipe videos. They first popped up in my Facebook feed (in the middle of the night, while not sleeping) and I find them incredibly informative, helpful and oddly soothing. There's something about the narrators voice that puts me at ease. This chocolate cake recipe looks incredible. I love to cook and bake, so it is first up once my new kitchen is done. Be sure to check out all three seasons, the tips include everything from how to cook a perfect steak to how to prep your cast iron pans.
10. The Best $20 I've Spent Recently. I wanted to swap out my long terry cloth robe with something shorter and lighter. I ended up ordering this white waffle robe on Amazon two weeks ago and I'm so pleased with it! It's a nice weight, perfect length (and I'm tall) and what I like the most is the sleeve length. They don't get in the way while you're getting ready, or doing dishes, etc. For $20 you can't beat it.