Perhaps it's because I'm getting closer to 40 (I turn 39 in November) and I'm feeling less inclined to please people, but today's quote resonated with me.
This year especially has brought on significant life changes, not the least of which is expecting a new baby in a few weeks. Setting up our life and my career to accommodate such a significant (and wonderful) change, has been a lot of work. It's safe to say because of this experience, I've grown more as a person in the last 12 months than any other time in my adult life.
I think it's essential, as women, for us to lean into this growth, not apologize for it. I still encounter situations where someone wants me to live out their narrative about who I am and who they think I should be. Except now, and maybe this is the age part, I don't allow their emotion to influence my choices.
Living up to other peoples expectations was a big part of my everyday existence, and frankly, it got me nowhere. This last year I decided to live up to my own expectations. It's incredible the freedom and confidence that comes when you have faith in yourself, when you trust your gut, and you respectfully live life according to your rules.
Honestly, if this is what you get with age, why would anyone ever want to go back to their twenties?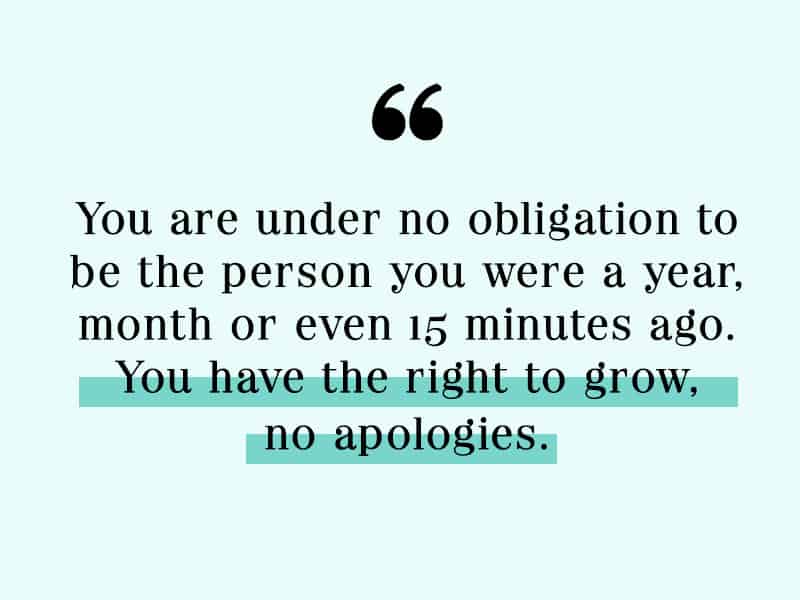 2. Now on Sale! A few weeks back we talked about this Revlon Hair Volumizer. I don't do many beauty posts because (1) I'm not an expert, and (2) I tend to be very loyal to products. Lauren recommended this tool to me, so I bought it right away and never looked back. You can read the original review here. I paid $60 for it, now it's on sale for $30 for a limited time at Ulta. Run, don't walk if you have medium to long hair and love the look of a salon blow out but can't do it yourself.
3. Three Identical Strangers. Bri and I watched this documentary on Saturday night, about Eddy, David, and Bobby, three young men who discovered they were triplets when they were 19 years old in 1980. I don't want to give too much away, so I'll just say it was riveting. Every few minutes we would look at each other and say, "What?!"
It's an incredible, real-life story that's heartbreaking, and will leave you with so many thoughts about parenting, nature, nurture, and what happens when science starts to blur the lines of morality.
4. Panic or Anxiety Attack? I talk openly about my anxiety and history of panic attacks because it took me so long to figure out what was happening to me. Before I knew that what I was dealing with had a name, I just thought I was crazy. It was lonely and at times embarrassing.
I recently had a full on panic attack on a flight, sitting on the tarmac, waiting to take off. Now, I fly all the time, yet there I was, convinced, for sure, I was going to die if I didn't figure a way off the plane. It's been years since I had a severe episode, so it was startling.
Pregnancy can, apparently, make them worse. Who knew?
If it weren't for a very kind and calm flight attendant, I'm not sure what I would have done. I thought this article simply articulates the symptoms of a panic attack and maps out how you can go about managing them. I don't take medicine, but I have gone through cognitive behavioral therapy, and manage it fairly well with diet and exercise.
5. I don't need this but … I'm really feeling this camel coat by Vince Camuto. It's on sale for $160 with CODE: SAVE and I just think you need to know that it exists. It's classic, yet modern and it's the perfect length to wear with pants or a skirt.
6. Eileen Fisher was Right All Along. I started working as a buyer when I was still in college. I bought for a small store in Philadelphia, and Eileen Fisher was our biggest vendor. I learned so much from that experience and my time in her showroom in NYC.
Twenty years ago, Eileen Fisher was advocating capsule wardrobes, composed of high-quality pieces. She practiced sustainability before it was in style and introduced fabrics like organic cotton, and washable wool. She was one of the only brands that included petite and plus sizes, and our customers LOVED it.
This is a lovely interview with her, that talks about her philosophy that was ahead of the times, her unconventional style of leadership, and why she doesn't pay any attention to Fashion Week.
7. Back in Stock. We discovered Articles of Society jeans last year and they quickly became a favorite for readers. Specifically, these distressed skinny jeans, look great, fit well and fill a void if you want to try the ripped jean trend, but don't want to spend over $100. They sell out all the time, and tend to be limited in sizes, but right now, they have full availability.
8. I spent $40 on a water bottle. And, it was totally worth it. I bought this Hydro Flask a few weeks back and have used it religiously every day. It makes staying hydrated easier. I keep track and fill it up at least three times a day to know I'm drinking enough. It keeps liquids cold for 24 hours so it's great for work outs and to keep on your nightstand.
9. Upgrade Your Box Mac and Cheese. With two kids at home and a parade of their friends in and out of our house on the weekends, we pretty much keep Annie's Mac and Cheese in business. Our favorite is their white cheese and shells. When I think of it, I jazz it up, adding whatever kind of cheese we have left over in our fridge, some red pepper flakes and sometimes, truffle oil (okay, this is when I'm by myself, it's delicious). This article has even more easy ideas using ingredients you might already have hanging around to take regular boxed mac and cheese to another level.
10. One of Each, Please. It's fall, it's busy and all I want to do is be comfy and cozy, while still looking polished. I picked up a few of these soft sweatshirts at Old Navy this weekend. You can wear them with leggings, or jeans, with sneakers or ankle boots, and layer over your favorite blanket scarf or quilted vest. Super versatile and affordable.