This year, I've been reminded almost every day that not every season is one of harvest. Sometimes, you have to lay the seeds, and patiently wait for them to bloom. Patience has never been my biggest virtue, but I'm learning that by keeping my head down, staying focused and not allowing myself to get caught up in panic or drama is the only way to reach my goals. I like that today's quote not only reminds us that sometimes growth feels painfully slow, but that while we're in the midst of growth to be kind to ourselves.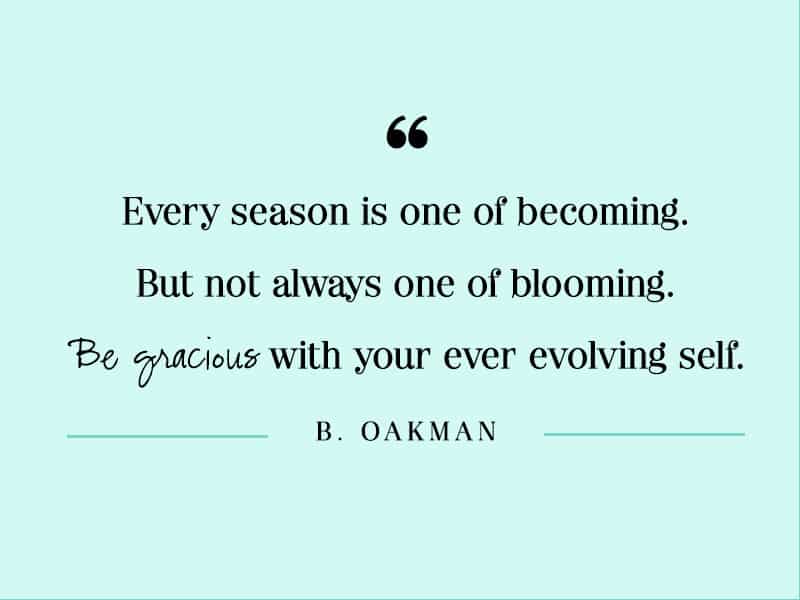 2. Know Your Value. This article by Mika Brzezinski is a powerful personal account of the mistakes women make when negotiating a raise and provides insights on how to do it well.
3. Classic Boots of My Dreams. I am looking for a pair of knee high boots in a rich caramel color. I've narrowed it down to these Michael Michael Kors in "acorn" or these Kenneth Cole New York in "cognac". Decisions. Decisions.
4. Bargain Pearls. I went down an internet rabbit hole the other day discovering better priced faux jewelry pieces featuring pearls. These Tory Burch earrings have a Chanel vibe, these hoops would look lovely with a turtleneck sweater, and this necklace (for under $60) works perfectly with a tunic top around the holidays.
5.
Nesting Itch
. Our home remodel is scheduled to wrap up right before the baby arrives. We're talking within days. Currently, everything is everywhere, and no one room is ready for me to tackle which is making me crazy. My need for order when I'm not pregnant is intense, so add on the nesting instinct, and I'm going bonkers. Lucky for everyone's sanity, I'm finding little projects to help me feel like we're making progress.
I just bought this counter top make up organizer,
and it makes me so happy. It fits everything, keeps it tidy and the best part is the top tray organization. I keep my
Clarisonic
,
NuFace
and
electric toothbrush
on top along with my make up brushes, clearing off some counter space.
For $30, it's amazingly satisfying.
6.
Friendship books for your preteen.
Remember 6th grade? It's the worst. Trying to help my girls navigate the complicated terrain of preteen friendships, when I don't feel emotionally intelligent enough to manage my own sometimes, is the biggest challenge of motherhood, so far. Happily, I've found this wonderful book series, A Smart Girls Guide, by American Girl. They give age appropriate advice for modern kids that don't feel overly simplistic or silly. They've been very helpful for the girls and for myself, especially when I feel like I don't have the appropriate answer. I especially like
this one
,
this one
, and
this one.
7. The Awakened Family. Fans of the book, The Conscious Parent, will enjoy this interview with Dr. Shefali by Mark Hyman. Truth be told, the interview resonated with me and also elevated my anxiety levels. She makes some important points about reigning in our instincts to project ours "stuff" on our kids – something I know I do. But as someone who takes a more old school, structured approach to parenting, a lot of it sounds like letting your kids raise themselves. I might have to listen to it again, since I'm probably projecting.
8. Curtains for Less. I'd like NOT to spend $1000 on curtains, since I tend to change things around in my house all the time. So in my search for a more reasonable option, I discovered this IKEA hack over on Young House Love. For a fraction of the price and a little effort, you can dress any window in your home totally guilt free.
9. Give Back This Thanksgiving. Thanksgiving always makes me think about how to give back in big and small ways. A simple way to give back directly to your community is to adopt a family. It's easy, but there are a few things to keep in mind. First, make it anonymous. The family doesn't need to know it came from you and you don't need to know who they are. To help facilitate the connection, consider calling your local place of worship to see if there is a family in need. Be sure to give yourself enough time to get it organized. Finally, think about what the family might need, you could put together a basket of ingredients or provide a gift card to your local market.
I find the gift card is more practical so they can shop for themselves and take care of any dietary restrictions. You can make it feel more personal by including some inexpensive but festive napkins and placemats, a centerpiece and a handwritten note. Whatever you do, keep it simple and thoughtful.
10. 64 Ideas for Self Care. Many women avoid self-care because they think it has to be scheduled and complicated, but you can make everyday activities a little nicer, so you feel recharged. I came across this article on Pinterest. I LOVE that it puts a self-care spin on everything from pulling weeds to my personal favorite, trash T.V.