Bri and I met in college in my sophomore year, on January 23, 1999. I walked into his campus apartment with one of my best friends, Jen, on the first day back from winter break. There he was, sitting in a chair, playing a video game. He barely glanced up at me.
I thought he was insanely good looking and estimated he was about an inch or two shorter than me (I'm 5'10). My only requirement for dating at that point in my 19 years of life was height. I tried dating guys my height and a little shorter, but all I wanted was to stand tall, in heels and still fit in the nook of someone's neck.
I turned to Jen and whispered, "Why are the cute ones always so short?"
In that second, he stood up, all 6'2 of him and I was done. I was the definition of a smitten kitten. And I guess he was too since, from that day on, we were inseparable.
It didn't take long to realize he was everything I ever wanted. Yes, he was (is) tall, handsome and athletic. But he was so much more. He was a fun and mischievous frat boy with a big heart and gentle disposition. He looked after me in a way that seemed uncharacteristic of a guy who spent his time playing rugby and organizing weekly fraternity parties.
He was the first, and to this day, the only person I ever felt comfortable with instantly. I'm too practical to believe in love at first sight, that takes time, but I had an unwavering feeling of security. It was as if my future self walked in, hit a pause button and said, "he's the one, you don't have to look anymore."
Last Wednesday we celebrated 15 years of marriage, and in January we celebrate 20 years since the day I walked into his apartment. It's been an incredible journey that's taken us from being kids ourselves to having kids of our own. We've grown up together, weathered huge storms, and have had our share of ups and downs with countless lessons learned along the way.
On our anniversary we talked about what's made us work for so long. We know we're lucky to have a lot in common, we share the same devotion to family and an identical moral compass. We also never looked at the day to day of marriage as the hard part. For us, it's not hard to be loyal, faithful and kind to one another. We've always supported each other's personal goals, we make time together a priority, and also encourage each other to have some space and time alone or with friends.
We agreed that the "hard" part is the level of self-awareness it requires. How you have to be able to realize when you are the problem. You have to be open to working on yourself and let go of your ego. At the core of any of our issues, it's been a bruised ego or plain old stubbornness that's gotten in our way. It's been when we've projected past hurt and insecurities on the other that has caused the most conflict.
I've always been keen on self-development, on understanding why I do things and then working on those areas that need adjusting. Over the years, Bri has been remarkably open to doing the same thing. And we've learned, that when we work on ourselves and make that effort, our relationship and family is better for it and we ultimately become stronger people.
Don't get me wrong; we are far from perfect. Hunger and lack of sleep are neither of our friends. We don't agree on everything and argue when we feel like we're not heard. I may have threatened murder on numerous occasions.
What's nice, though, is that we don't expect the other to be perfect. We're quick to forgive and have built up enough trust in each other, and have enough emotional intelligence to not let little disagreements turn into huge blowouts. We can defuse things with humor quickly and know we're on the same team.
In a society that often mocks marriage, that depicts wives as nagging and controlling and husbands as helpless and disinterested, I think it's important to shine a light now and then on how good it can be. You can have two partners willingly, and happily show up for one another, for a lifetime.
Some marriages don't work, for a million different valid reasons. But many do and they are worth celebrating. With constant effort, and a full court commitment, you can grow together and make it something great for your kids, your family and each other.
And don't worry, he will inevitably do something to annoy me in the next few days, and I guarantee you he will pull up this post and say, "You told all these people how great I am, you can't be mad at me." 🙂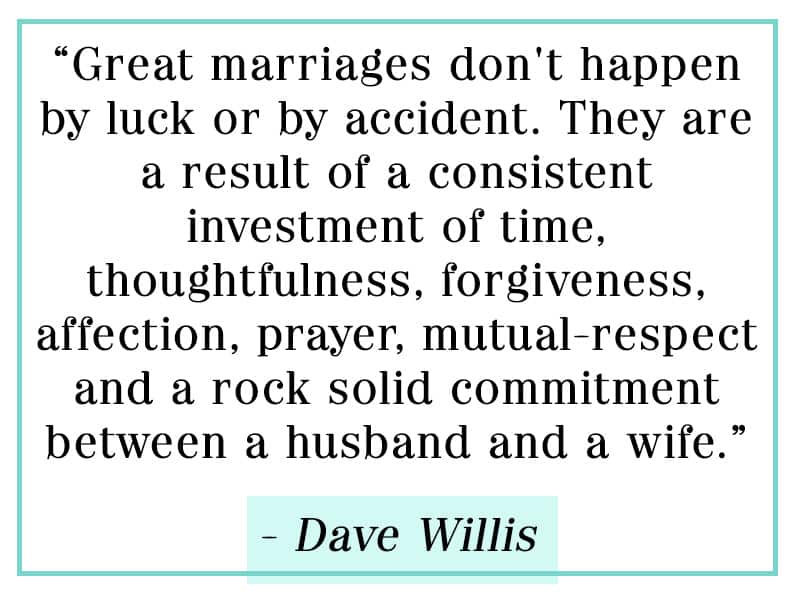 2. Would you Feng Shui Your Desk? I don't know how I even came across this but I'm doing it this week. At this point, we're less than ten weeks from having a new baby, and my house is a construction site. I'll do anything to bring a little calm and order to my day.
3. The 5 Second Rule. Last week I mentioned how I follow Mel Robins self-help trick to push past procrastinating. While listening to my weekly podcasts, I discovered: This is Fifty with Sheri and Nancy. (Sheri being Sheri Salata the former president of Harpo Productions and Oprah's right-hand woman on the Oprah Show.) I remember watching the behind the scene of Oprah's last season and being fascinated by Sheri. She's a delight to listen to and, as luck would have it, Mel Robins was one of their guest and gave a motivating interview that made me want to get to work.
4. Wrap It Up. I'm on the hunt for an under $200 wool blend wrap coat. I want something I can use for the handful of outings and work commitments I have before the baby is born in December, and can carry me through the winter as I get my body back. This belted wrap from J. Crew Factory might be the find of the season. It's $150, in sizes xxs- 3x. It would look great over a dress or paired with a sweater and pants.
5. Prologue at Target. Target recently introduced a sleek and modern addition to it's women's clothing assortment called Prologue. While I think some of it is a little out there, and wonder how it will translate in real life, many pieces are super wearable, and remind me of, dare I say, Theory? I like this puffy sleeved top paired with skinny pants, this long cardigan, this blouse, and could see this tank getting put to good use over the holidays layered under embellished sweaters and jackets.
6. Women are Losing Sleep Over Their Retirement Savings. My grandmother is 95 years old. She spent the last three weeks in the hospital and was just sent home to my Aunts' house with hospice care. My dad, and his siblings and their spouses have done an incredible job caring for her. She outlived my grandfather by almost 20 years. They weren't people with financial advisors, saving or investments. She's been fortunate to have the support of her grown children, who luckily all live local and work together to give her everything she needs. This is a timely article reminding us of the importance of setting yourself up financially in the future and also having conversations with your family about the kind of care you want, and how you'll pay for it.
7. Melinda Gates Continues to Advocate for Women. I left corporate America early in my career because I saw no path to having a family and a fulfilling professional life. I didn't see the culture support the advancement of women, since there were barely any women in leadership positions. This interview covers a range of important topics, from California's proposal of mandating women on boards of publicly traded companies, to when to introduce girls to STEM, to the importance of maternity and paternity leave to help balance the distribution of household responsibilities. I always find Melinda Gates to be measured and pragmatic, optimistic but based in reality. Hopefully, by keeping this conversation in the public forum, we'll start to make the cultural change we need to keep women in the workplace reaching their full potential.
8. On the Menu. This week, it's Chrissy Teigen's Cheesy Chicken Milanese. You can whip it up on a weekday, or serve it for a small dinner party. There's something about the warm cheesy chicken and a crisp cold salad that's a winner no matter if you're gathered around a table, or eating on your sofa with your laptop.
9. Lipgloss as a love language? When these things first came out, they were my jam and now I just picked up a couple for my oldest. I'm trying to find little ways to let her know I am thinking of her during the day because 11 is a rollercoaster of emotion. One day I'm her best friend, the next, I'm an idiot. We're well past love notes in lunchboxes which are apparently "so embarrassing." So I do small things like pick up a book I think she'd like, or some gel pens because gel pens are NOT embarrassing, or leave a lipgloss on her pillow. It's sweet to see how pleased she is, and it's an easy way to keep our connection and let her know I love her without totally mortifying her.
10. Our Wardrobe Challenge Continues. Our Fall Wardrobe Challenge is in full swing. We recently started a private women's only Facebook group, to help keep the conversation going, and it's hit over 200 women in less than a week. Unbelievably, it's filled with women from all over the world and I am having such a great time getting to know everyone. It's turning into more than I hoped it would be. You can follow the challenge at your own pace or move through with the group. If you missed it, check out Week One here, and if you're ready for the next challenge, stay tuned for tomorrow!