On Friday morning we had to say goodbye to our beloved sweet dog, Belle. To say she was a dog doesn't seem right. She didn't know she was a dog, and we didn't treat her like one. She was our first baby, and one of the great loves of our lives. Other than our children, Bri and I never loved a living thing more.
I didn't grow up with pets and wasn't what you would have called an "animal person." So when I decided to surprise Bri with a puppy for our first Christmas in our first real home together, my family thought I was nuts. But Bri was raised with dogs, so I figured all I had to do was pick one out, then he could take over.
A few days before Christmas, my dad and I drove out to a farm to meet a litter of the cutest yellow lab puppies. They looked like something dreamed up by Disney, all paws and ears, fumbling and falling all over each other. As we watched them play, we noticed the tiniest one of the bunch, trying to get in on a tug toy game and getting knocked around by her siblings.
She quickly grew bored and scampered off to the corner of the barn where there was an old chair, with an even older radio sitting on it, playing Christmas carols. My dad and I followed her and watched as she walked over to the radio. At that moment, Frank Sinatra started singing, and she sat at attention and gently turned her perfect puppy face up.
That was it; she was ours.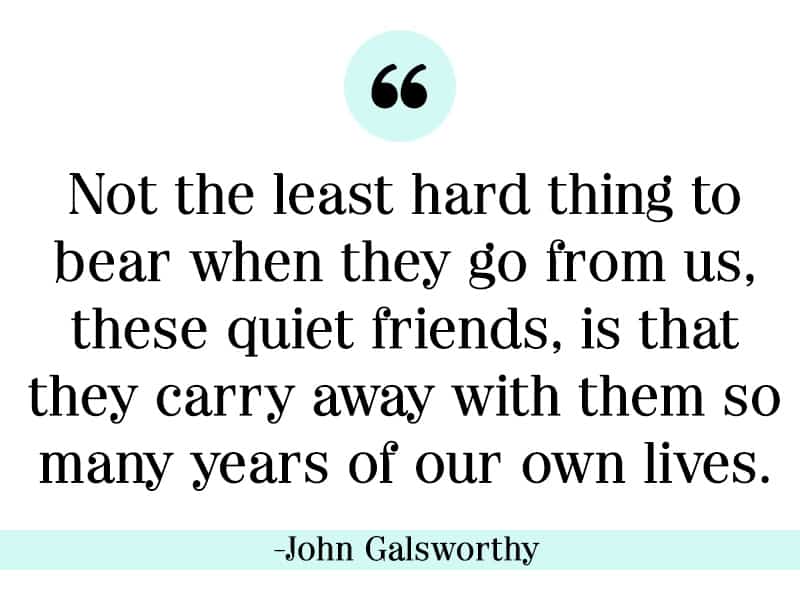 She gave us 14 incredible, joy-filled years. She saw us through our darkest and brightest days, loving us unconditionally no matter if we were our best or worst selves. She helped Bri and I grow up to be who we are today and gave us more gifts than I can even begin to count.
It's been an emotional few days. I'm personally overwhelmed by the grief. I've never experienced it before. As much as people told me how much it was going to hurt, even though I knew it was coming, I wasn't ready for it to happen. Our hearts are broken, our home is too quiet, but we're so grateful to have arguably the greatest dog in the world as part of our family for so long.
You know I always look for the lesson in everything. For us, Belle's lasting legacy of love and gentleness, of always forgiving and starting each day with a clean slate is something we as a family are going to keep in our hearts and minds forever.
2. It's Cyber Monday, and I'm ready to sit for a few hours on Amazon and finish up my holiday shopping. My goal is to have my list ordered, delivered and wrapped by the end of next weekend, so I can turn my attention to finishing up the nursery and finishing work for the year. In addition to holiday gifts, I'm picking up a few things for myself to get me through my first few postpartum months. Here's what I'm loving:
3. For today only Gap is offering 50% off their entire site plus an extra 10% off. I love these gray fleece pants and matching sweatshirt for snowy days at home. I'm also really into all their rainbow accessories, especially for the kids, like this rainbow stripe beanie, these mittens, and this scarf.
4. Nordstrom is another retailer to hit for great deals. We featured this cashmere crewneck a few weeks ago and it's on sale for under $60. I love this green suede moto jacket for work, or to jazz up jeans for the holidays. I'm picking up a new pair of Ugg slippers for the hospital and for home. These have a ribbon detail on top and are on sale for under $80.
5. Top 10 Food Trends for 2019. These days, trends in food change more than trends in fashion. According to this article, "ocean flavors" and "next level hemp" will hit the aisles of Whole Foods. But with every trend comes a few cool staples, hence our current obsession with flavored sparkling waters. And if you got into collagen and MCT oils like I did this year, they're sticking around in a big way.
6. Red Table Talk. Anyone else watching Jada Pinkett Smith's Red Table Talk on Facebook? It's incredible. Since I'm barely sleeping at night, I've caught up on every episode. I think she's doing her life's work, bringing honest, raw conversations to the forefront. Her latest episode on domestic violence is riveting and might save someone's life.
7. The Clean Plate. Just in time for me refocus on my health and wellness post baby, GP is coming out with her latest cookbook, The Clean Plate, and I couldn't be more excited. Her first cookbook, My Father's Daughter, is still one of my go-to favorites. So, of course, I've preordered this one. I can't wait to use it in our new kitchen!
8. Best Baby Gear of 2018. It's been almost nine years since we had an infant in the house and boy have things changed! I've spent an obscene amount of hours researching the best products to invest in, without going crazy since THIS IS OUR LAST BABY. Pinterest has been helpful, and this list helped be come up with a list of items to have on hand for day one, and ready to order in a few months.
9. 20 Questions That Can Help You Reach Your 2019 Goals. For a million different reasons I'm ready to close the book on 2018 so I'm doing everything I can over the next few weeks to reset for the New Year. I'm using this list of questions as a guide for not only setting up a strategy for 2019, but for some self reflection.
10. Motherhood on Social Media Isn't Real. A great reminder that for most influencers, Instagram is a market place to sell either a product or a brand. Those perfectly curated photos of shiny, well behaved kids is not real, and shouldn't make you feel bad about how hard motherhood really is.