As a working mom I sometimes I feel like a player in a video game. Not any game, but one of the originals, like Mario Brothers. You know when you start playing, the first few levels are manageable and relatively simple. As you get better at the game, you find your rhythm as you go from the first to the second to the third levels.
But then things get more difficult. As you advance to levels you've never reached before, the pace becomes quick, almost frantic, and more and more obstacles and challenges are thrown your way.
Keeping pace is your only focus. Inevitably, things begin to go so fast, you can't keep up and you crash and burn.
That's why it's so important to find a way in this crazy world to unplug so you can recharge and manage everything coming at you. There's not much we can do about all of our responsibilities; the challenges and obstacles aren't going away but we can start to prioritize ourselves and understand that the smallest adjustment or change can make a big difference in our daily lives.
I have been an advocate of self-care before "self-care" became a thing. I know what it's like to deplete yourself to the point of not being able to function.
But self-care is more than weekends away, a meditation practice, or giving yourself an at-home facial, though those are all helpful. Sometimes, it's as simple as eliminating toxic energy out of your daily life.
We don't realize how much negativity we're surrounded by until we start to consciously unplug from it and let me tell you, once it's gone, it feels better than any trip to a day spa.
I did two things starting at the end of last year that have made a big difference in my ability to maintain our current pace.
First, I stopped reading books on my iPad and iPhone. I only read real ones in bed at night so I don't risk falling into the rabbit hole that is social media. If my phone or iPad is close by, I end up scrolling on Instagram or Facebook. Within minutes I start adding on to our never ending to-do list, or I start reading articles about blogging and business, until my mind is racing and I can't fall asleep.
Since I started, I've significantly cut down on my screen time (I sound like a toddler) and I don't feel so unsatisfied because I'm not unconsciously comparing my life to everyone else. Plus, I sleep better.
Perhaps, though, the most significant change my husband and I both made was we completely stopped watching cable news. Bri and I were in a terrible habit of having various news stations on in the morning as we got ready for the day, or as background as we worked.
It did us no good. It's one thing to be informed, but for the sake of our blood pressure and outlook on life, we won't watch it anymore.
We will read articles online for a few minutes a day – avoiding the comment section like the plague, to keep up with what we need to know, but other than that, it's just noise.
Terrible, mean-spirited, spun by both sides noise that makes our blood boil.
It's been months, and we both can't believe how much better we feel.
Turns out, reruns of The Golden Girls are on at the same time as Morning Joe. And for me, those four ladies will win in any time slot, no matter who they are up against.
By unplugging from the emotionally draining aspects of life, you become more mentally agile. And that agility allows you to make better decisions, handle issues in a more productive way and see the world and your life in a positive, optimistic light.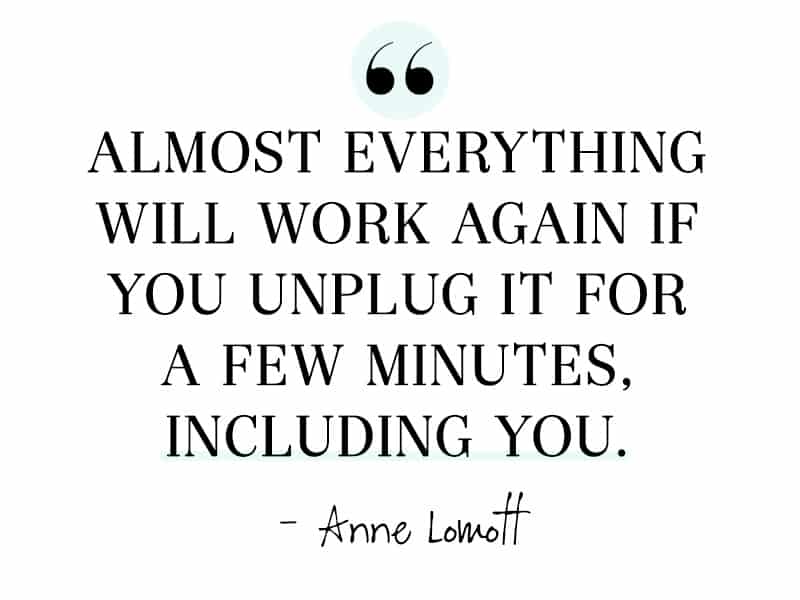 2. Affordable Yoga Pants.
On principle alone, I refuse to spend $100 + on yoga pants. I just can't do it. So when I read that these yoga pants are a better priced alternative to LuLulemon I had to give them a try. They are awesome, as good as my favorite Zella Live-in leggings.
I am 5'10 and a size 6 or 8, and I bought these in a medium. I like the higher waistband and overall fit. They come in tons of colors, though I stick with black. I'm going to try more from their line and will promptly report back!
3. Pretty and Feminine
CeCe is a line of sweet and affordable tops and dresses available at Nordstrom, Macy's and Dillards. I love this crepe blouse with sheer sleeves for something different to pair with your black pants. We featured this polka dot blouse last week, for someone who doesn't like florals I would absolutely wear this floral blouse with jeans, and this off the shoulder maxi dress should go on your next trip to someplace warm.
4. Marion's Kitchen
I'm so happy to have recently discovered Marion Grasby, the Thai-Australian cook, author, and television personality. I love food experts who actually teach you something new, unlike Food Network's current line up of celebrities making the same dish over and again. Marion has a calm delivery, is full of knowledge and her meals are different but easy to make. Like this Oven-baked Chicken Katsu that taught me the secret to getting a great crunchy crust on chicken without having to fry it is to toast the Panko breadcrumbs prior to them coating the chicken. Mind blown.
5. Go Navy
It's trench coat time, but instead of going with the classic khaki, maybe navy is more your speed. I like this short double breasted option by London Fog (under $100 with current sale offerings) or go for it in the long version. For my money I'd go with this one by Boden. It's fun and gorgeous and comes in petite and "regular" including a size 18.
6. Fun Fact
Before I started my own businesses, I was a buyer for QVC. I bought their home decor, seasonal decorations – including their massive Christmas assortment, and candles.
It was always fascinating to me that you could sell scented candles on television. Needless to say, I learned quite a bit about what makes a candle great, from the best kind of wax to use, to burn time, to whether it soots or not.
I just bought a candle from Antique Candle Co after coming across one of their ads online. I like fresh, clean smelling fragrance in my house, nothing too floral or perfumy. Their "Country Pear" is a delightfully layered scent of pear, vanilla and a little bit of hazelnut.
Need a gift? Aside from how heavenly the candle smells, their packaging is a dream, and it feels good to support a small, women-owned business.
7. 40 Stories From Women About Life in the Military
These quick stories are inspiring, heartbreaking, and infuriating all at one. But each one will leave you grateful for the women who serve our country and are almost always overlooked. They have endured more than many of us could bare all in the name of service and a deeply held belief that their presence will one day make it easier for women to be in uniform. Worth the read with your coffee this morning.
8. On the Road Again
I have my first work trip on Tuesday since having Vivian in December. I'll be gone until Friday afternoon, and not at all excited about leaving. I've been working from home since she's been a few weeks old, and now that the spring weather is breaking, we are falling into a sweet routine.
I know I'll start to get my head in the game when I board my flight. Don't get me wrong, I'm grateful for my career and proud of what I contribute to our family financially, but sometimes I wish this was easier.
I recently read about Your 4th Trimester, a consulting agency that partners with business and works with employees returning to the workforce after becoming parents to help equip them with the tools they need to transition into their new dual role. I hope one day this become standard, since the world will be so much better when more women are in leadership positions in all industries.
9. The Courage to Be Disliked
I'm flying to Austin on Tuesday, D.C. on Wednesday and taking the train home on Friday – and the one thing I am looking forward to (aside from a full 8 hours of sleep) is diving into "The Courage to Be Disliked." The title alone makes me uncomfortable, but the reviews of this take on the philosophical tenets of the famous psychologist, Alfred Adler, are excellent.
10. In Case You Missed It.
Many of you picked up this pintuck blouse we featured on Wednesday's Wear to Work post. It's great for those of you looking for pieces to wear to the office without having to add a blazer.
To add a bit of personality, these leopard print loafers are adorable, and would work with these ankle pants at Nordstrom.
And I was thrilled to so many of you picked up this Cole Haan tote on sale at Off 5th. The Dove color is ideal for spring.