This weekend my oldest daughter, Maddie, was in her grade school production of Alice in Wonderland, Jr. It's amazing watching these kids put their whole heart and soul into a performance. There were four shows, and, of course, we went to all of them. Every time I got emotional watching my girl literally glow on stage.
Last year, when she was in fifth grade, she did theater for the first time. She had no idea what she was doing. But she went along for the ride, learned the ins and outs of putting on a production, sang and danced in the ensemble and gave it her all.
I could see she was falling in love with the process, so this year, she did it again, and her confidence and presence between this year and last made my jaw drop.
I couldn't help but think about how brave all these kids are, how it's such a lesson in vulnerability. When I was Maddie's age, I would have never had the nerve to try out or to sing in front of strangers.
I cared too much about what other people thought of me, and I've always held myself back at trying something new if I thought I wouldn't be perfect at it right away.
What a lesson for a young girl to learn. You are not supposed to know everything when you're getting started. But go and do it anyway, learn as you try, stop worrying what others might think of you, and be brave.
Parenthood can be brutal. But this weekend was one of those moments I want to freeze in time. When you see your kid thriving, glowing, so purely happy and themselves, you're reminded that raising kids is such an incredible gift. The lessons I've learned from them, how all my girls have taught me to be a better person was something I wasn't expecting on this journey, but one I'm so incredibly grateful for.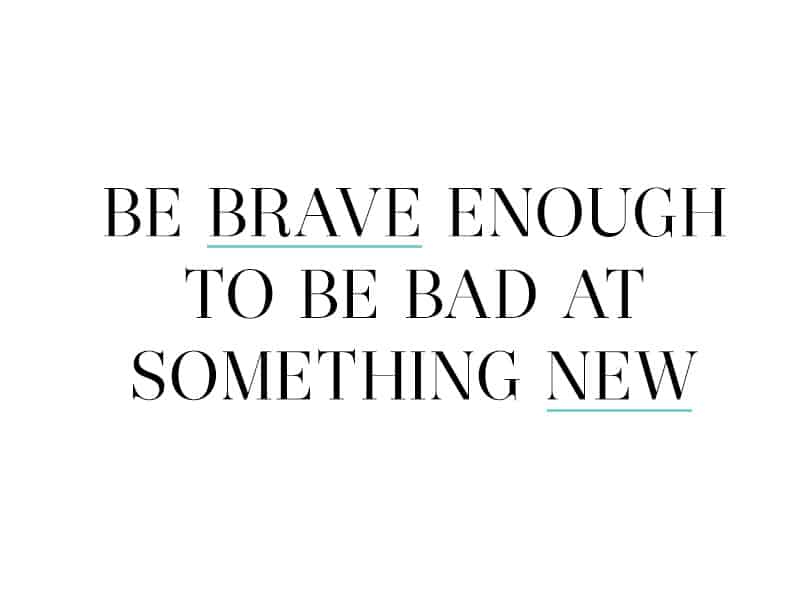 2. Fanny Packs are Back.
Am I getting old or are "belt bags" – fanny packs for those of us that lived through the 80s – a great idea? I like this slim lined one at Express, this one by Steve Madden at Nordstrom Rack in gold would be fun for a night out, and this nylon option by Kate Spade would be a chic way to wear one on a busy days with the kids.
3. The Loneliness Epidemic.
Everyone has felt lonely at some point in life. Even though we are more connected than ever, social media can make us think we're enough and left out. This article shares some helpful, common sense tips, like curate a more positive social feed.
I realized not long ago that I was comparing my hot-mess life to all the pretty pictures of gorgeous moms in heels with babies. So I went ahead and stopped following those accounts. Now I only follow people who are positive, helpful and real.
4. Dressing Down for an Interview
Remember the days you would wear a suit to a job interview regardless of the company dress code? I do. These days, being overdressed in an interview with a company that embraces a laidback, casual environment is the kiss of death. How we dress sends a message, so showing up reflecting the company culture tells your prospective employer that you did your research, respect their philosophy and are ready to be a good fit.
5. Save Your Eyes From Your Computer Screen.
I don't wear glasses, but spend a good 8 – 10 hours a day in front of a computer screen, so I picked up these light blocking glasses to help save my eyes. They are cute, affordable (only $15) and help cut back on the strain and eventual headache I give myself from staring at my laptop all day. I bought them in the leopard, which look like a neutral, and they are available in several fun colors.
6. Good For You Tinted Skin Oil
By now you know I take my skincare seriously. After all the care I put into my skin at night I don't want to cover it up with thick and heavy pore-clogging foundation during the day. I discovered this Kosas tinted face oil and LOVE it.
Apply it like any other oil, I made a mistake at first putting it on with my blender ball, and it was too greasy. Simply add a tiny amount between your fingers and rub it into your skin. It covers enough, like redness and smooths out my uneven skin tone, but still shows my skin, freckles and all.
7. Women Do Ask For Raises, We Just Don't Get Them.
All this talk about women needing to ask for a raise left me confused. Yes, many women need to feel empowered and confident enough to stand up for themselves, we need to keep that conversation going. But we also need to talk about what happens when we do find our voice and ask for what we deserve because we're still be told "no" at a staggering rate compared to our male counterparts.
8. Nordstrom Rack Finds.
I don't hit up Nordstrom Rack all the much, even though there is one not far from my house. It's too much effort to find something good. But last week I stopped by to pick up a few baby outfits, and fond a couple items worth sharing. This basic Madewell tee is an easy layer to wear with jeans and leggings and comes in a ton of colors. I liked this casual boyfriend sweater for work from home days. It's cozy without looking like a bathrobe. For under $50 this Vince Camuto tote is perfect for the summer. I like it most in the navy stripe and neutral. The Rack is also a great place to pick up better sunglasses as discounted prices, like these Ray Bans for 50% off, or these by Tom Ford that were originally $460 (stupid) are now $150 (better).
9. In Case You Missed It.
Last week we featured some fantastic pieces that will help build out your spring wardrobe. This sleeveless top is the best layering piece for under blazers, suit jackets and cardigans. You can also wear it on its own if you'd like. This polka dot blouse can take you to the office with a skirt or the weekend with a pair of white jeans. And this knit blazer will work any time as an alternative to a cardigan.
10. My Dream Day Drinking Buddy
I love Ina Garten more than life itself. I dream of living next door to her, chopping vegetables by her side and joining her for her weekly bridge game with her friends. This video of her "day drinking" with Seth Myers is pretty funny. I love people who are just unapologetically themselves, she never changes who she is regardless of where she is. And if Seth Myers really drank this much, I have no idea how he's standing at the end.