Anxiety and depression is a complicated issue many people keep to themselves, but I've always tried to be transparent about my struggle with both. I find it especially challenging because I'm naturally a happy, easy going person who's very aware of how beautiful my life is, so I get frustrated with myself when I feel the darkness wash over me.
It's only been over the last two years that I can confidently say I have a handle on it. It never goes away. Instead, it kind of sits next to me, looming, waiting for any window of opportunity to take over.
It takes a tremendous amount of energy and discipline to keep it to the side and not let myself fall into it. When I am feeling extra tired or run down, I can feel it rolling towards me.
When I feel vulnerable, threatened, or insecure about something, it's even worse. In the past, I've tried to control situations but instead of just taking action and trusting a process, I would also obsessively worry. As a result, I would be consumed with anxiety, which, for me, almost instantly creates depression.
Of course, you can't worry yourself out of a situation. For the past couple of years, I've done a lot of work around not allowing myself to be tied to an outcome or feel controlled by other peoples behavior. It wasn't until I went through a few situations that I would have obsessed over but instead practiced detaching myself from the outcome that I realized how life-changing the work was for me.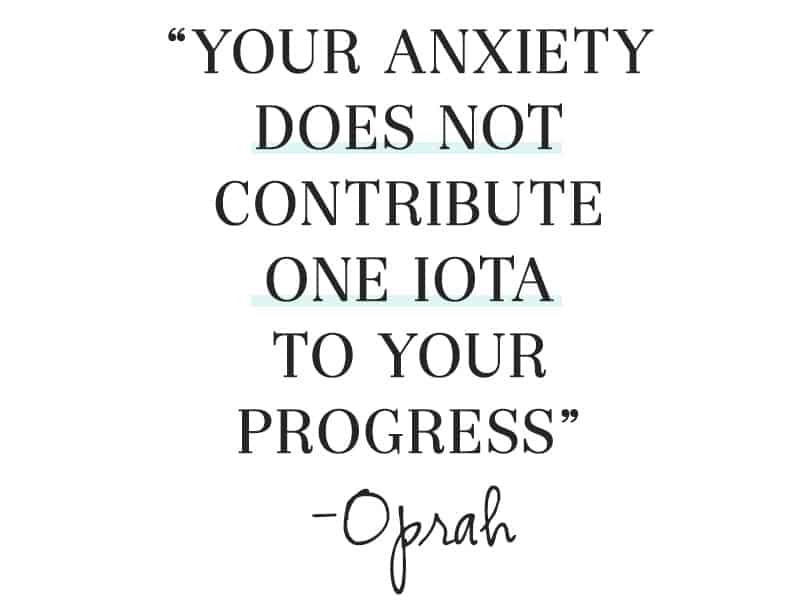 The biggest difference makers for me continue to be working out regularly and limiting alcohol. Though I happily drink my wine on the weekends I've pretty much stopped during the week. These two simple lifestyle changes gave me the mental bandwidth I needed to stay focused and aware of my internal dialog and behavior. I can make more thoughtful decisions quickly around how I behave.
The other thing I learned is the difference between reacting and responding. For most of my life, I was the queen of reacting. I fought every battle and can tell you none of them were worth it. Today, my focus is on responding, which requires a disciplined pause and thought before speaking. One question I have learned to ask myself is, "How does getting worked up make this situation better?" The answer, always is, it doesn't.
2. Better Mental Health
And speaking of mental health, if you need some motivation to keep your mental a priority. this article has some helpful, science backed reminders. It can feel like an overwhelming task, keeping all these areas of your life in tip top order, so focus on one or two at a time until they become habit.
3.On the Go Beauty.
Lately, I've been focusing on simplifying my makeup routine and discovered this simple pallet by RMS Beauty. You can apply everything with your fingertips, creating a soft and healthy look. I use it in the morning to look more awake on work from home days and keep it in my clutch for nights out for quick touch-ups.ups. You can choose between "Pop" and "Mod" I went with the red and pink based "Pop" collection.
4. My New Favorite Bra.
After our post on top bra picks, I decided to give a few new brands a try. I bought this v neck wireless bra by True & Co. and can say with total confidence, it's the most comfortable bra I've ever worn. The bra feels more like a cami, in a second-skin kind of way and is still supportive. It comes in a more inclusive range of colors. Since I'm fair, I bought the Dulce, but it's also available in bronzed and mink (along with your standard black and white.) I spent the weekend wearing it under lightweight tee shirts, and it was practically invisible.
5. Trend Alert.
If you follow the trends, you may have noticed that snakeskin is popping up all over the place. If you want to incorporate it into your look this summer, go with a shoe. These Coach sandals are on sale and will work beautifully with a simple tank or maxi dress, or pair these Nine West sandals with a block heel for under $50 with your summer pants for a nod to the trend without going overboard.
6. But This Now.
If you are looking for a cotton blazer to fill a void in your warm-weather wardrobe, look no further. This versatile cotton blazer comes in five classic colors and will pair with anything already hanging in your closet. Wear this instead of a cardigan for a more polished, structured look in the office. Also available in plus size.
7. How to Use a Jade Roller.
Ever since I shared my love for my jade roller, we've received lots of questions about how to properly use it. This video shows just how easy it is and explains all the good-for-you benefits.
8. Simple Dinner Ideas.
I find this time of year the most challenging for meal prep. Some nights we sit as a family, but as the days get longer and school starts to slow down, I can have anywhere from just my kids, to my kids and all their friends, to no kids at all to feed. This round up of simple summer dinner ideas is handy since many of the meals can be pulled together quickly with just a few ingredients.
9. Summer Reading.
Over on our Facebook page we asked for your favorite book recommendations, here's what you told us: Educated by Tara Westover, City of Girls by Elizabeth Gilbert (my pre oder pick), Little Bee by Chris Cleave, The Way We Never Were, by Stephanie Coontz, The Great Believers by Rebecca Makkai, All the Light We Cannot See by Anthony Doer, and The Tattoist of Auschwitz by Heather Morris.
10. In Case You Missed It.
May was a record breaking month for us here at The Well Dressed Life. Since this time last year we have grown our monthly readership by 899% which is an unheard of leap in such a short amount of time. I could not be more thrilled with the response we have seen to our expanded content and site redesign, so thank you, thank you, thank you.
In case you missed some of our top posts from last month, be sure to check out The Best Shorts for Women, What to Wear Instead of Capris (by far our most popular post of all time), How to Clean out Your Closet in 60 Minutes, and The Best Order to Apply Skincare at Night.