This past year, Bri and I made a conscious effort to become more involved in our kid's school and community. We've always participated: coached, helped out on special days at school, attended every fundraiser and event, donated whatever was needed.
But we wanted to take on more because we realized that the foundation of a safe, robust, and vibrant community lies in its volunteers.
We are fortunate that everything about where we live is what we always wanted for our kids, and it's that way because families make it a priority to participate in the community as best they can. This year of taking on more leadership volunteer roles taught us a lot.
People who volunteer aren't at home looking for something to do. Instead, they are some of the busiest people I know. We've been on conference calls at 6am because that was when everyone was available and sat in board meetings until 10 at night. Many moms and dads are balancing full-time careers, with various kids schedules, and the "stay at home" moms are anything but, taking on countless, often thankless roles in addition to all of their other responsibilities. The level of efficiency and dedication is incredible.
Volunteering brings you into the fold. As someone with anxiety, taking on a role where I have to work with others is ideal because it gives me a framework to work within, which, initially, helps ease my nerves. There is a big difference between me walking into a room not knowing anyone, and me walking into a room not knowing anyone but running the meeting. The latter is my better self.
Finally, how nice is it to have your faith in humanity reaffirmed? The world we live in is brutal, and the news just sends us into a spiral of negativity. But when we actually know all the families in our community, when we call each other by our first names, it's hard to have a lot of conflict. The feeling of belonging and contributing are pillars to a happy and healthy life, and volunteering is one of the simplest ways to create that.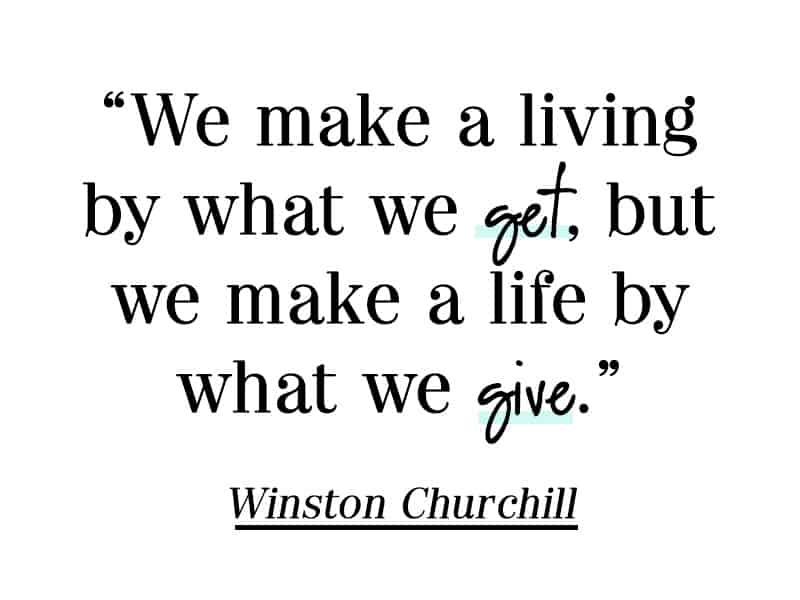 2. Blog Notes …
The months between June and the middle of August are considered "the summer slump" in the blogging world. More people are spending less time online, which is a good thing, I think. Coming up with daily posts this time of year is a struggle, and I never want to throw up content just for the sake of content.
With that in mind, we are following a modified calendar for the summer. Please look for posts every Monday, Wednesday, and Friday. The couple days "off" will give my brain a much-needed rest, I'll have some time to prepare and organize our fall editorial schedule, work on long term projects and spend some extra time with my kids in between busy seasons.
The three-time World Cup-winning women's soccer team is demanding to be paid equal to the men's team, who have won, how many? None. Zero. Nothing. Some of the greatest most winningest female athletes are just trying to be treated like a group of guys who couldn't even qualify for the World Cup field in 2018. It boggles my mind.
This article in The Washington Post sums up my feeling and this excerpt below wraps the whole argument up nicely:
The issue is not whether Alex Morgan should be paid like Lionel Messi. The issue is that she has played more games, won more medals, commanded more viewers and produced more revenue than her chronically disappointing American brother and yet is paid a fraction of what he makes for his poorer, lesser performance. It's discrimination, pure and simple — insupportable, unpardonable.
4. Workout Wear Refresh
Need a sporty pair of shorts for busy weekends with the kids? I bought a few of these 5″ shorts from Carrie Underwood's line, CALIA. The fit and length are great, and they give you the coverage you want. They are ideal for long days on the sidelines at various games and tournaments. I'm headed back for a few more pairs of black so I'm never without them.
5. The Best Diaper Bag for Under $100
It's been a solid nine years since I had a baby, and just about every gadget and product is different and better. When it came to a diaper bag, I wanted something simple, functional and not a small fortune. It took me a few months, but I ended up finding it at Target. The Skip Hop Wide Open Diaper Backpack is just what I was looking for. Its smart design allows you to carry all of your essentials, wear it as a backpack or clip it to the handle of your stroller. Plus, my husband doesn't mind lugging it around either. Sold.
6. The Smell of Rain
I was recently given a sample of Clean Rain fragrance and quickly made it my summer scent. It smells like crawling into fresh linens on a summer night with the windows opened up to a garden. I also picked up their selection of rollerball fragrances that you can wear alone, or customize by layering.
7. Haircare for Transracial Families
Tamekia Swint is teaching adoptive parents how to care for their African American children's hair, and she is making a huge impact. Watch this quick inspirational 60-second video to learn how she's empowering parents and helping young kids feel confident and beautiful.
8. Currently Reading: The Editor
Well, not yet, I'm saving it for my flight to Austin on Friday. It comes highly recommend by Lauren, who's never steered me wrong when it comes to books, or anything really. With reviews calling it "superb" and "sweet and charming" I can't wait to get lost in it for few hours on our flight. It seems like the perfect way to kick off a kid-free getaway.
Below is the write up from Amazon:
After years of trying to make it as a writer in 1990s New York City, James Smale finally sells his novel to an editor at a major publishing house: none other than Jacqueline Kennedy Onassis. Jackie–or Mrs. Onassis, as she's known in the office–has fallen in love with James's candidly autobiographical novel, one that exposes his own dysfunctional family. But when the book's forthcoming publication threatens to unravel already fragile relationships, both within his family and with his partner, James finds that he can't bring himself to finish the manuscript.
Jackie and James develop an unexpected friendship, and she pushes him to write an authentic ending, encouraging him to head home to confront the truth about his relationship with his mother. Then a long-held family secret is revealed, and he realizes his editor may have had a larger plan that goes beyond the page…
From the bestselling author of Lily and the Octopus comes a funny, poignant, and highly original novel about an author whose relationship with his very famous book editor will change him forever–both as a writer and a son.
9. My Favorite Summer Shrimp Dinner
The second summer arrives all I want is light, fresh dinners. But my kids, who are more active than ever, are starving by the time we're ready to eat. I need something that doesn't feel heavy but is still satisfying for hungry, growing girls. This grilled shrimp and marinated bean salad is just the thing. It's delicious. The only real prep is the beans, which need a few hours to marinate. Other than that the meal comes together in minutes.
You can find the recipe here and dozens of other lovely recipes in My Father's Daughter, Gwyneth Paltrow's first (and I think best ) cookbook.
10. In case you Missed It
Last week many of you picked up some fantastic lightweight basics. This long, linen blend cardigan is a great layer for casual offices. From our What to Wear When You Don't Wear Shorts post, these linen pants were a top pick. And I was delighted to see this inexpensive maxi dress as a favorite. It's on sale for $25. The lavender option looks so pretty with a denim jacket and gold sandals.