The older I get, the more I favor summer over fall. Perhaps it's because at this phase in life, September – November means insanely busy schedules. So while everyone is looking forward to the months of pumpkin spice everything, I long for summer nights, mornings on the beach, and a more relaxed routine.
The last several months have been a lot. We lived through a remodel, welcomed a new baby, and jump head first into volunteer roles in our community all while working and keeping up with our older girls. It's been wild and fun, but now I'm ready for a break.
This summer I'm excited to try to take Friday's off and spend a few afternoons during the week working at our pool. We'll see how that goes. What I know is that I need a break and a routine that has more room for rest, play and quality time with our kids and friends.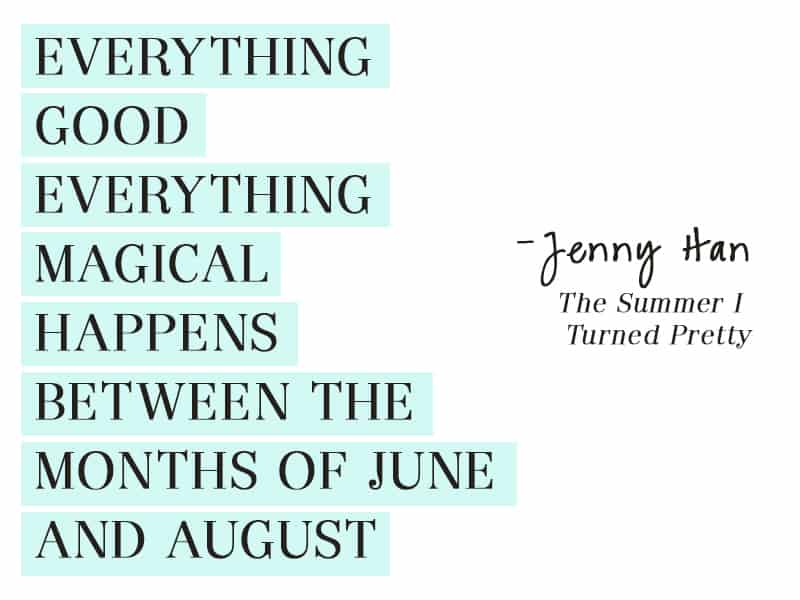 2. A Real Hero
Carve out 20 minutes and watch this incredible interview with Frank Devita. Mr. Devita was a 19-year-old Coast Guard member when he was one of the first soldiers to storm Omaha Beach in the Normandy region of France on June 6, 1944. The video left me in tears. Simply stated: this man helped save the world.
3. Tween Appropriate Clothes.
My oldest is 12 (going on 28), she's tall and all arms and legs, so finding her clothes that fit, and are approved by both of us seems impossible. But I recently discovered Target has a fantastic selection of age appropriate pieces at even better prices. I picked up these denim shorts, that are youthful but still cover her bottom, these little pull on shorts, and a handful of these graphic tees. It's so fun to watch her grow up with her own sense of style, and wear things that make her feel like herself.
4. Damaged Hair Relief
I have been adding more and more blond to my hair over my last few visits to the salon. I'm loving the color, but need to take extra care to keep my hair healthy looking. My stylist recommended this hair mask by Living Proof. What's great is that it only takes 5 minutes, so you can be in and out without a lot of fuss.
5. The Aperol Spritz Debate
Drink snobs are my least favorite kind of people. So this article in The New York Times had me rolling my eyes and chuckling at the sheer snobbery of it all. I happen to love an Aperol Spritz. Maybe that makes me "basic" but I couldn't care less.
They remind me of sitting outside a little cafe in Venice with Bri a few summers ago. They are easy to recreate and a fun drink to celebrate summer with friends.
And if Ina has a go-to recipe, how bad could they really be?
6. Inexpensive Summer Party Dresses
And speaking of celebrating summer, Old Navy has some inexpensive dresses perfect for any cocktail sipping occasion on your calendar. This gingham wrap is sweet, this midi tank dress is a nice alternative to shorts, and this white eyelet dress is pure summer afternoon party perfection.
7. Traveling in Style
Bri and I have been together for 20 years, and he is still my most favorite person to travel with. Next week we are headed to Austin, our first week long solo trip together in almost two years. I can't wait for some quiet time together after a more crazy than usual 12 months.
And no one loves travel accessories and gadgets more than I do. I love these Calpak packing cubes, and just replaced my beat up carry-on with this gold hardshell option also by Calpak.
8. Perfecting the Chocolate Chip Cookie
I could watch Chris Morocco over execute a chocolate chip cook recipe all day long. I love the enthusiasm of these Bon Appetite instructional videos. We're going to try out his method, that uses browned butter, this week since the kids are in the final stretch of school and every day is a noon dismissal.
9. Currently Reading
If you enjoyed Susan Cain's Quiet then pick up How to Be Yourself: Quiet Your Inner Critic and Rise Above Social Anxiety by Ellen Hendriksen. Hendrisken is a clinical psychologist who provides insightful, science-backed tips and advice to finally be able to chill out and be yourself.
10. In Case You Missed It.
Our Summer Work Capsule Wardrobe went live on Friday and has been a big hit. Be sure to check out the staple options in the post. This cotton blazer, these washable ankle pants (on sale for under $60) and this long linen blend cardigan are at the top of the best seller list last week.