We are in the depths of summer and my kids are leaning into a relaxed routine and experiencing the joy of not knowing if it's a weekend or weekday.
Remember those days? They were pure bliss.
While they are sleeping in or chilling by the pool, I'm focused on making some real headway with our site. I mentioned last week that we are pulling back our content in July and August to three days a week. This is giving me some much needed time to move a few projects along and implement some changes.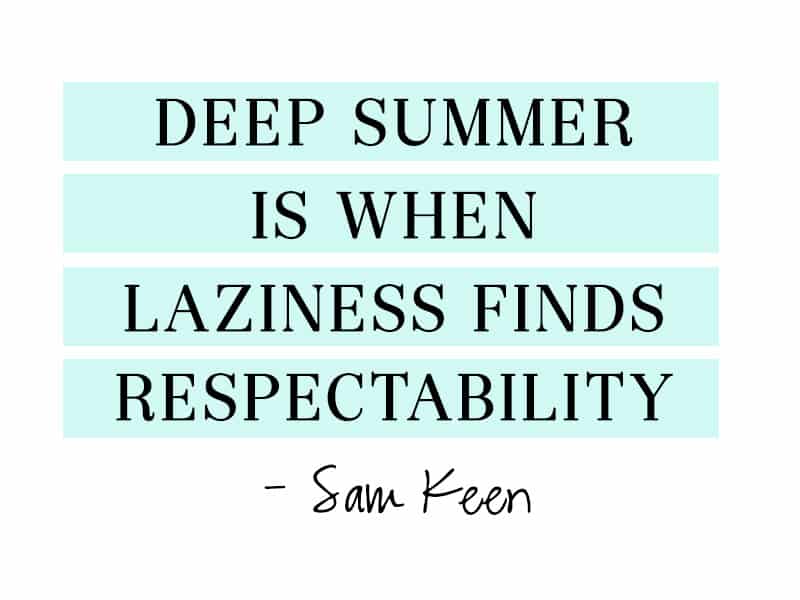 As you'll see today, we gave The Ten List a little facelift. I've been wanting to make it prettier, and more exciting, and I'm so happy with the final aesthetic.
I've also spent days (and I mean too many days) organizing our social platforms. Social media has always been a challenge for me, trying to figure out what to post when and where while not being changed to my phone 24 hours a day. Thankfully, I finally decided on a strategy that feels authentic, on brand, and professional.
If you would be so kind as to follow along it would be a HUGE help for our business and will allow us to continue to provide the weekly content you enjoy. Here's how it's going to work:
Instagram
In addition to our most recent articles, we are sharing other topics we love, like beauty tips, cocktail recipes, healthy meal ideas, and more not found in our regular content. You'll get to see a bit of our personality in our feed too.
Longtime readers will notice that I removed all the photos of my kids. I have always struggled with putting them on display, and since (1) they are getting older and (2) the internet can be gross, I decided to keep them private for the most part. I will, however, use Instagram Stories, to share some behind the scenes and more personal aspects of my life – if anyone cares.
For us to be able to use Instagram's powerful business tools, we need to hit 10,000 followers, which feels impossible right now. If you follow us, I promise we won't be annoying. Follow Us Here.
Facebook
FB is a pain in the neck since they change their algorithm constantly. Our FB page will continue to be a place we share our daily content and business announcements, in addition to other articles and resources from brands that align with our mission. Like Us Here.
Private FB group
The best part of Facebook is that you can create private groups. Ours is about to hit 1,000 members and is growing every day. We use this group to create a deeper connection in our community, have direct conversations with readers and followers, share exclusive content like sale announcements and great finds and post our biyearly wardrobe challenges. It's very much fueled by our wonderful community, and I'm delighted with how lovely and supportive everyone is to each other. To Join Click Here and please answer the three screening questions so we can quickly accept you.
Stay tuned for some more exciting updates over the coming weeks!
And now, for the rest of The Ten List …
Wish List
If there is a list of unessential beauty inventions, a beauty fridge would be in the top spot. That said, it's hard to deny how cute this is. While there is no real evidence that chilling your products will make them more potent, there is an argument that cold lotions and tools feel great on our skin. And, when it comes to eye creams, patches, masks and rollers, the chillier, the better to depuff and tighten skin.
Real Talk
There are so many important takeaways from Olivia Muenter's Bustle article "How to Dress Your Body Shape if You're Plus Sized." First, we should all own a measuring tape and use it when we order clothes online. Second, and most, dare I say, groundbreaking, is this concept: The key to being plus size and feeling comfortable in your personal style is dismantling the idea that anything is off limits because of the proportions of your body.
Basically, wear whatever you want, don't follow the conventional idea that your body type somehow limits what you can wear, instead, focus on fit and tailoring.
Blast from the Past
So many of us love the look of perfectly manicured nails but have zero time to maintain them. Enter: Static Nails, a modern take on the press on nails of our youth. They come in dozens of colors and finishes, from traditional to trendy. No more painting our nails in the car and hoping they are dry before we arrive at our destination. Now, you can pop these on quickly, and determine how long you want them to stay based on where you glue and how much you apply. (The glue is safe for your nail beds) They will last anywhere from 1 -2 days to up to 18 days.
Sweet Summer Side

You can make these cheesy corn fritters anytime of year, but when summer corn is at its peak, they are divine. They come together quickly and please the pickiest of eaters. Serve it as a side, or use it a the main course in a meatless meal along with a light summer salad. Makes a great lunch or dinner.
Best Buy
These sandals have made our must-have lists multiple times this season, and for good reasons. They go with absolutely everything you own. From maxi dresses and jumpsuits to grown-up rompers, ankle pants, or shorts. Somehow, they dress up a simple shorts outfit and dress down a flowy dress. Pack them on your next vacation, and you'll wonder why you brought along any other shoe.
Road Trip

Travel and Leisure recently published The 10 Best Places to Celebrate the 4th according to Yelp. Yelp identified the cities around the country that showed the most activity during last year's Fourth of July travel period (from June 29 through July 4). The company then ranked the cities by which showed the biggest jump in activity from a typical summer day to the holiday weekend. While we're keen to visit every city on this list, as east coasters and Jersey Shore regulars, we'd skip Atlantic City and drive 45 minutes more south to Cape May, or stay put in Philly and enjoy all the local festivities.
Cocktail of the Week

This pretty patriotic cocktail is an elevated wine spritzer, combining a crisp, dry white, with a bit of lemon-lime soda and fresh fruit. You can even put the kids to work by having them cut the watermelon into star shapes. It's just the thing to have in a big pitcher this week for a BBQ or casual pre-fireworks afternoon.
Bookshelf
Imagine working for years as a struggling author, wading through rejection after rejection, and then suddenly, not only do you get your big break, but Jacquline Kennedy Onassis is your editor. The Editor is a lovely book that feels light when you first start to read it, a perfect summer beach read, but as it progresses it turns into a poignant story about family, forgiveness and the power of an unlikely friendship.
In Case You Missed It
Last week we published our top picks for white jeans that you can't see-through. Not surprisingly, it was a big hit, and many of our readers picked up some fantastic options, at great in-season pricing. These Old Navy High Rise Straight Leg Jeans were best sellers, and are only $40, coming in a close second are Talbots Curvy Fit Straight Leg jeans. Rounding out the top three are 1822's Butter Skinny Jean for $39.