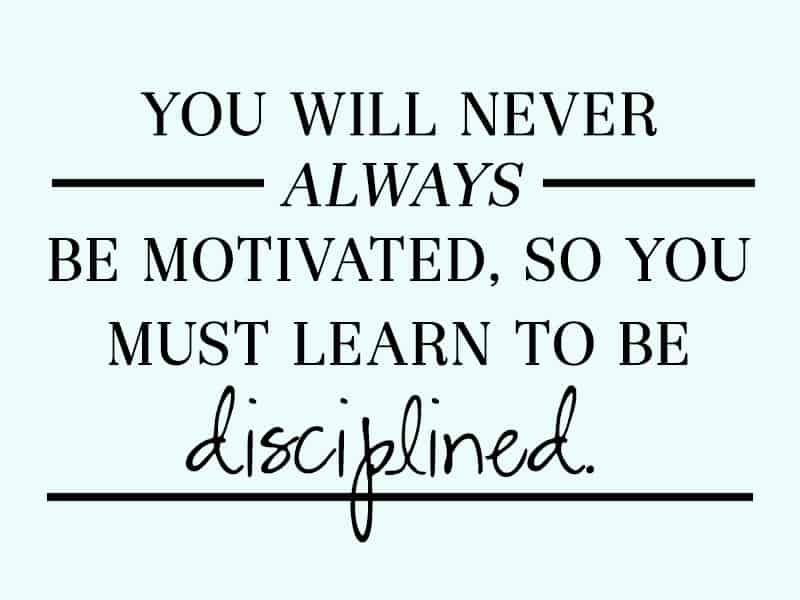 Getting back to work since having Vivian in December has been more challenging than I anticipated – and I knew it was going to be tough. I wasn't prepared for how hard it is to jump from caring for a newborn, to running around with our older girls (who are 11 and 9) and then, in whatever spare minute I have, working. The constant dance of refocusing is exhausting and leaves me with little motivation – especially when taking a nap seems like such a good idea.
I'm getting by on pure adrenaline, discipline (maybe some stubbornness) and reminding myself that this is just a season in life.
If there is one thing I'm learning so far this year, it's that discipline trumps motivation. No one is motivated 100% of the time. The key to succeed personally and professionally, the secret to reaching your goals, is pushing through when you'd rather be doing anything else. The motivation will come back eventually.
2. Protect your heart. I have been committed to my health, wellness, and fitness for years now, so I was shocked to learn I had postpartum hypertension. My blood pressure is typically "ideal.". But a few weeks before Vivian was born I came down with a severe case of edema and my BP spiked, sending me into the hospital, bedrest, and general misery.
I was fortunate that it never turned into preeclampsia, but it also didn't go away after she was born. I was diagnosed with postpartum hypertension, a phenomenon that can occur after delivery to even the healthiest woman. I was prescribed medication to help manage and lower my BP. The good news is it should eventually go away, but my risk of heart disease and stroke are increased.
It's always something.
February is Heart Health month for women. Heart disease is the number one killer of women in the US, so be sure to schedule a checkup with your doctor, manage your blood pressure and schedule in some time for fitness even when you think you don't have a free minute.
We are no good to all the people who depend on us if we're not taking care of ourselves.
3. Need a few ideas for Valentine's Day?:
This tee shirt is a now brainer for a Netflix and Chill night.
Looking for a self-purchase? I'm still obsessed with the goop hair scrub. It's my favorite treat after an exhausting and unglamorous day working at home with the baby. It makes a great gift for a girlfriend too. I also love this under $20 waffle robe. I bought it last summer and am pleasantly surprised by the quality. It comes in a ton of pretty colors.
4. 3 Ways To Attract, Recruit, And Retain Millennial Talent. I sit right outside the cut off of millennials, making me the youngest of Gen X, or the oldest of Gen Y depending on how you look at generations. Regardless, I don't relate to millennials.
This article leaves me baffled. It breaks down the demographic into "old" vs. "young" millennial. This allows us to understand the differences in their childhoods and how their life experiences have shaped their world view. I found that helpful.
But they loose me when they encourage managers to support a millennials side hustle in hopes that they learn how hard business is, throw in the towel, and refocus on their day job. That might be the worst advice I've ever heard.
5. Shoes on Sale! Sole Society is has dozens of awesome shoes on sale for up to 50% off. We've featured these smoking slipper loafers before in leopard print, these suede flats with a bow detail are gorgeous for spring (and still full price at Nordstrom) and I just bought these strappy suede sandals for only $35 in camel.
Need a new bag? I like this satchel, this backpack and this $25 crossbody.
6. Honoring Kate Spade. Kate Spade's nylon tote bag was the very first designer anything I ever purchased. I was still in college, couldn't afford it, and bought it anyway. Carrying it made me feel special, like the best version of myself. It was a defining moment for me. I had a visceral reaction, and I realized the real power of clothes and accessories. So I was thrilled to hear that Frances Valentine (Kate's company named after hehr daughter) was bringing the iconic bag to honor her legacy. I am picking it up in black and this time, plan on keeping it to give to one of my girls when I'm done carrying it around.
7. Welcome to My Brain. This video by Tiffany at Juggling the Jenkins had me laughing to the point of tears.
8. Strategies for Happiness. A Harvard professor says most of us squander 5-minute opportunities to be happier every day.
9. Under $100 gowns. With spring around the corner you might have weddings, fundraisers or a gala to attend. Lulus is a line of cocktail dresses and gowns for under $100. Available at Nordstroms, they range from trendy to classic. I am crazy for this navy trumpet gown for $98, this black halter mermaid option for $89, and this classic a-line cocktail dress for $66. At these prices, you don't need to rent a dress!
10. New Wardrobe Challenge. We are offering our Free 4 Weeks to A Better Wardrobe Series starting next week. Join us as we go through our closets, get organized, define our personal style and come up with a shopping plan for the spring. This time around I am hosting it exclusively on our Private Facebook Page. We'll have private conversations, you can post questions and photos, and I'll share new video content and some shopping lists. If you are not part of that community, you can submit a request here.
This group is only for women, and you much answer the prescreen questions for admission.